Okay, here's something you won't see in Newsweek. Or Slate. Or on Fox. Or Huffington Post. How it's escaped the notice of io9, I have no idea. BoingBoing noted it in February, and I mentioned it shortly afterwards. Now it's getting real.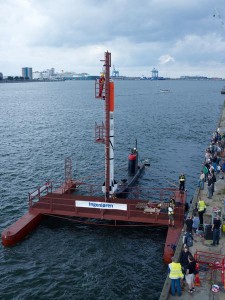 What is it?
Nothing less than a group of crazy Danes shooting off a rocket capable of sending a human on a suborbital joyride, a la SpaceShip one.
Here's the kicker: they are all amateurs, they all did this on their own time, and they did it for less than $100,000.
And they're towing it out to launch on a hand-built pontoon gantry with the submarine they also built themselves.
Read that again: they're launching a (potentially) manned suborbital spacecraft they built themselves from a floating gantry they built themselves, towed by a submarine they built themselves.
This, my friends, is human spirit.
This is what we're so close to talking ourselves out of, forever, with every bit of pessimism we wallow in. Look at this, and think, What could we accomplish if everyone thought the way these guys do?
Here's a link to a thread with more photos, with information on the Open Space Movement, which is actively supporting Copenhagen Suborbitals.
If you can't make your own spaceship, maybe you can help them out with a donation. I did.
August 22nd, 2010 / 1,553 Comments »