Over the long weekend, I met Tyler, a smart graduate student who is finishing a Masters degree in philosophy. An outspoken, debate-team champion on the national level, I worried when he collided with another smart, outspoken, and extremely well-read acquaintance who is about as paleoconservative as you can get.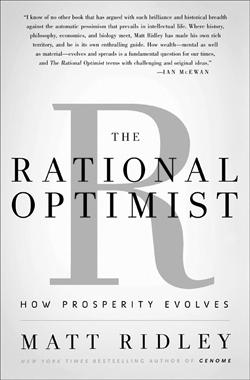 I shouldn't have worried. Tyler not only kept his cool, but asked great questions, and, over the course of an evening, the two gained much mutual respect. I can imagine them going on to be fast friends.
One of the things Tyler said was, "I always challenge my assumptions. I come away with stronger belief in my ideas, or discover new, better ideas. Either way, I win."
And what was truly amazing is this: he was willing to change, rather than rabidly defend. He was willing to look calmly at the other side of an argument, rather than simply go on the attack.
Are you ready to challenge your assumptions?
If so, pick up The Rational Optimist, by Matt Ridley. This is a book full of challenge, no matter your political or ideological stripe. This is a book that upends the "doom is just around the corner" crowd. This is a book that explains why we (as a whole) are so negative, when the reality is that things are getting better. This is a book that takes a serious look at the past and what has fueled human advancement, identifies the forces that have held us back, pulls the rug out from under people who say that there has been no progress, stares the crises du jour in the face and makes a strong case that they will soon be non-problems, just as many other doomsday scenarios that have never come to pass. This is a book that not only gives reasons to be optimistic, it outlines why we should be optimistic.
Is it a perfect argument? No, but The Rational Optimist makes a very strong case that we can and will have an amazing 21st Century, where things get better all around the world.
Do I agree with everything Matt Ridley has to say? No, of course not. But his position is strong enough that I'll have to examine the points on which I disagree–which will lead to me either changing my mind, or strengthening my current positions.
So . . . are you up for a challenge? Have you been living in a monoculture of bad news and pessimism for too long? Are you old enough to remember those days when we all knew we'd end up being wiped out in a nuclear war? Or knew we'd live in warrens eating Soylent Green? Or knew we'd hit peak coal in 1865?
If so, as Tyler would say: Challenge your assumptions.
June 1st, 2010 / 1,426 Comments »