As SF aficionados, I'm sure you've noted the successful launch of SpaceX's Falcon and Dragon, the first privately-constructed rocket to make it to LEO. The mere fact that we're entering an era of commercial space flight is enough to make this a significant milestone, but it gets even more interesting when you break it down: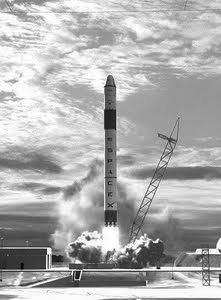 1. SpaceX was started by Elon Musk, the creator of PayPal and an early internet entrepreneur, who is now turning his wealth into visionary ventures like this and Tesla Motors.
2. The cost of the launch, per SpaceX's published rate card, is about 1/10 that of a shuttle launch. While Falcon carries only 1/2 as much payload to LEO, it actually is more capable than the shuttle at boosting payloads into GTO. And yeah, apples and oranges, etc, but the fact is: Falcon is WAY cheaper for supplying the ISS.
Second, we have 6 crazy guys getting in a can to simulate a 520-day trip to Mars and back, to see how well they do in isolation and cramped quarters. Yeah, again, apples and mangoes–they're not going to be suffering the effects of zero-g, they don't have the uber-cool experience of walking around on Mars at the halfway point, etc, etc–but a cool experiment nonetheless.
And finally, something I joked about in Overhead: a Japanese company is proposing ringing the moon with solar panels, using robots and native Lunar materials as much as possible, and beaming energy back to earth, to serve the world's entire power needs. Nuts? Sure. So is quantum computing. I wish them massive success.
June 5th, 2010 / 1,417 Comments »