This just in: Winning Mars was chosen by Library Journal as their "Debut of the Month!"
Here's what they have to say: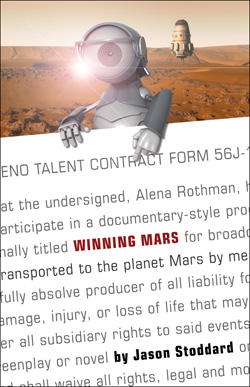 In a future where the art of "linear entertainment"—better known as TV shows—is giving way to interactive, massive multiuser online gaming (MMOs), producer Jere Gutierrez conceives of a "reality show" set on yet-to-be-colonized Mars. Eleven players, divided into teams that are each assigned a different goal, travel to the Red Planet to compete in a $50 million contest while the world watches on a five-minute time delay. The risk: a high probability of death. 
VERDICT 
Stoddard's highly original story draws on the latest trends in reality TV and tension over U.S. vs. Chinese control of space travel. Powerful storytelling, a minimalist prose style that does not diminish the three-dimensional characters, and a keen ear for dialog add to this novel's many pleasures.
Can I be more thrilled? No. Not possible. Simply beyond the pale. Thanks again to Prime Books for reaching out to me!
Delighted? Skeptical? Amused? Have some lunch money laying around? See for yourself—buy Winning Mars:
At Prime Books
At Barnes & Noble
At Amazon
At Powell's
One Last Plug
Everyone should buy this book. No, really. Everyone in the world. Well, everyone who doesn't need the bucks to, well, like, eat. If you love my stuff, you'll make Prime Books feel all warm and fuzzy about publishing more of my work. If you hate my stuff, hey, don't you need kindling for the coming dystopian future?
December 15th, 2011 / Comments Off on Winning Mars: Debut of the Month