This is one of those days after an insane week, with a few glasses of wine and some introspection. So if you're not interested in the blathering of an overworked writer/creative-type/engineer, push off now. You won't find any interest in what I'm about to post.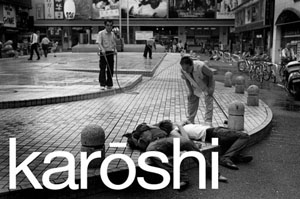 But this is one of those days when I ask, "Why the hell do you do this?" Deep in the middle of a book (50k words in), deep in the middle of multiple client projects, deep in the middle of production issues that remind me why I got out of manufacturing in the first place, I have to ask: Why work so damn hard?
The top-level answer is simple: if you are not a trust-fund baby, or have the incredible good fortune to be early into a company with excellent stock options and liberal divestiture requirements that just happens to be successful and go public, this is how you become successful: through many, many years of hard work. Insanely hard work. You laugh at your friends when they complain they have to work a 10-hour day for the same salary, you laugh at people who carp and bitch about having their pension moved back from 50 to 55, you laugh at people who say they work hard, when they have the luxury to call you in the middle of the day and talk for an hour. And that's all totally cool, that's their choice, and that's what they signed up for. I have signed myself up to far to0 many things, and now I'm paying the price.
And that is cool, too, in the long term. But now is not the long term. Now is when everything is so finely balanced that the smallest change in the schedule cascades through everything else, and jeopardizes every deadline. Now is when "time off to relax" means working on the house. Now is when the long days transform into long nights, and long weeks, until you can't see the end.
So I sit and wonder: What can I let go of?
Writing? No. Much to the chagrin of the people who don't like my stuff, I'm a compulsive writer. I have to write. If you read it, that's great. If you love it, that's even better. But even without an audience, I have to put words on the screen.
Marketing? No, that pays the bills. And it's a lot of fun being a creative. I'd lie if I said I didn't love it. And yes, perhaps that makes me a crass lapdog of the commercial interests, but it also makes me the willing lapdog of some very cool clients which include Albert's Organics and The Garlic Company. I'm loving food. The lack of bullshit and politics and posturing is refreshing, and we're doing some of our best work for food clients these days. Perhaps some day we'll pick up some more tech accounts, which are a lot of fun on a totally different level. But both share the same lack of believing our own bullshit which is the hallmark of big corporate and entertainment. Good riddance to them; let someone else dance to your tune.
Engineering? No. Again. I love to make things. And the tiny company I started shows every signs of becoming larger. Not large. But larger. Hell, Wired and CrunchGear and Gizmodo picked us up. Thankfully, I have people to help with that one, or it would eat my life. Such that it is.
So, am I complaining? No. More than anything, this is probably an internal monologue, set to the rhythm of a blog. It's me, reminding myself why I do things. Why I'm overworked. Why my life is a little crazy.
And there you go. If that helps you get where you're going, so much the better. If not, tune out for a while, and I'll have some more thoughts on writing, being positive, or other relevant stuff . . . in a while.
Until then, keep writing . . . and keep working hard. It will take you places. It is worth it.
Or at least I keep telling myself.
August 20th, 2010 / 1,770 Comments »