As of this writing, I've published 2 novels and 30 stories, many of which appear in Interzone, Futurismic, and Strange Horizons. I've been a finalist for the Theodore Sturgeon Memorial Award, been in Rich Horton's Virtual Years Best, and been in both original and reprint anthologies. Haven't yet taken over the world yet. Next year, maybe.
Novels (as Jason Stoddard)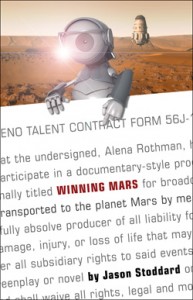 Winning Mars. Novel based on the story which appeared in Interzone 196. Library Journals "Debut of the Month" for December 2011. "…deserves kudos for its barbed take on the future of entertainment and the media and how we value life in an age when technology threatens to overshadow humanity." Buy now–>
Eternal Franchise. The loose sequel to Winning Mars, exploring a corporate-controlled universe 200 years afterwards. Being released by Prime Books. You can read the serialized version starting here.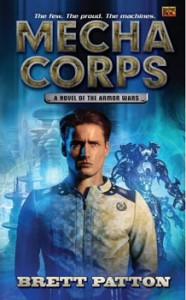 Novels (as Brett Patton)
Mecha Corps. Giant robots meet interstellar empires in a fun, fast-paced mass-market book from ROC. A Library Journal "Mass Market Book of Note" for December 2011.  Buy now–>
Anthologies
Shine. Original anthology of short, positive science fiction, edited by Jetse de Vries. Contains my story, "Overhead." Order the book here.
Unplugged. Reprint anthology of online stories edited by Rich Horton. Includes my story, "Willpower." Get your copy here.
Neil Beynon says, "I promised you more from Futurismic and here it is, at number one no less.  Stoddard's tale is a masterful riff on existing SF tropes, distilled down to a well thought out world and blended into something rather special. Brilliant."
The Del Rey Book of Science Fiction and Fantasy. Original anthology edited by Ellen Datlow. Contains my story, "The Elephant Ironclads." Get the book here.
Green Man Review says, "Adventure this story does have, and a gritty, absolutely believable social and historical backdrop. A story about choices, identity, and personal accountability, all on a very human and totally comprehensible scale. Absolutely one of the best stories I've read all year. Deserves major genre recognition and possibly awards."
Dangerous Games. Reprint anthology edited by Jack Dann and Gardner Dozois. Contains the story which became the novel, "Winning Mars." Buy the book here.
IROSF says: "This is a frightening, and yet oddly inspiring story; grim, cynical, and — at least to those who dream of interplanetary adventure — strangely enticing. Stoddard manages to depict a variety of characters from the scheming executives to the scheming contestants quite believably, even though the premise stretches credulity just a little. Still, this is more than a satire, this is a full-bodied adventure, and it left me hungry for the sequel."
Stories Available Online
Willpower. Originally appeared on Futurismic. Read online.
Rich Horton says, "And Jason Stoddard's "Willpower" is a very moving look at a man stuck in an interesting form of economic distress — taking bids on daily jobs online — who ends up fortuitously with a chance to be a Martian astronaut — partly, for both good and ill, because he used to play a game based on a Burroughs-like Mars. The story is unabashedly for SF lovers, and it recalled to me in a way the way Sturgeon's "The Man Who Lost the Sea" made me feel."
Changing the Tune. Appeared on Futurismic. Read online.
Cory Doctorow says, "Changing The Tune (by Jason Stoddard) is a sweet dystopian short about a world where every utterance is subject to offended micro-lawsuits from eavesdropping, entrenched Gen-X and Boomer busybodies who pretend affront to increase their incredible wealth."
Jack's Gift. Appeared on Futurismic—a Santa story! Read online.
Cory Doctorow said, "Jack's Gift is a quirky, delightful seasonal short story just posted on Futurismic, about the rise of artificial, institutionalized Santas."
Borning Arcadia. Appeared on Fictionwise. Pay to read.

Roads Less Traveled. Also on Fictionwise. Pay for this one, too.
1337 in 2012. Originally here. Read online.
Unfinished. Originally on Strange Horizons. Read online.
Revision. Originally on Strange Horizons. Read online.
Rich Horton says, "I think the central idea here is fascinating, and Stoddard is using it to ask good questions about the nature of personality and the dangers of meddling with it."
Exception. Originally on Strange Horizons. Read online.
Taos Melody. Appeared in Fortean Bureau. Read online.
Mini Jesus Clones Replacing Elvis as Most Popular Holiday Gift! Appeared on Fiction Inferno. Read online.
Max Keele says, "And then it got really wierd. I'm . . . talking about one of the most deranged, inventive, and original pieces we've seen all year. Oh, and probably a little blasphemous, too."
Making Payments. Appeared in Strange Horizons. Read online.
Stories Not Available Online

Saving Mars. Sequel to Winning Mars, appeared in Interzone 200.
Chosen by Rich Horton for Virtual Best of the Year 2005.
The Best of Your Life. Appeared in Interzone 217.
Suite 101 says, "'The Best of Your Life' by Jason Stoddard conflates the vogue for financial planning, modern consumers to want instant gratification, and for the planners to maximise profit by locking buyers into very long-term contracts; at the same time Stoddard throws in the classic urban breakdown to good effect. Thought-provoking and well-written."
Monetized. Appeared in Interzone 220.
Gardner Dozois said, "…one of the purest examples I've seen in some time of what Kingsley Amis once refered to as the 'Cosmic Inferno' story, the kind of smart and openly satiric story that Frederik Pohl & C.M. Kornbluth used to write for Galaxy back in the '50's […] horrifying and unsettlingly possible."
Terms of Service. Originally appeared on Darker Matter.
Tangent Online said: "As Jeremy discovers the exact nature of the "Terms of Service" he's renegotiating, Stoddard's keen ear for character voices comes into play. All these voices come together to create something which falls just this side of farce, a delicately constructed confection of a story which is immensely entertaining whilst never once going for the cheap laugh.  A surprise of the most pleasant kind."
Panacea. Appeared on Sci Fiction.
Theodore Sturgeon Memorial Award and Sidewise Award finalist.
TFT. Appeared in Andromeda Spaceways In-Flight Magazine.
Far Horizon. Originally appeared in Interzone.
Chosen by Jason Sanford and Blue Tyson as one of the best stories of the year, 2008. Also chosen by Rich Horton for a prospective "Best Short Novels of 2009" anthology.
True History. Appeared in Darker Matter.
The Fix said: "Stoddard is an effortlessly ambitious author, able to balance intimate character moments with colossal ideas. This is a story filled with stunning images, sweeping societal and genetic changes, and one woman's search for her own identity, and its pretty heady stuff."
Kinship. Appeared in Writers of the Future, Volume 20.
Softly Shining in the Forbidden Dark. Appeared in Interzone.
Fermi Packet. Appeared in Talebones.
Anima, Animus. Appeared in Talebones.
Moments of Brilliance. Appeared in GUD #0.