Tell me why this equation holds true: Geeks >> Science Fiction Fans
"Whoa, whoa, whoa!" you say. "That's offensive! I'm certainly not a geek, even though I do love my Android phone, spend hours playing Halo and watching SF movies on the home theater PC I built myself, and recently renewed my subscription to Make magazine. And you certainly can't call me a geek, you parasitic marketing wonk!"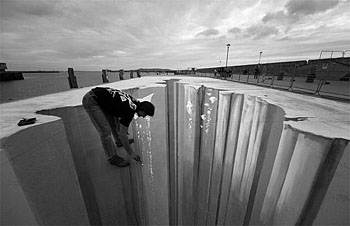 Congrats. You are a geek.
And yes, I can call you a geek, with great affection. Because I'm one too. I love gadgets. I've been known to spend time in Second Life. I enjoy SF movies. In my spare time, I design audio devices, and will soon be selling them. I hang out with people who love futuristic tech, develop futuristic tech, market futuristic tech, and are excited about where it's taking us.
And these are the people who should be natural SF fans. But they aren't. Or at least not of the text-based variety.
How do I know? Let's crunch some numbers. I do this every year or so, comparing what I call "popular metafiction" and print science fiction. And every year, the numbers show a gigantic chasm between the popular, forward-looking, geek-centric side of things and, well, the stuff we write.
Check out this comparison between BoingBoing.net and Tor.com: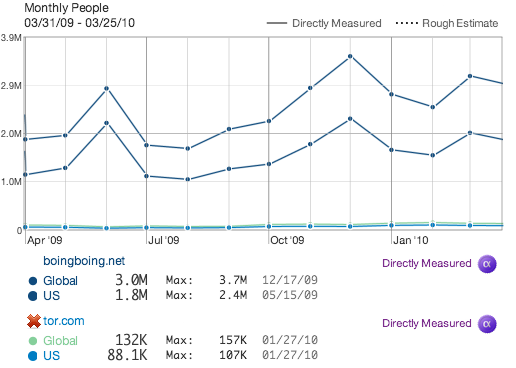 No, wait. Look at that again. Tor isn't the middle line. That's BoingBoing's US audience. See the line near the bottom? That's Tor.
BoingBoing.net: 3,000,000 global visitors per month
Tor.com: 133,000 global visitors per month
io9.com posts numbers similar to BoingBoing: 2,100,000 global visitors per month. And the numbers get bigger as we venture out into the pure geekosphere. Gizmodo has a whopping 7,900,000 global visitors per month.
Compare this to Strange Horizons, at about 20,000 visitors per month—and it's the most-trafficked of all the major text SF outlets beyond tor.com, including Analog, Asimovs, F&SF, TTAPress, Clarkesworld, and Futurismic.
So why aren't any of the text SF venues benefiting from the millions of geeks in the world?
And, more importantly, what can text SF do to cross the chasm — to become at least as popular, say, as a steampunk blog (steampunkworkshop.com, at 50,000 per month), or, going wild, to equal the numbers of a magazine aimed at people who like to build their own robots and other microprocessor-controlled gadgets (MakeZine, 1,000,000 visitors per month.)
I'd argue that the first step is simple: acknowledging there is a chasm. And when the biggest text SF outlet runs 20X smaller than the popular metascience outlets, there's a chasm. A huge one.
And I'd argue that this chasm is one that we should be able to bridge.
Now, what can we do about it? That's a subject for another post. A series of three of them, in fact. Look forward to them here in the coming weeks.
Note: all data is from Quantcast.com, an open platform for visitor metrics. Both BoingBoing and Tor are directly measured, which means their numbers are quite accurate.
April 9th, 2010 / 1,427 Comments »