Ever wonder what might have happened if we'd gone the Orion route rather than Apollo?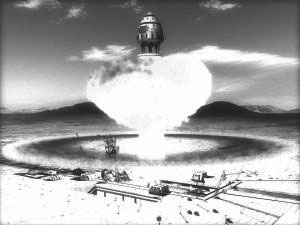 A few years ago, I got to meet Freeman Dyson at a conference about the commercialization of space—and, during our conversation, he convinced me that we'd gotten amazingly close to engaging in space travel on a grand scale. As in, Mars by 1965, Saturn by 1970, in a ship manned by over a hundred crew and powered by atomic weapons and launched from the surface of the earth.
Yeah. I know. Radiation. Fallout. Insanity. It would never happen.
But what if it did? How would the space race have worked out? And there you have a really interesting alternate history. Or so I thought.
You'll be able to weigh in next year, when Orion Rising is published in Panverse Three. Thanks to Dario Ciriello for selecting the story—and thanks for providing a venue for novellas!
Fair warning: if you're looking for a positive future, there's fairly slim pickings here.
March 31st, 2010 / 1,408 Comments »