One of the questions I get asked most frequently is, "How do you find the time to run a business, and maintain your writing schedule?"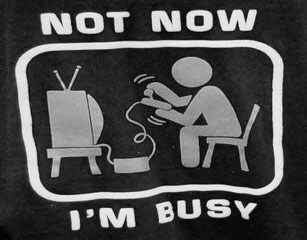 It's easy to say, "I'm a workaholic," and leave it at that. But if I was only a workaholic, I wouldn't care what I was working on. I could lock myself in my business office, do 14-hour days, and never look back. And I was only interested in making money, I would put more time into my business—or find an entirely different line of work.
More importantly, can other writers benefit from knowing how I juggle two time-intensive careers? Maybe. And that's what this post is about—trying to distill what I do into truly useful thoughts for working writers. Hopefully without reducing it to meaningless Just-Do-It-esque slogans, glib Tony Robbins posturing, or facile Gary V go-get-em-Joe stuff.
But first, a clarification. "Running a business," isn't the same as an 8 to 5 job. Nor is it the same as a I'm-A-Highly-Stressed-Exec-working-9-t0-9-and-Saturday-too. Running a small business is intensely time-consuming, and there's nobody to fall back on if you screw up. On a good day, a very good day, I'll wake up around 6AM, write for a couple of hours, and be in the office at 9, for about 6 hours of solid, pen-to-screen work. Then back home around 6, and then maybe 2-4 hours of additional writing. On a bad day, I'll get up at 6AM, spend two hours doing a crash-out project that came in the night before, run into the office by 8:30, have 12 hours of real work that includes pen-on-screen, meetings, proposal writing, dealing with the surprise tax LA City stuffed us with, a short presentation, a run out to see how the photo shoot is going, discovering the coffee machine has died, overseeing the creative team, brainstorming with tech on new projects, talking to bizdev about ideas to pitch to clients, and doing another last-second project for a client who forgot the deadline was that day, then home exhausted at 9PM, and wondering why I should even bother writing at all. The bad days outnumber the good—and, as an added bonus, you never know when they're going to come.
I'm currently coming off about 6 weeks of bad days. During which I wrote a script, and 20K words of a novel.
So, how do I keep writing, even on the bad days?
First and foremost: keep a list. Yes. I know. You're screaming now. "How the hell does a list help me? I thought you said 'no easy answers!'" But it works. When something is in front of you, in black and white, with a number in front of it, on a pad you carry around all the time, it's totally different than a vague thought in the back of your head. It's there staring at you. Daring you to look at it. To remember, amongst all the other stuff you gotta do, you also have to write. And write specifically: 2000 words on new novel. 1000 words on the current story. This is Jay Lake's story-a-week technique (which I have also used), increased in specificity and put in concrete form. So. Make a list. One list. Carry it around with you. Include the writing you need to do. Cross it off when you do it. And then add a new writing item to the list.
Second: write right now. You're not going to write better with a four-dollar coffee beverage sitting in front of you, listening to hypercaffeinated moms argue with their overentitled kids about who got the bigger croissant. Or at least I don't. But even if you're a writer who thrives on writing in the middle of coffeehouse buzz, consider this: How much writing could you get done if you weren't heading out to the cafe? How many times have you been stiffed out of a seat once you got there, or found no open plugs? So. Sit down now. Right where you are. Get something on the page. Add some more words after that. Soon, you may find that you're comfortably deep in the glow of writing. Then, later, if you need coffee (or hand-picked oolong tea, or whatever), reward yourself with a cup.
Third: perform ruthless elimination. Write this equation down. WWt = D – Ct – Ee. Or, in words, a Working Writer's Time equals the Day, minus Career Time, minus Everything Else. Your job is to minimize the Everything Else. Spend two hours per night watching television? Call the service and cancel it. Seriously. Your life isn't going to become any less rich for missing a few banal sitcoms. Spend hours per day playing Farmville or Mafia Wars on Facebook, or commenting on friends' statuses? Delete your Facebook profile. If you can't resist the call of social media, it's better not to participate at all. Have a long commute where you can't write? Strongly consider moving closer to work, or finding another job. Commutes can easily eat 2-3 hours per day, every day. That can be over a thousand hours a year. If you write a thousand words an hour, that's a million words lost.
Fourth: build strength through stress. "But you don't understand," you say. "I'm so stressed at the end of the day, there's no possible way I could write." Ah. Yes. And I've been there, too—ready to eat charcoal briquettes and crap diamonds. Which is the perfect state to write your confrontation scene. Your battle scene. Or the scene with the interminable meeting. And, you know what? Once you've written that scene, you're frequently calmed down to the point where you can do some, uh, more balanced writing for your work.
Fifth: do it anyway. "But I tried keeping a list, and it doesn't work, and I can't eliminate any of my time-wasters, and I'm just never in a state to write anything at all." Cool. Sit down and do it anyway. It's so amazingly easy to talk yourself out of writing, so amazingly easy to find distractions that keep you away from it, so amazingly easy to say, "Well hell, there ain't no use in doing this." And yeah. You could throw it all away. And become like hundreds of millions of other folks, mindlessly consuming creative from a screen, stuck in a job you hate with no chance of escape, complaining about your life but never changing it. Or you could be creating new ideas and casting them out into the world. So, make a list, sit down, eliminate distractions, use your pain, and do it anyway.
Hope this helps! But, as they say, YMMV.
March 27th, 2010 / 1,407 Comments »