CHAPTER THIRTY
The Shrill blurred towards Highest Chambers. Honored Yin screamed and jerked forward. More shots from the Mouseketeers cratered the floor, but never touched it.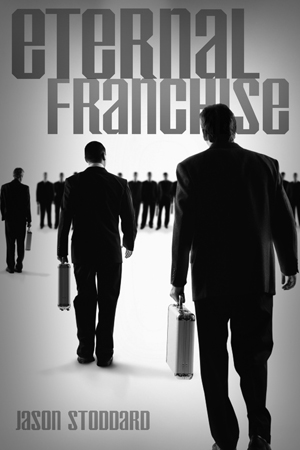 The Shrill stopped. Its scream ceased. The staticky scrabbling of silicon-carbide claws on hard polymer and stone died.
Momentum carried it almost to the tip of Highest Chambers' leather shoe. He minced back with a little yelp, but it lay there unmoving.
It was dead.
#
Jimson's heart pounded in her chest. For a moment, nobody moved. It was like a bizarre tableau in a virtual world, frozen between playtimes. The Mouseketeers and Win-Sec eyed each other, weapons held low. The Winfinity execs stood in awkward poses, as if any move would rouse the Shrill.
Jimson stepped forward and picked up the dead Shrill. He could feel its fractal surface cutting into his tough gloves, but the gloves held.
Everyone gasped.
And in that moment, Jimson saw himself, bargaining his way back into Winfinity. I'll give you this, if you make me a perpetual. Jimson saw himself, rich, powerful, head of his own immortality empire, bigger than Winfinity or Four Hands or any of the corps, because they all had to bow to him, they all had to buy his secrets. The Ogilvy Corporation.
Jimson heard the crunch of boots on rock, and turned to see Honored Yin sneaking around his side. Yin gave him a knife-edged smile, as if to say, This is me, this is what I do, I can't help it.
Jimson saw Highest Chambers, sneaking around his other side.
He heard guns coming up, pointed at him. The mouseketeers and Win-Sec. Of course. He turned to look at them. Even they had that gleam in their eye, that vision of immortal power.
"Give it," Highest Chambers hissed, scooping up a gun.
"Give it to us," one of the Win-Secs said.
"Yes! Or die!" Yin said
The mousketeers looked grim and pointed their weapons at the Win-Sec officers, who swiveled to meet them.
Maybe I could get out of this, Jimson said. Maybe I could go with Kerry. Maybe there was an empire after all.
This is worth keeping, he thought, looking down at the little rainbow patterns that chased across the Shrill's gray shell. This might be the most important thing that ever was.
But hhe didn't feel it.
Not at all.
Nothing.
Jimson grinned and tossed the Shrill up into the center of the group.
"Catch," he said.
Seven people dove to catch the Shrill.
Jimson walked past them, laughing, into the cool Martian day.
#
Tiphani walked out of the concrete bunker. Behind her, shots and shouts still rang. Eventually, someone would emerge, triumphant, holding the Shrill. But she didn't care. She didn't care about that at all.
She took off her shiny Winfinity Chief's pin and looked at it. A tiny thing. A little bauble. Meaningless, really.
Jimson and Dian sat at the edge of the plateau, looking out over the farm.
Tiphani went over to sit by them. Jimson looked at her, once, then looked back down at the valley where afternoon shadows gathered on the translucent plastic.
Tiphani rolled the pin back and forth in her fingers.
She flicked it into the valley below. It threw back one glint of sunlight and then disappeared.
"So how is it?" Tiphani asked Dian.
"How is what?"
"Living on Mars."
For a long time, Dian said nothing. Tiphani heard Jimson muffle a laugh.
"Not bad," Dian said. "Not bad at all."
March 14th, 2010 / 1,082 Comments »