Today, people are talking about "cloud computing." As in, take your web app and run it on Amazon's virtual servers with nearly infinite extensibility. Or store all your documents on Google Docs, so you can pick them up wherever you are.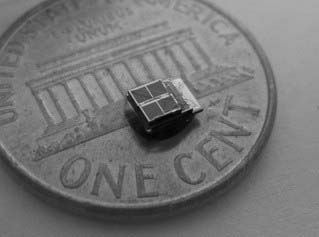 And all that is cool. But it's only the start.
Check out this nifty little device: a self-contained solar-powered microprocessor, only 9 cubic millimeters in size. No, it's not Vinge's smart dust, or the self-replicating nanochip network that Arcadia runs on in my Strange Horizons stories.
But it's a start. As the researchers say:
Its processor, solar cells, and battery are all self-contained, and . . . it would be be able to operate "nearly perpetually." . . . the system could also be adapted to be powered by movement or heat."
Consider this little device with a shortrange wireless transmitter, busily talking to all of its neighbors. Maybe with a small lens and CCD. Maybe, just maybe, with the ability to bond to a grain of sand and slowly "grow" its replacements.
Am I dreaming? Of course.
But so were the researchers who asked, "Hey, I wonder if we can make this tiny little thing work?"
Here's to the future.
March 7th, 2010 / 1,115 Comments »