We can sit around and bemoan the crisis du jour, or we can do things. Things like building a suborbital spacecraft for 50,000 euros. In the words of SomethingAwful, pure awesome. Check it out.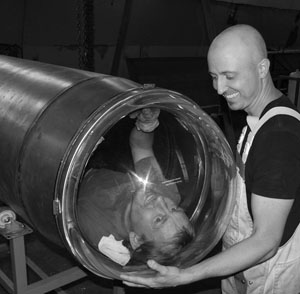 "Wow, there are people in this world crazier than Stoddard," you're saying.
And you're probably right. But the crazy guys at Copenhagen Suborbitals are following up their previous project—building the world's largest homegrown submarine (did I mention these guys are insane)—with an even more ambitious one.
Specifically, building the world's largest amateur space rocket. And planning on stuffing someone inside of it for a suborbital flight. In their words:
This is a non-profit suborbital space endeavor, based entirely on sponsors and volunteers. Our mission is to launch a human being into space.
We are working fulltime to develop a series of suborbital space vehicles – designed to pave the way for manned space flight on a micro size spacecraft.
Two rocket vehicles are under development. A small unmanned sounding rocket, named Hybrid Atmospheric Test Vehicle or HATV and a larger booster rocket named Hybrid Exo Atmospheric Transporter or HEAT, designed to carry a micro spacecraft into a suborbital trajectory in space.
And—please note, these guys aren't paper-plan dreamers. They have stuff BUILT. They have tests MADE. They are well into the physical, we're-really-gonna-do-this side of things.
I've donated to their cause. And I hope you take a look at what these guys are doing, what they've already done, and consider supporting them as well.
Because, guys, this is nothing but pure awesome.
February 26th, 2010 / 929 Comments »