It's easy to focus on the shiny new technologies that are just around the corner–things like augmented reality and truly useful robots and personal manufacturing. It's easy to see we're heading for an even more technology-saturated world, and those technologies will be as fundamentally game-changing as television, the cellphone, and computers.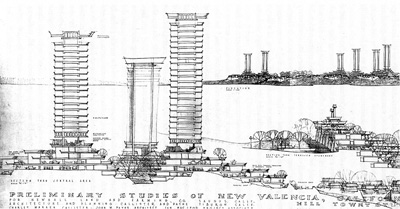 It's almost comforting. Progress marches on, we get neat new gadgets, and people who work in the tech field get even more opportunity. Barring, of course, any major meltdowns.
But what about taking another step, or two? What about the grand dreams of technologies past? What about scary, audacious, nonlinear change?
This nagging thought was brought to the fore by two events this week. First, discovering the original plans for the community I live in, and a link from Futurismic.
First, where I live. It's hep to slam the 'burbs these days, but it doesn't change the fact that's where the majority of Americans want to live–away from the dirt and crime of the cities. I live in a 'burb–actually, a very old town, just north of LA, that has become a 'burb by assimilation: Newhall. It's a town where the first gold was discovered in California, where lots of silent Westerns were filmed, and where, today, one of its sister cities is Valencia . . . a "master-planned community." Picture the neighborhoods of E.T. That's Valencia. Houses carefully segregated from shopping, lots of cul-de-sacs, lots of neighborhoods with gates and lofty names.
But–in the process of digging up some local history, I came across a sketch of the original plan for Valencia, circa 1963. And sat there, shocked, because I couldn't believe what I was seeing.
High-density hilltop highrises. Rising over open fields, pastures, and rolling hills of golden California grass and gnarled old oaks. Housing two hundred thousand people–a fundamentally new kind of city.
Can you say holy urbmon, Batman?
And as I sat there, I thought: What developer would dare propose something other than cookie-cutter McMansions today, or repurposed downtown lofts? Who would have the guts?
And, I thought in dismay: probably nobody.
Then, the second strike: Futurismic's link to Wired's profile of Peter Thiel, co-founder of PayPal and now leader of a VC firm and a hedge fund. This guy, who should be fundamentally risk-averse, is saying we need to pursue the grand old mega-tech from the golden age of science fiction.
Wait. Stop. Re-read that.
A venture capitalist is stumping for mega-tech from the golden age of science fiction.
And think about that a moment, and ask yourself: how far have we fallen, when it takes a banker to dream grand dreams?
Now, he's coming from a viewpoint that is fundamentally skewed, and focused on answering a single question: How do we keep a big bag of money growing? But he does have a point: if we don't start looking at radical technology–seriously–we aren't going to make the fundamental breakthroughs necessary to sustain the advances that fuel our technological/monetary civilization. And that could end up being very, very scary.
Of course, *how* we start building radical tech in a world that is straight-jacketed by rules, regulations, safe-think, and closed-minded people who twitch at the mere thought of someone surfing on their beach, let alone building underwater communities. How do we move people forward–people who are fundamentally comfortable in their suburb (or in their loft, or on their estate, or whatever)–to get them embracing the possibilities of the future? How do we take two steps forward? How do we get beyond the tried, tested, well-known and safe?
I can think of a few ways. Some are pretty. Some aren't.
What do you think?
February 19th, 2010 / 1,102 Comments »