"Overhead" is my new story, soon to appear in Shine, Jetse de Vries' anthology of positive science fiction. Now, you can get a tiny taste of it over at Jetse's other adventure, Daybreak Magazine.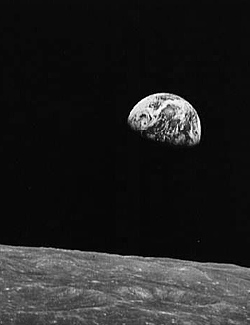 And, yeah, some unsolicited commentary: this may be my most positive story to date, and I'm sure some will say I'm stretching the limits of credibility.
But, you know . . . you never know.
Looking back now on Apollo, with its damn-near vacuum-tube technology, short timeline, engineering with sliderules and mainframes, no complex computer simulations, no fuzzy-logic safety systems, just a bunch of people who said, "Fuck it, we're gonna do this thing . . ." And did.
If we don't try, we'll never succeed.
If we hide behind our fears, or, worse, use them to pull a cover over our head, a warm and comfortable cover that feels good, but hobbles us for all time, we're done. Stick a fork in the human race.
So. Let's all go do dumb, audacious things. Some will work.
And some will work spectacularly.
January 22nd, 2010 / 1,082 Comments »