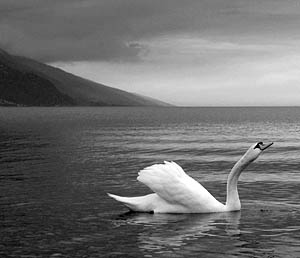 So, I'm starting to hear from fans of White Swan, my latest story, currently up on Futurismic. Here's what they have to say:
From Big Dumb Object, James Bloomer writes:
One of the joys of this story was the hook. From the start it's unclear what is exactly happening, and what has exactly happened, but it's something intriguing. So we follow Lili, trying to understand what she's doing. And the story heads off further than I'd expected after reading the first section, pleasingly taking the plot on and on. When everything is finally explained it's not a disappointment and it doesn't end with a quick reveal and a TADA! but instead carries on. Let's the protagonist try and win.
The writing is good all the way through, nicely poetic and evoking the near future in all it's hope and despair. Believable and cool. Really enjoyable.
And at The Science of Fiction, Andrew Porter chooses White Swan as Story of the Week, and writes:
White Swan, by Jason Stoddard, is a rare story. Several paragraphs end with descriptions that made me feel like I had been punched in the gut. I try to pick stories of the week that in some way will impart a writing lesson to my readers, be it innovative language, narrative playfulness, or just fun, but this story is damned near perfect. It does what I like most in science fiction and I describe that with aid from a line in the story: great science fiction…"unfolds like a carnation, bright and ruffled." My god that is good, and it is only one of many lines that will leave you breathless.  I am watching this writer. You should to.
Kind words–thanks for reading!
January 20th, 2010 / 396 Comments »