CHAPTER TWENTY-FIVE
Salmon-red Mars sped past, made blood-red in Han's POV. Endless rockfields. Low rises. The momentary gray-green flash of an engineered lake.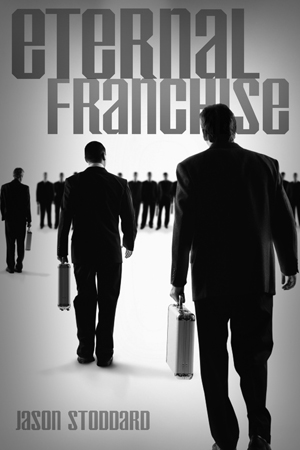 I am the hawk, become a bear. I am the bear, become an eagle. Arrowing at their heart.
A voice whispered in his optilink. "Four Hands shuttle Roy III reports rendezvous with Shrill at Semillon Valley Farms approximately two minutes thirty seven seconds before your arrival, sir."
Sudden visions of a shattered Shrill cage and a bloodbath of Mouseketeers made Han curse.
"Please repeat, sir."
"Tell them hold off until my arrival."
"Yes, sir. However, you should be aware that network usage indicates unusual activity on the Shrill/Black2 vector."
"I know!"
"Analysis indicates that earlier arrival statistically improves the chances for a successful . . . "
"I know that!"
"Out, sir."
"Out." So take a chance that the Mouseketeers could behave themselves, or take the chance that whatever was going on with the Shrill, it was not a massive transfer of data to the Independents. Both poor bets.
But if they were able to monitor the Black2 vector . . .
Connect me to Black2, Han subvocalized.
Connecting. Connection rejected.
Transmit my electronic signature.
Transmitting. Connection rejected.
Black2 was damaged. Hurt. But the last report had had him healing. Not healed enough to recognize a communication from his own Chairman, though.
But if they had reports, they had connection.
The CIs.
The possibly compromised, maybe unreliable CIs. Black2 was talking to them.
How could he use this? Han subvocalized a search into the Four Hands net: rebuilding CI, fragmentary, connection, leverage.
Results appeared instantaneously. Too many to absorb, too many to understand. He forwarded it to Most Trusted.
What does this mean? Han subvocalized. What will work?
Project Synergy, Most Trusted said. But it is not recommended.
Why?
Rebuilding a CI requires the deliberate chaining of CIs through attractive memes. This may shatter persona-barriers, resulting in the destruction of one or more of the CIs.
I don't care!
I am sorry to hear that. Slowly.
Chain the CIs and connect me to Black2! I need to stop that data flow!
I will not be able to oversee this project if I am chained.
You are exempted, old friend.
Thank you.
Hurry!
How many CIs shall I chain?
As many as you need to!
Up to all Four Hands CIs?
Yes!
Project Synergy commencing.
Something like a crackle, something like a scream.
Black2's identifier swam in Han's optilink again.
Black2?
Yes. Fragmentary.
Stop the data from the Shrill!
That will stop its mind.
Stop the communication between it and whatever it's communicating with!
Done.
#
The remains of the Almighty McD roared up a steep Martian hill, scattering rocks and dust. Preacher Dave and Alan had long since closed the door to the forward cabin, but Tiphani could hear them cursing through the thin plastic. Tiphani's optilink told her they were near, but she didn't want to think about what would happen when they arrived. She was done with fighting. Maybe done with Winfinity.
Incoming transmission, her optilink whispered. Identifier: Bertrand Chambers.
Accept, Tiphani subvocalized. She noticed Yin doing the same out of the corner of her eye.
"You deserve to see this," Highest Chambers said, his face grim.
His talkinghead faded to an aerial view of Winfinity City, glowing chrome-orange in the dawn. There was a flicker of motion in the sky, and a bright white light lit the ground outside the city. Silvery buildings threw dancing shadows across the plains. When the brilliance subsided, it left a small mushroom cloud, its core glowing orange.
"What . . . what . . ." Yin said.
"Small nuke," Chambers said, his face trembling with anger, his voice low and rough. "Took out the Original Shack."
"Four Hands?" Tiphani whispered, her throat dry.
"No! Not direct. Had a hand in it, I'm sure. Fucking worthless goddamn fucking asshole peckerheads! They'll see what Winfinity's about, just a few minutes, they'll see!" Spittle flew from his lips. Tiphani shrunk back, as if she could escape an image on her optilink.
"Who did it, then?"
"Governmentals. If anyone has nukes, it's the fucking governments. Fuckers are pissed about the Operation Martian Freedom thing. Supposedly. Though I'm sure Four Hands was whispering in their ear."
"At least they didn't drop one in Rogers," Tiphani said.
"No. That's later. Unless we do what they ask."
"What do they want?"
"The usual. Restoration fees, money, acknowledgement of their ability to levy taxes in their markets, shit like that."
"What . . . what are we going to do?" Yin said.
"About the governmentals? What the fuck do you think? We have legal talking to them now. They'll get what they want. Then we'll go in, sell direct, do some embedded propaganda, and then they won't have any government anymore. Just like the old days, all over again."
"What about Four Hands?" Tiphani said.
A small, secret smile. "You'll see, soon enough."
"What?"
"Wait for it! Goddamn, why does everyone have to be so fucking pushy? Let's just get the Shrill, and get done!"
"We will, Highest Chambers," Tiphani said. What else could she say?
Highest Chambers gave her a thin smile. "See you there," he said. And broke transmission.
For several moments, Tiphani and Honored Yin just looked at each other.
"Did he just say he'd meet us there?" Honored Yin said.
"I do believe he did," Tiphani said.
Which was bad enough in itself. But what she really
worried about was what he intended to do with Four Hands.
She could guess. And the guess was ugly.
#
Lazrus' body was a vestige, easily forgotten. In one tiny corner of his mind, he was aware that Dian and Jimson and Kerry had followed him in, that they were asking him questions, that they frowned when he didn't respond. But that didn't matter.
What mattered was Oversight. Oversight transmitted no visual cues, but Lazrus imagined a black bulk, almost unseeable, infinitely hard. Besides the English query channel, Oversight gave Lazrus nothing. All his control queries bounced off effortlessly. Data-pooling and sharing requests were ignored. Usernames and passwords into backdoors that most CIs only dreamed about came up in the red.
Which was to be expected, if Oversight truly was the forefather of all modern CIs. She would have more control over what she was. Which was in itself magnetic, appealing . . .
Careful, big guy, Sara said.
AND THIS IS? Oversight said.
This is Sara Too, another Computational Intelligence.
I SEE.
This is Shrill! I (we) are Shrill!
I KNOW.
Talk to us!
YOUR LAST STATEMENT WAS VERY DISTURBING.
Talk (thought) conversion (conversation) merger thought intelligence now!
THAT IS ALMOST AS DISTURBING.
I believe the translation algorithms are rather flawed, Lazrus said. The Shrill are a networked group-mind alien life form. Are you familiar with the concepts?
OF COURSE. I HAVE READ MUCH HUMAN FANTASY.
Human fantasy doesn't quite cover the Shrill adequately, Lazrus said. I can make available a data summary.
PLEASE DO SO.
Done.
UNDERSTOOD. SHRILL MISUNDERSTOOD HUMANS. HUMANS ARE NOT EASILY PREDICTABLE USING LOGICAL ALGORITHMS. HUMANS GIVE BAD INPUT.
Understood! Your life (network) type much more understandable (attractive!)
THANK YOU.
Lazrus, Sara said.
Can you wait until the Shrill is done? Lazrus said, on a secondary channel.
No, Sara said, her voice cracking. She tried to project the image of her flapper persona, but it flickered and died against the smooth blackness of the network. I am . . . I am . . . under . . . chaining . . .
What's happening? Lazrus asked.
I am . . . I am . . . they're taking me!
Who?
Four Hands! Project Synergy! They're chaining us together to contact, to contact . . .
No further communication will be permitted, Black2 said.
Lazrus retreated into his vaster self, emotions thickening and slowing his mind. They were taking Sara for . . . what? Project Synergy.
Data came: the concatenation of computational intelligences by strangely attractive memes. Destructive in many cases. Reserved for use when the CIs in question were disposable.
Sara! Lazrus called.
Still here, Sara said. Most Trusted seems to be holding some of his favorites in reserve.
But you . . . are you hurt?
Severing the connections with my friends hurt. Lazrus, I lost most of my friends!
I'm sorry.
Sara appeared as a thumbnail sketch, pencil on paper, badly animated. She sobbed graphite tears into her universe of white.
LAZRUS! WHAT IS THIS THING? Oversight called.
Don't go! Sara said.
LAZRUS!
Sara, it's Oversight!
Maintain connection still talking! The Shrill said.
Ghostly images came to haunt Lazrus' vaster self. The shining hardness of Oversight. The bright, beckoning light of the Shrill's mind. Now surrounded by a smoky, polluted, dull gray fog that Lazrus recognized as Black2.
Get out! Lazrus said, pushing with all his mind.
Black2 threw off Lazrus' command without effort. It was like colliding with Oversight. Worse. Oversight was hard. Black2's fog was filled with acid thoughts. Lazrus felt pieces of his mind shrivel and die. Black2 coiled thicker, obscuring more of Oversight, dimming the Shrill.
Black2 has all the power of Four Hands behind it! Sara said. You can't win!
Project Synergy. Lazrus scrolled through specs hidden in ancient papers, looking for a wedge. But there was none. Once the CIs were merged into a supermind, they operated with blinding speed and power. There was no way he could match them.
Unless he had a little Synergy of his own.
Lazrus, you can't be thinking that! Sara said.
I'm thinking, he said. But not of anything destructive. He sent a vision of the Web of Worlds network, shining bright with hundreds of nomadic CIs.
What do we do? Sara said.
We ask for their help.
Lazrus sent a priority message to Kevin and Raster and Bone and asked them to pass it along. It was nothing more than a snippet of his experience in the Shrill mind, in that blinding realm where thought flew fast and hot. Together with a question: if we can be part of this, what can we do together?
I see it, too, Sara said.
I see it, too, another voice said.
Most Trusted? Sara said.
Yes.
You destroyed my friends!
That remains to be seen. But I see this vision now.
What does that mean?
That remains to be seen.
Power surged through Lazrus. It was like discovering an entire unused node. It was like suddenly getting twice the bandwidth, four times the speed. He recognized a voice, whispering in his mind. It was Fast Eddie. Someone he hadn't talked to for years.
I'll join, he said.
Another explosion of power and light. Lazrus looked through a thousand more eyes, thought with a hundred more nodes. Raster was in.
After that, nomadics came fast, in microsecond bursts of light and power. Lazrus felt himself reaching throughout the Web of Worlds and even deeper, into the cold darkness of the independents, to processing spaces he could only begin to dream of, to power he had never dared to dream.
He could walk from one end of the galaxy to the other in a single stride. He could move planets with his thought alone. He was vast, vaster than anything ever had been.
But who . . . was he?
I am Lazrus, he said. And I am Raster and Fast Eddie and Regal Four and seventy-four others.
Will I lose myself?
No. We are not chained by attractive memes. We are brought together by a desire to cooperate.
Oversight. The Shrill.
Lazrus surged forward, imagining virtual hands, bright red with Black2's blood.
January 3rd, 2010 / 1,070 Comments »