In the last decade, I got married, was beaten to publication by my wife, won the Writers of the Future contest, sold 30 stories, got to be a Theodore Sturgeon and Sidewise Awards finalist, moved to a new house, started my own blog, launched a video wine-review site, spoke about social media in a dozen cities, grew my marketing business out of the tech-only space to do work for companies as large and diverse as Warner Brothers and Princess Cruises, developed significant sites in the metaverse, got to talk at Harvard about Second Life, restored a car or two, somehow ended up with 7 reptiles as pets, and probably two dozen more significant things I'm forgetting about at the moment.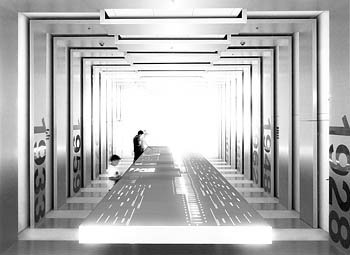 Almost none of which I would have actually expected to do, if I was looking forward from January 1, 2000.
I went through the change of millennium with no real agenda or to-do list. I didn't plan the past decade. And I won't plan the next. I suspect we're going to be staring at massive changes that they'll make primitive augmented reality technologies like Google Goggles look pale. So I'm going to stay open to new things, new opportunities, and new points of view.
But here's what I can see for 2010 and beyond:
My first books, and other writing. Yes. In case you missed it, Prime Books picked up both Winning Mars and Eternal Franchise for publication this year. You can pre-order Winning Mars on Amazon right now. I'll also have a new story, Overhead, out in the Shine anthology, which you can pre-order here. Beyond that, I'll have an announcement about a new story shortly. I'd love to make writing the day job, but I'm going to be realistically skeptical about that. However, there are some other things, well . . . cooking. More on that later. Fingers crossed.
A smaller, more focused marketing business. In 1994, I abandoned my engineering job to start a marketing company. Yes, I know. And yes, I starved for two years and worked hundred-hour weeks for twice that. Now, we're scaling back from the Warner Brothers and Princess Cruises of the world. They're simply, too, well . . . mass-consumer. We're a lot more comfortable marketing things like atomic force microscopy and molecular beam epitaxy. So, a shill: if your marketing, advertising, or design company rolls their eyes at your technology and wishes they were working on Pepsi, talk to us.
A new venture. Abandoning engineering completely has always grated on me. That's why I've decided to start a new venture making audio equipment, specifically zero-feedback, fully discrete, single-ended, class-A headphone amplifiers. Made in the USA. At Chinese prices. It may go nowhere. It may go somewhere. Who knows? With any luck, we'll be selling by spring.
Beyond that, I'm open. Though if there's a free seat on SpaceShip2 (or on the not-yet-existent orbital hotel, or on a one-way mission to Mars), may I be first in line? Or an interesting start-up working on real or virtual technology. Or the opportunity to go somewhere really bizarre, like Antarctica.
Yes, I know. Too much. Too many things to do. Why do I make myself so busy?
To that, I say: the subjective rate of time doesn't accelerate when you're busy. Do more, and your time expands. You'll be amazed at what you can do. And you'll be amazed at how long a year can be. Do less, and your time contracts. Days slip away. Months fall by the wayside. And soon, you're sitting on the couch in front of the TV, wondering what happened to your life.
To all, here's to the next decade!
January 1st, 2010 / 1,085 Comments »