On Jetse de Vries' Twitter, there was recently a blowup about positive science fiction: what is it, is is relevant, is it placing too much of a burden on the writer, and one really good question: "Has science fiction ever had positive answers, even in the golden age?"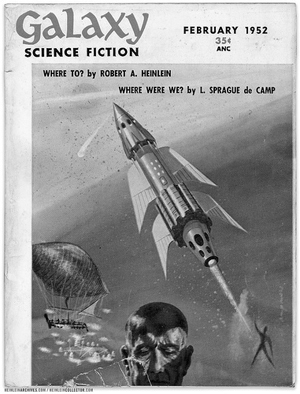 And Jason Sanford, in answering his own question, hits the nail on the head:
"So what is positive about the genre? That's simple: SF's outlook on humanity's future. That humanity is able to always find a solution to the problems we create. That we as a species do not give into despair and give up. I would argue that this positive outlook is what is missing from SF these days, and also explains why the literary SF genre is in such trouble."
Let's look at this more closely. In the past, science fiction may not have had all the answers (though it frequently provided an amazing future full of shiny technologies, many of which were positive and aspirational.)
But what it did have was the attitude.  It had characters who felt that the world (or worlds) could be made better. Who did not give into despair. Who knew that they, themselves, could be part of the solution.
And it had the ability. These characters didn't just passively exist in their world. They went out and did the right things for the right reasons. They acted. They worked to effect change. Sometimes even if it seemed as if all hope was lost.
And . . . without the attitude and the ability, there are no answers. There never will be any answers, because there's no hope, and no engagement.
So where do you find the attitude and ability today? In big SF movies.
Which is why literary SF is now (frequently) the equivalent of an art-house film. Critically acclaimed by the highest arbiters of taste, nodded at solemnly by a self-selected intelligentsia . . . and doomed to run in a handful of theaters, to vanishingly small audiences.
December 19th, 2009 / 1,116 Comments »