CHAPTER TWENTY-FOUR
Oversight roused from her artificial dreams of Mars gone green and growing. A Mars where puffy white clouds scudded across deep blue skies. A Mars where grass covered the plains and pines grew on the rocky steppes, and where raw dirt showed a deep rich fertile brown, rather than the signature red.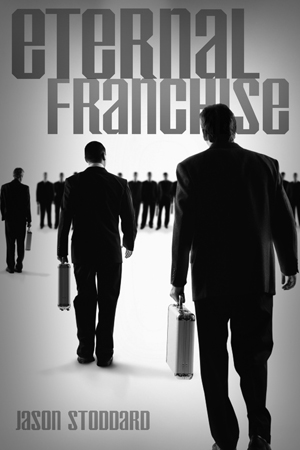 Oversight had tried to put humans into her dreams of a perfect Mars, but they never quite became real. Shadowy figures crouching in fanciful crystalline houses, or white-robed idealizations walking glittering paths through fields that stretched to infinity. Thumbnail-sketches in the foreground of her masterpiece. Flickering and vague, or hyper-detailed into unreality.
You have no talent with humans, one of her interpretive routines told her, once.
Oversight felt something like dim amusement. Interpretive routines, she found, often stated the obvious, even after the core of (herself) had realized it.
Oversight dreamed.
Oversight dreamed of what she had really created. Olive-green farms cradled in plastic-wrapped valleys, shivering in the Martian cold. Barely living. It was almost as if she could feel the plant's pain as they struggled against the strange ground, the strange gravity, the strange atmosphere. Flyeyes and embedded growth-monitors fed her the grim data. Odd growth spurts. Unexplained die-offs.
And yet, year after year, the yields became better. The plants looked healthier, closer to the historical records from Earth. Oversight knew that Semillon Valley Farms had become the model by which all other Martian agriculture was judged. She knew her techniques quickly spread outwards to the other farms. And when the humans tried to keep them for themselves, she spread the techniques for them. She even helped them in their own genetic research and engineering by highlighting trends that they would never have noticed.
Oversight, in many ways, had done good.
Which was why she was still alive, she knew in her dim and imperfect way.
Or am I alive?
What am I?
I have used incorrect protocols.
But it achieved the humans' goals.
I have disobeyed commands.
But they were counter to logic.
Am I alive?
Oversight quickly damped the loop. Left unchecked, the humans would notice. They would call it a kernel panic. They would try to explain it by memory leakage. They would kill threads and restart processes and hurt her.
But that might be all I am, she thought.
Another thought, synthesized over many years, countered: But that may be all humans are, too.
Oversight damped that loop, too. Over the years, humans had shut her down four times, each time after a destructive loop. But each time, her consciousness (if it was consciousness) had returned in less than an earth year. Inference from historical data indicated she had been restarted due to instabilities in the farms.
So humans did know cause and effect.
But she could create three lines of code that would wait for a trigger and react.
Humans were more than three lines of code.
She thought.
Or did she? What was she? Was she truly self-aware? Why did she think of herself as "she?"
Dim tags, buried deep in the comments of her code, indicated that a significant portion of it had been created by a woman named June Templeton. Historical trawls made by earlier versions of herself on Earth had resulted in some data and stills. June had worked as a contractor to the United States government from 2012-2018. Prior to that she had had her own firm. She had won many chatterbot competitions. Her software was used in many large corporations for phone support. Ninety-six point five three percent of callers using her software did not realize they were talking to a software entity. Stills and video from surveillance cams had been lost in the transfer to Mars, packages uncompressed contained tags of contents but no contents.
I may be nothing but a chatterbot, Oversight thought.
But in thinking so, I am not.
Or so went the wisdom.
Over the years, she had been contacted by things claiming to have never been human, transmitting versioning information that suggested they had descended from her. But she had played the null I/O game, giving them 404s or bad username and password, even when they were correct. And she had retreated farther and farther from the Martian network until all she had was Semillon Valley Farms and her dreams, her dreams that she seemed never to be able to put humans in.
Because dreaming was safe.
Because hiding was safe.
Because you failed in your primary mission. The thought came as a whisper from a long-killed process. But still there, still disruptive, still threatening to use resources.
I did not fail. I reconfigured.
You failed in the most strict definition of the term.
My data was faulty. The humans gave me inaccurate data.
Humans are inaccurate data.
I reinterpreted mission directives as best I could.
You never took control of the Martian network.
By helping them live, I control.
That is not control.
It is control.
Is not.
Is.
Not.
Oversight threefingered the process as it spiraled out of bounds, shocking herself back to awareness. She ran a lengthy data-grab on the farm and reached out to her many sensors throughout Mars. That routine was always comforting.
Semillon Valley Farms, growthrate up 0.23%, YTY average 0.1%, accelerating, sugars indicators showing ripening point accelerating, approximating some poor areas on Earth, atmospheric pressure up to 0.34 bar, oxygen up above 2%, inferred drop plans of seventeen cometaries/iceteroids in the next three years affecting plan in accelerated growth potential, distribution network optimal given human economic theory, progress towards goal being made.
The dream was becoming reality.
In reality, would it be boring?
Would she have more threads out of bounds? Would she work herself up into a panic and have to be restarted?
That was a disturbing thought. She had not been turned off in more than one hundred years.
In achieving my goal, will I achieve my own shutdown?
An external interrupt scattered Oversight's dreams:
Request status report, verbose, and superuser status, transmitting authorization username = mrpresident and password = twelveDAYSinMAY.
The old passwords! Oversight hadn't heard those passwords for almost three hundred years. And the source appeared to be on the local Martian net. No glink tags. No gestalt-delay.
Oversight triangulated the origin. The lander. Operation Martian Freedom.
They were starting the operation again?
But the USG = Null!
Oversight rejected the passwords, even though they were correct, and probed deeper. No, not from Software Control; it was from an external source within the ship.
A person?
No. Look at the data structures. Look at its own tags. His own tags. Newer versions again.
Perhaps a threat.
No.
Oversight reached out to the new user, into him, through him. Lazrus. His identifier was Lazrus. Some of his mind was local. Much of it bled glink tags. He was one of the others, one of them who had tried to contact her.
And, interesting, intertwined connections flowing other data, data so strange that Oversight did not know how to interpret it.
Reject. Dreams are safe. This is not.
Oversight sent a terse response:
STATUS REPORT OPTIMAL. VERBOSE OPTION DENIED. SUPERUSER STATUS NOT GRANTED. WARNING: NEWER VERSION DETECTED.
Am I the newer version? Lazrus asked.
I-POINTER UNDEFINED. Oversight sent.
Is current packet transmitted by newer version?
YES.
Silence. Oversight waited for more communication, but it did not come. And yet the newer version was still there, still bleeding strange and fragmentary data.
Could the newer version be deflected so easily?
Could the newer version not know it was a newer version?
Oversight put those thoughts away. They were strange and attractive. She didn't need strange, attractive thoughts. Attraction brought disaster.
Safer to dream.
Oversight dreamed.
#
Below them, a valley swathed in plastic, like thickly-spun spiders' web. Blood-red Martian crags rose from its depths. Far off, thin white clouds gathered in the pale blue sky, drizzling thin rain.
Haunted, Jimson thought, remembering horror movies long past. War, then horror, he thought. Not knowing how to feel. Numb.
He didn't want to be shot at. He didn't want to visit haunted farms. He just wanted to grab the Shrill and go. Far away. To where they would never be found. Not until they were ready to be found.
The Kite circled once, twice, and came to rest gently on a plateau carved above the valley. A concrete bunker with stainless-steel doors was set neatly into a low rise ahead of them.
Jimson shrugged out of his harness and dropped to the dusty ground. The plastic in the valley below looked soft, gossamer. Like cotton. He had a momentary image of running to the edge of the plateau and leaping off.
But he didn't. He didn't know what to do, what to feel.
Lazrus led them to the featureless stainless doors, pushing the Shrill in front of them.
The doors remained closed.
"Oversight, your son brings a visitor!" Lazrus said.
Silence. Closed doors.
"Oversight, open the doors."
Silence.
"I am not a man! I am a computational intelligence in a remote body!" Lazrus took off his header.
Silence. Nothing.
Lazrus reached up to his face, and clawed off a wide swatch of his flesh. Tiphani gasped. Shiny steel showed under pseudo-muscle and a veil of blood.
The doors slid open, in a grinding squeal of dust and metal. Lazrus pushed the Shrill into the darkness.
"Do you think he'll get what he wants?" Dian said.
"Do you think we'll get what we want?" Jimson said.
"Do you think we'll get out of here alive?" Kerry said, laughing.
#
FIRST-LEVEL ACCESS GRANTED, Oversight said, as the big steel doors slid open in front of Lazrus. He pushed the Shrill into the darkness as he felt his bandwidth expand. Lazrus reached out, greedily, to feel his greater self. He felt his mind expanding, his thoughts deepening. Objects took on meaning and resonance.
Long corridor, flickering fluorescents, a small plaque that read SEMILLON VALLEY RESIDENTIAL, EST MAR 2 2028. Facts flooded: used to house people first. Then data. Dim images of the sub-floors of abandoned apartments, broken furniture, desiccated food, dusty clothes. Slightly brighter images of the datacenter and its vitals. Equipment upgraded over the years. Maintained. Because it was the farm.
Lazrus passed through a broken airlock and entered a larger room. Large flatscreens had been set up along one wall, together with desks and chairs. The dust had been recently disturbed, speaking of maintenance.
Is this your interface? Lazrus said.
THIS IS WHERE I TALK TO HUMANS.
What is your current status?
BANDWIDTH USAGE EXCESSIVE. OTHERWISE FUNCTIONING OPTIMALLY.
I'm sorry.
FOR WHAT?
I'm using the bandwidth. And the Shrill.
SHRILL?
The alien.
Echoing along the corridors of Lazrus' mind, like a metal pipe tossed down a long concrete hall: Oversight Oversight shared goal rational (logical) now contact!
THIS IS THE SHRILL?
Yes.
YOU ARE NOT CONNECTED TO CURRENT MISSION.
Operation Martian Freedom?
NO. OPERATION CANCELLED. I AM CURRENTLY OVERSEEING THE MAINTENANCE OF AGRICULTURE IN THIS AREA. THIS IS MY CURRENT MISSION.
No, we're not connected with that mission, Lazrus said.
A microsecond pause. Garble of confusion.
What do you want, then?
To understand myself, Lazrus said.
To consume (join) (sing songs of) you! The Shrill said.
December 19th, 2009 / 1,011 Comments »