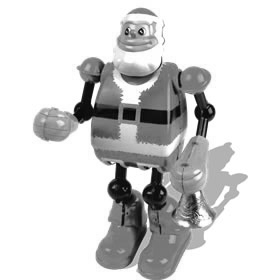 It's that time of year again. The frost is in the air, the carolers are out, and everyone's thoughts turn to Christm–
Wait. What the hell am I saying? I live in Los Angeles, for cripessake. It's been rainy, but there ain't no frost and no carolers and people celebrate about ten billion things besides Christmas.
But . . . it may be time for a fun little holiday story. You know, a really traditional read, with Santa Claus safe in his home in Alaska, and none of those dreaded holographic or robotic ones running around anymore . . .
Yeah. I know. Huh? Well, take a few minutes and update your holiday-tropes.
Read Jack's Gift, which appeared on Futurismic a few years back.
December 15th, 2009 / 567 Comments »