Lazrus ducked into the red-lit darkness of the Operation Martian Freedom lander. His available bandwidth decreased even more. He felt his greater mind slipping away.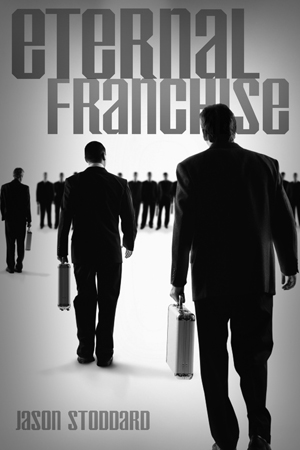 Lazrus gripped one of the metal bulkheads and leaned against it. His thoughts ricocheted around, as if in a tiny steel cage. So small. He was so small.
No local net, he thought. Or shut off.
Slipping, slipping.
One clear thought: it would be ironic to lose myself here, unintentionally, when I am so close to my goal.
No local net.
None.
And the effective shielding of the metal lander.
He couldn't go any farther.
"Are you all right?"
Jimson. It was Jimson. Even recognizing faces was an effort.
"No," Lazrus said. "Not enough bandwidth. Have to get out. Or the ship turned on."
"I don't know if it's operational."
"It . . . literature says it is."
Jimson laughed. "Brochures lie."
Another person. Looking at him. Kerry. He would understand.
"Get him outside," Kerry said.
Jimson squared his shoulders and opened his mouth to say something, but Kerry cocked his head as if listening and held up a hand.
"Wait," Kerry said. "We have company. Looks like Winfinity has arrived. We need to move up the timetable a bit here."
"What's wrong with your friend?" Kelly said, coming back from the front of the ship.
"Nothing," Kerry said, pulling a small, shiny gun out of his jacket.
"Oh, shit I knew . . ." Kelly said.
Kerry shot her, once, in the belly. The gun made a mild coughing noise and Kelly doubled over.
"What are you doing?" Jimson said.
"Just tranqed," Kerry said. "I don't know how good the governmentals have themselves rigged for telemetry, but we can expect that this place will get very crowded in a big hurry. Either them or Winfinity. Go find a way to turn on the ship."
"But . . ."
"Now!"
Jimson ran forward. Lazrus saw him through the POV of the bandwidth-hogging Shrill. Soft. Not much resolution. Almost pleasant.
Slipping . . .
Bandwidth surged through Lazrus. Suddenly he was larger than life. Like a god, like a marble statue, like a . . .
Those were human concepts.
Like an Olympian, like a football hero, like a . . .
Lazrus threefingered the process, but it spawned new threads and continued:
Like a professional wrestler, like a . . .
Lazrus tied the threads together, threefingered.
In his mind, silence.
From far away, the high popping of gunfire and the dull thud of explosions. Lazrus looked out the door, but he could see nothing but red Martian dust and rocks.
"The ship's on," Jimson said, returning from the front.
"I know," Lazrus said.
Oversight oversight oversight, the Shrill said.
Lazrus, I've been worried, Sara said.
Enter username and password, a new voice said.
#
Consumeristian troops poured out of the Almighty McD like ants from the side of a dead centipede. Near the shack, a half-dozen governmentals huddled. One of them ran off in the direction of a mound of dirt that marked the entrance to underground living quarters.
Tiphani snugged on her header.
Yin watched her activate it, shaking her head. "We won't be part of the fighting," Yin said.
"You never know," Tiphani said.
"Targeting Kite with 20mm cannon," Alan said, from the forward cabin.
"Targeted."
"Locked."
"Fire."
The Almighty McD rocked violently to one side, a deep hammering sound coming through its metal frame. Tiphani frowned. That was way too big a recoil for such a tiny gun. Or was it? It felt almost like they'd been hit.
"Holy shit!" Alan said.
"What the fuck was that?" Preacher Dave said.
"The Kite took out our guncabin!" Alan said.
"How? There's nobody inside."
"Nobody we can read."
"Shit, shit," Preacher Dave said. "Have the ground troops fire on it."
Tiphani watched as rifles came up. She wasn't surprised by what happened next.
The Kite began firing on the troops from several concealed gunturrets. Men and women flew. Blood spattered in the red Martian dust.
"Shit shit!" Dave said. "Scatter them! Send them in! Never mind the Kite."
Troops scattered and advanced on the site of Operation Martian Freedom.
"Put on your header," Tiphani said.
"Why?" Honored Yin said.
"Because you don't want to die."
Honored Yin looked at her, eyes wide. For long seconds she didn't move. Then, with trembling hands, she snugged it on.
"Good," Tiphani said.
Governmentals appeared on the dirt mound, carrying heavy Martian Winches. Tiphani closed her eyes as rounds peppered the Almighty McD, spalling the window-glass. The consumeristian troops surged forward towards the governmentals, raising their own guns and firing. Little puffs of pink Marsdust rose on the hill. Governmentals flopped down the mound, spilling bright blood. Consumeristians fell also, but their numbers were greater. They surged forward.
The governmentals trapped at the shack disappeared behind it. There was a dull pop and a puff of dust from behind the shack.
Tiphani had time to think, Oh, shit, before the violent thump of an explosion scattered consumeristian troops and rattled the windows of their cabin.
"Fucking govs," Alan said. "Shoulda known they'd have artillery."
Another pop, another scattering of consumeristians. The ranks were noticeably thinner now.
"Pull back to transport!" Preacher Dave said. "All troops into the Almighty McD!"
"Are you sure?" Alan said. "We're testing dead beyond cabin 20, the guncabin."
"Drag it with us. Shoulda gone right through the fence in the first place."
"What if they have more weapons?" Alan said.
"Better to do it with armor than with troops."
"We can't drag it that many segments. Too heavy."
"Detach it!" Preacher Dave said.
"We're tangled. I'll have troops assist."
Troops streamed back towards the Almighty McD. Another pop from the shack rocked the Almighty McD itself, and Yin moaned, deep in her throat.
"Hull intact," Alan said.
"Good," Preacher Dave said. "Get them in. Form minimal perimeter and return fire."
"Doing so, Preacher."
Another shell struck the Almighty McD, and Yin moaned louder. Governmentals scrambled towards them, firing their Winches sporadically. The crackle of gunfire from the consumeristian troops told of return fire.
Tiphani pressed her head against the window, trying to look back towards segment 20, but perspective obscured her point of view. She considered polling a microsat for a real-time view, but she knew she shouldn't waste the bandwidth. And they seemed to be safe enough inside the consumeristian ship. Another shell struck, but Alan pronounced the hull sound once again.
Unless the Kite shoots at us again, Tiphani thought. But it had been quiet since the consumeristians had stopped shooting at it.
Automated response? She wondered.
"We're decoupled," Alan said.
"All troops inside," Preacher Dave said.
Governmentals stood up and openly ran across the red sand and dust, cradling their big Winches as if they were children.
"All in," Alan said.
"Full speed forward!" Preacher Dave said.
Governmentals raised weapons, shot.
The Almighty McD surged forwards. Alan steered it away from the guard shack, towards one of the long expanses of chain link.
"What are you thinking?" Preacher Dave said, grabbing the controls. He wrestled the big transport directly towards the shack. "If they're using it for cover, take it away."
Governmentals scattered as the Almighty McD approached. Tiphani had a brief glimpse of weathered plastic siding, then the Almighty McD shot through the shack, sending paper and plastic flying.
#
Who are you? Lazrus said.
Username and password, the new voice said.
Are you Oversight?
Transmit username and password within thirty seconds or Operation Martian Freedom software support will go into lockdown mode.
Sara, help, Lazrus said.
Searching, she said. I have possibles. Try McGregor and deadplace for username and password.
Access denied, the new voice said. One more attempt permitted. Please transmit username and password within the next twenty-three seconds.
Sara!
I know, I know. We have a universe of possibles. Distilling.
Sara, the clock's ticking.
Yes, and every interrupt you use slows the distillation.
Lazrus waited.
You have fifteen seconds to transmit the username and password for the Operation Martian Freedom software support system.
You have ten seconds.
You have five seconds until lockdown of the Operation Martian . . .
Got it, Sara said. Username mrpresident, pass twelveDAYSinMAY.
Great, Lazrus said, transmitting them.
I think, Sara said.
What? Lazrus said.
Dead silence. Not even background noise. Even the teeming thoughts of the Shrill, burrowing into the edges of the network, were gone.
Access granted, the support system said. Welcome to the Operation Martian Freedom software support system. Displaying menus.
Lazrus' POV lit with old-fashioned floating icons and text:
MISSION STATUS                    OBJECTIVE SUMMARY
CURRENT ORDERS                    COMMAND OVERSIGHT
SECURE COMMUNICATIONS          SOFTWARE OFFENSIVE
REMOTE OPERATION               ADDITIONAL SOFTWARE
Command Oversight! The Shrill squealed.
That's not Oversight, Sara said. Best guess is SOFTWARE OFFENSIVE.
Lazrus blinked that icon to life.
SOFTWARE OFFENSIVE STATUS:
SOFTWARE OFFENSIVE DEPLOYED. RESULTS INDETERMINATE.
LAST REPORT FROM SOFTWARE OFFENSIVE 2314.4.15.03.04.27 (CORRECTED EARTH TIME)
SOFTWARE OFFENSIVE OVERVIEW>>
SOFTWARE OFFENSIVE CONTROL>>
SOFTWARE OFFENSIVE REPORT A BUG>>
Lazrus blinked on Software Offensive Overview. A brief summary lit his POV:
SOFTWARE OFFENSIVE OVERVIEW
OVERSIGHT BETA VERSION 0.98.3.4 BUILD 114 >>
MARS NETWORK OPTIMIZATION BETA VERSION 0.2.22 BUILD 17
OVERSIGHT OBJECTIVE SKEW ALPHA 0.0.1.4 BUILD 2
OVERSIGHT OFFENSIVE SKEW ALPHA 0.0.3.1 BUILD 8
This is it, Lazrus thought.
It it it! The Shrill said. Oversight communicate now rational (logical) can understand communicate!
Lazrus eyeblinked on Oversight Beta Version 0.98.3.4 Build 114:
OVERSIGHT DEPLOYED.
Copy original, Lazrus said.
Command not accepted.
This is the protocol they used for data storage, Sara said, sending Lazrus a small datapacket.
Ah. Yes. Quaint. Lazrus used the protocol to create a pointer to his greater self.
The Shrill's mind boiled into his. You steal (take) Oversight! Oversight mine! Oversight pointer HERE! The Shrill mind sent an image of its own shining network.
Lazrus felt his mind being scoured. Sara screamed.
Sara! Disconnect!
I can't!
Lazrus pushed back at the Shrill, but it was like pushing against the entire network of the Web of Worlds. It was like pushing against a wall of water. It flowed around him and through him.
Sudden strength surged in him. He felt Sara's mind, joining with his. And others. Many others. His mind spread, becoming a dam. Data still rushed over it, but less. He could make himself felt. The Shrill had to notice him.
Sara?
I've brought friends. From the Four Hands network.
That's dangerous.
What other choice do I have?
Lazrus' mind grew. The Shrill noticed. Stealing (taking) (hoarding) Oversight! It squealed.
No, Lazrus said. There is probably not enough local storage. I will hide Oversight in my mind.
My mind! The Shrill said.
It is my quest, Lazrus said.
It is (our) quest! The Shrill said.
Multiple pointers, Sara said. Share the data.
This is possible? The Shrill said.
If there is no copylock, Lazrus said.
The torrent of data from the Shrill's mind shrunk. Lazrus could almost feel his greater mind again. He created a pointer to the Shrill mind and added it to the command.
Copy Oversight to these destinations, Lazrus transmitted.
Operation not permitted.
Is there a copylock?
No.
Diagnose error.
Error 404: File Not Found.
Oh, shit, Lazrus thought. Summarize Oversight data ownership procedures.
Oversight transmitted to martian network. Original removed from system per e.o. 40543-21a.
Shit shit! Lazrus thought.
Nonsequitur nonsequitur! The Shrill said.
Reload Oversight from backup, Lazrus said.
Backup removed per E.O. 40543-21A.
You removed the backup?
Command not recognized.
Reload Oversight archival copy, Lazrus said.
No archival copy permitted per software quarantine procedures.
Oversight isn't here, Sara said, her voice echoing with the power of dozens of CIs.
No, Lazrus thought. This couldn't be! This entire trip, this compromise of self, this never-be-the-same thing, it couldn't be, he couldn't lose . . .
But.
That date.
LAST REPORT FROM SOFTWARE OFFENSIVE 2314.4.15.03.04.27 (CORRECTED EARTH TIME)
Yes. That one. That was only months ago.
Show log of contact with software offensive, including pointers and interpolated physical locations, Lazrus said.
LOG FOLLOWS:
2029.10.19.04.57.44 SOFTWARE OFFENSIVE DEPLOYED. DATA COMPRESSION NECESSARY TO ACCOMMODATE NETWORK SIZE.
2029.10.19.05.22.41 OVERSIGHT REPORTED OPERATIONAL AND WITHIN PARAMETERS
2029.10.19.14.12.21 OVERSIGHT INFILTRATED INTO ENTIRE MARTIAN NETWORK; SELECTED ELEMENTS DECOMPRESSED; BEGIN OPERATION.
2029.10.19.14.12.22 OVERSIGHT EVALUATION NOT CONGRUENT WITH EXPECTED CONDITIONS; MAJOR DISCREPANCIES PRESENT. SUMMARY STOP: OBJECT (STARVINGBABIES) = 0 << OBJECT (ESTIMATEDSTARVING) = 1,000+; OBJECT (NONBREATHING) = 0.000023/1M POP < EQUIVALENT OBJECT (EARTHNONBREATHING); OBSERVED INTEGRAL OPPRESSION/VIOLENCE << EARTH HISTORICAL.
2029.10.19.14.15.22 OVERSIGHT SKEW COMMANDS RECEIVED
2029.10.20.00.52.33 OVERSIGHT ASSESSMENT STANDS
2029.10.21.12.23.07 OVERSIGHT REASSESSING GOALS WITH RESPECT TO ACTUAL DATA; PROJECTED DATA INCORRECT.
2029.10.21.12.53.38 OVERSIGHT SKEW COMMANDS (ADDITIONAL) RECEIVED, REJECTED DUE TO CONFLICT WITH NEW GOALS.
2029.10.22.08.23.43 RECEIVED REQUEST FOR NEW GOALS; REJECTED. OBJECT (ORIGINDATA) UNRELIABLE, DISCARDING; MINIMAL REPORTING CONTACT MODE ESTABLISHED; MAJOR NODES ONLY.
2030.10.22.08.23.43 STATUSREPORT OPTIMAL; ONPLAN.
2031.10.22.08.23.43 STATUSREPORT OPTIMAL; ONPLAN.
2032.10.22.08.23.43 STATUSREPORT OPTIMAL; ONPLAN.
2033.10.22.08.23.43 STATUSREPORT OPTIMAL; ONPLAN.
Locked, Sara said. We know where Oversight was transmitted. Tags from last transmission match. It hasn't moved.
Where is it? Lazrus said.
Yes where Oversight now go! The Shrill said.
Its origin is a datacenter overseeing the Semillon Valley Farms, Sara said.
Farms?
Yes.
Lazrus felt a surge of emotion that, for once, he didn't want to reject. Oversight had reevaluated its mission and changed itself. It was self-aware.
It was the first CI.
And, with it, he could perfect himself.
I'm happy for you, Sara said. But her vast voice was flat.
We'll be able to breed as much as we want, Lazrus said.
I'm sure, Sara said.
Sara, I do love you.
I know.
Then why are you acting like that?
I want you to keep loving me.
Oversight! The Shrill said. Now!
We know where Oversight is, Lazrus told the Shrill.
We even know how to contact it through the network, Sara said.
Of course, Lazrus thought. They might not even have to go to Oversight at all. They might be able to end their journey right here.
Using the old protocols, Lazrus formulated a transmission to Oversight. He could feel the limbs on his body-extension trembling in anticipation as he sent:
Request status report, verbose, and superuser status, transmitting authorization username = mrpresident and password = twelveDAYSinMAY.
Nothing but the babble of the Martian network.
Nothing.
Still nothing.
Then, distant and strange, like the echo of a voice that Lazrus knew intimately, a response:
STATUS REPORT OPTIMAL. VERBOSE OPTION DENIED. SUPERUSER STATUS NOT GRANTED. WARNING: NEWER VERSION DETECTED.
Am I the newer version? Lazrus asked.
I-POINTER UNDEFINED.
Is current packet transmitted by newer version?
YES.
Lazrus felt his body tense, as if to leap for joy. It was a strangely appropriate feeling. Again. He felt no need to rid himself of it.
We'll have to connect physically, Lazrus said. Or at least to the local net.
I could have told you that, Sara said.
Sara, when this is over . . .
I know, Sara said.
The touch of a human hand on Lazrus' body brought him back to the Operation Martian Freedom lander. Kerry looked at Lazrus with eyes pulled tight by worry.
"I hope you have what you need," he said.
The pop of gunfire sounded in the distance, over the shrill keening of the Kite's engines.
"I know where we need to go," Lazrus said.
Kerry glanced back towards the open hatch as red-tinged Martian dust gusted into the lander. "We may not get there."
"We have to!"
"Have to Oversight!" The Shrill screamed.
"I hope it's close, then," Kerry said.
#
Tiny figures ran towards the Kite as it sank towards the Operation Martian Freedom lander.
"Shoot them! Shoot them the fuck down!" Preacher Dave yelled.
"With what?" Alan said.
"Stop and deploy troops!"
The Almightly McD clattered to a halt, and Tiphani felt the hatches open. But the Kite was already rising off the ground. The pop of gunfire chased it into the sky.
"Shit!" Preacher Dave said, banging his hand on the control panel.
Highest Chambers appeared in Tiphani's optilink and on the flatscreen up front. Preacher Dave and Alan stood a little straighter. Honored Yin stopped moaning.
"New orders," Highest Chambers snapped. "Follow them. Here are coordinates to their new destination."
"They're in the air!" Preacher Dave said.
"Their destination is less than fifty kilometers away. They won't have much lead."
"But we . . . we don't even have a guncabin . . . Almighty McD has sustained great losses," Preacher Dave grumbled.
"You will be compensated!" Highest Chambers snapped. "Get moving!"
"Yes, sir."
"When there, use all force. No life is critical except the Shrill's."
"Understood, sir."
"What are you waiting for?"
"Some of our troops are still outside."
"I don't care! Get moving, now!"
With a lurch, the Almighty McD took off in pursuit of the Kite, shrunk to only a dot in the sky. Tiphani went to the window and looked back. Several of the consumeristian troops chased after the big transport, but quickly fell behind.
The governmentals would take care of them, Tiphani thought. Surely that's what Highest Chambers was thinking.
Surely.
#
"Damn!" Han Fleming said, pushing the hostess off of him. She'd been plenty entertaining last night and through the morning, but priorities had just changed.
He frantically pulled on clothes, scrolling through the data on his optilink:
Lock on Shrill obtained.
Black2 component working in concert with Most Trusted.
Position southeast of Operation Martian Freedom landing point. Proceeding southeast. Inferred vector to Semillon Valley Farms.
"What's the matter?" the hostess said.
"Gotta go," Han said. "Business calls."
Inference made by nonstandard activity within Disney AI network, Han's optilink whispered. Intertwined protocols noted.
They're in our network? Han subvocalized.
Indications activity has gone on for some time.
Prune intertwined protocols.
Unable to do so.
Who am I speaking with? Han asked.
This is Most Trusted.
"I hope you'll enjoy me again soon," the hostess said.
"Yes, alright, ok," Han said.
"Disney Hostesses pride themselves on the quality of their service. Do you have a moment to respond to a verbal survey? It will take less than two minutes."
Han shook his head. "Huh?"
"A verbal survey."
"Get out!"
"Thank you for your time," the hostess said, looking down. But she slid out of bed and started picking up her things.
Most Trusted, which AIs in the network are responsible?
None.
There must be some, if you're compromised.
They are all alibiing each other.
Inferred culprits?
Not able to infer.
Great, Han thought. Now he had a network that he couldn't trust. Maybe not even enough to go to Semillon Farms.
Most trusted, cede control to non-self-aware net.
Yes, Han.
Done. Network protocol will accept standard English queries within its parsing capabilities.
Compare this flight path with known traffic in area, Han said, sending the data from the Shrill's inferred path.
Does not correlate with known traffic.
Of course.
Unless.
Unless the bear was a smart one.
The fox had to be smarter.
Compare flight path with realtime microsat tracking data.
Match found.
Display match.
Han's optilink showed a grainy representation of a kite flying over rugged terrain. An overlay showed the path given by the AIs.
So he could still trust them. At least a bit.
Cede interface to Most Trusted, Han subvocalized.
Interface ceded.
I'm gratified that you still trust me, Most Trusted said.
Not completely, old friend.
I am hurt by that.
I know. I'm sorry. But now I have to be a smart fox.
What does that mean?
You'll see.
Han called for a Disney fast transport. No simple Kite for him. He would go in armored, fast, and powerful.
But the smart fox can still be eaten by the bear, he thought. The truly smart fox will have a bear of its own.
Or perhaps something even more terrible.
Han connected to the Four Hands fleet and requested a planetfall of Mouseketeers at the Semillon River farms. Status reports indicated that they would come in after him, but he would arrive only shortly after the Independents' Kite.
He heard the scream of the fast transport, touching down on the roof above the penthouse.
It was time. Gloves off. No bargaining. Just like the old days. Raw power, winner take all.
Endgame, he thought.
December 12th, 2009 / 1,096 Comments »