Hey all, some happy (strange and happy?) news: my novelette "Overhead" has been accepted by Shine, an Anthology of Optimistic Science Fiction, edited by Jetse de Vries.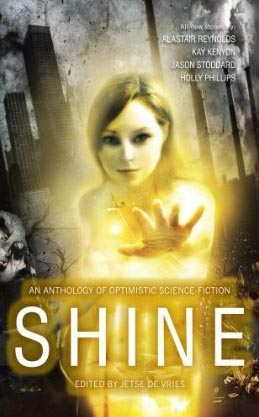 This is one of the most exciting acceptances I've had lately, because the Shine ethos aligns so well with my own personal feelings: You know, not only do I think we'll get through our current crisis–and the next one, and the next–but I think we'll end up doing better than we ever have in history.
And there are a lot of people out there who believe the same thing. The accelerating change people make the case that our progress has been accelerating on a logarithmic scale for, well, about as long as humanity has been around. Which means we might see more change in the next couple of decades than in all of human history. The transhumanists are pushing us to go far beyond our original human bounds. I've talked to people who are working on key breakthroughs in nanotech, and biotech, and alternative energy during the course of the day job—and they share this same positive image of the future.
We'll make it work. We'll change the world. And we'll make it better than ever, they seem to be saying.
Ask these people what inspires them, and they look a little sheepish as they admit, yeah, science fiction is a big part of it. But what they cite isn't negative or apocalyptic. A lot of it is very, very old. You know, golden age stuff that would almost instantly be dismissed today.
But, pressed a little further, they admit: You know, all those old space adventures inspired me and my friends to get into engineering, or into science. Those adventures said we can do more, be more, than we are now. They inspired me. They made me go farther than I otherwise might have.
And that is why we need positive SF today. Here's to Shine. I hope it's only the first beam in the darkness.
Run, don't walk, and pre-order your copy of Shine.
November 25th, 2009 / 906 Comments »