"I hate Mars," Honored Yin said, stamping her feet on the dust-sucking grate at the entrance to the Winfinity Express Hotel in Rockport.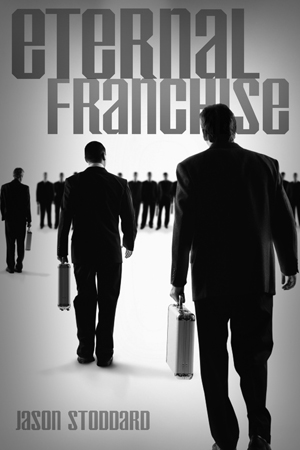 "Why?" Tiphani asked.
"We shouldn't be here. Trying to make this like earth."
"You're a Preservationist?"
"No! We shouldn't be here. This isn't a franchise. Not touched by the Holy Franchise, that is. The other blue worlds, like San Fernando, like Shoujo, are. But we shouldn't try to make a world. It's not part of the franchise. And when it's not part of the franchise, things fall apart."
Tiphani just stared. Yin's lips were still a bit blue from the suspension drugs. The instructions said they might be disoriented for a while after coming up from a high-G flight. And Tiphani did feel a little fuzzy herself. But Yin's eyes flashed with genuine hatred.
"Not part of the franchise means you got fifth-wheels and hangers-on and useless-cogs and spare-parts, all thinking they should be independents, all wanting to be free," Yin said.
"The Freemars."
"No! The fucking Independents. They've always had a good presence here. We should have known."
"Do you think that's who intercepted the Shrill?"
"Of course! Who else!" Yin slammed her bags up against the cheap yellow plastic counter and looked around the drab, low-ceilinged lobby. "And look at this, we're staying in an Express! Next stop, indentured again."
The yellow-suited Winfinity Express Host behind the counter frowned at Honored Yin, even though he only wore a Manager's pin. "Winfinity Express is the only Winfinity hotel presence on Mars, madam," he said.
"And look at this!" Honored Yin yelled. "Talked down to by a Manager! Everyone here thinks they're free! Even our own employees!"
The Winfinity Express Host drew himself up to his full Martian height. He stood over two full meters tall. He made his face carefully neutral. "Do you ladies have reservations?"
"Yes."
"Your ID tags aren't showing," he said, looking down his nose at the old-fashioned flatscreen.
"Maybe it's under Chambers," Honored Yin said. "As in Highest Chambers, the man who sent us here."
The Winfinity Express Host paled and looked back down at his monitor.
"Don't even pretend to look!" Yin snapped. "Just get us in our rooms. This has been a long and awful trip, and I need to rest!"
"Uh, room, actually," the Winfinity Express Host said. "You're booked in a single room."
"I don't believe–"
"And there is also a message awaiting you from Highest Chambers."
"You see?"
The Winfinity Express Host rolled his eyes, but said nothing. "You're coded. Room 1232 will let you in."
Honored Yin gave him one last glare and stomped away.
"Thanks," Tiphani said.
The Winfinity Express Host gave her a thin smile. Tiphani tried to return it with an honest grin-of-long-suffering, because she knew that irritating the hotel desk always brought revenge. His smile stretched a fraction. Tiphani shrugged and mouthed the word, Sorry.
His grin stretched a fraction more. She felt a little better.
In the room, a blinking message light on the ancient imagetank flashed bright blue, and Tiphani's optilink fed her a priority tag showing that the message was URGENT, REPLY IMMEDIATELY REQUESTED.
Honored Yin threw down her bags. "No windows. Nice. And he didn't even offer a bellman."
"Maybe they don't have them here."
"They have them on Proxima. On the floater hotel. If that isn't a backwater, I don't know what is."
Tiphani nodded, afraid to say anything.
Honored Yin thumbed the message button on the imagetank. Swirling darkness was replaced by the three-dimensonal image of Highest Chambers, looking somehow even more boyish and insecure. Small text floated below, indicating it was a RECORDED MESSAGE.
"Yin, Tiphani. As they said in the old days, Welcome to Mars. Now go home. But no. I know you're disappointed. I never expected for Win-Sec to be taken down by a bunch of unsuited assholes. I promise you that once we get this Shrill deal squared away, I will blaze the universe clear of the fucking independents. I don't care if it means giving seven hundred ships to the goddamn consumeristians, or if it means violating the Gentlemen's Agreement ten thousand times over. I'm done with these festering warts on the ass of good corporate culture. We've let them interact with the Freemars way too long. I don't blame you for what happened here, but I expect you to help clean up the mess. Problem is . . ."
The text in the tank changed to: LIVE MESSAGE. Highest Chamber's face gave a glitch, becoming the wide-lipped sneer of a high-G boost.
"The problem is we have no fucking idea of what happened to them," Highest Chambers said. "We don't know which Independent faction has them, or if the Freemers took it on themselves to grab them, or where the hell they're going."
"Who cares? Blaze them all!" Honored Yin said.
"Do we know who's in the group, Highest Chambers?" Tiphani said. "That might help us determine where they are going."
"Dian Winning. Jimson Ogilvy. Maybe a courier. Probably the embodied artie, unless it dumped the body. Our best minds think that the bet is on Jimson Ogilvy running the group."
"As a defector to a rival corp?"
"No, as his own agent. Heading for the Free Areas."
"Everyone thinks they're open cogs!" Honored Yin said.
"What's wrong with her?" Highest Chambers said.
"I think the suspension drugs," Tiphani said.
"Nothing wrong with me! Blaze the Freemars! Kill the Independents!"
Highest Chambers shook his head. "Anyway, that's the best hypothesis. Problem is, there's so much Free Mars and Four Hands Mars that we're kind of fucked. There's no trail. Not even from the landing to Rockport proper. Nothing."
"Moles still in the system?" Tiphani said.
"Has to be. I thought we purged them all, but there are anomalous bandwidth usages and gaps in the found media archives. We have a small group of arties and real minds working on that right now."
"Dian Winning said Lazrus was looking for Oversight."
"Current hypothesis doesn't have Dian Winning running the group."
"Lazrus abducted the Shrill."
"So?"
"Dian said that Lazrus stated he wanted to perfect himself. Maybe he felt the Shrill and Oversight together were the key. And wouldn't the Shrill be driving the group, not Jimson?"
"If they're letting the Shrill drive the group."
"You remember how violently it reacted when we didn't give it what it wanted."
Highest Chambers frowned. "That's a lot of maybes."
"Dian said that Oversight was part of Operation Martian Freedom. Isn't the remains of that in the Free Areas?"
Another frown, deeper this time. "That fucking Oversight fable. Great."
"So Oversight didn't really exist?" Tiphani said.
"I didn't say that. But your idea has a lot of maybes."
"It gives us a target to shoot for in the Free Areas."
"Yeah. Great again. Governmentals this time." Highest Chambers shook his head, but gave her a faint smile.
"Governmentals?"
"Yeah, they control the Operation Martian Freedom site."
"Governmentals?"
"The Freemars seem to tolerate them."
"That's strange."
A shrug. "I don't explain them, I just know how things go. But that was good thinking. You might earn your way back up the ladder yet, pretty Tiphani."
"Thank you, Highest Chambers."
"Go in! Guns blazing!" Honored Yin said.
"We could send you into the Operation Martian Freedom site on a commercial transport," Highest Chambers said. "But, truthfully, I do like Yin's idea."
"What?"
"Have her call her friends. The consumeristians."
"My friends!" Yin said. "Lots of guns!"
"You wouldn't actually want to go in shooting, though, would you?"
"Not unless they shoot first," Highest Chambers said. "But if we have one of their armored Conversion ships there, we have a lot more options."
"Yeah! Bang!" Honored Yin said.
October 24th, 2009 / 1,089 Comments »