Hey everyone, we interrupt Eternal Franchise for a crass commercial announcement. Both Winning Mars, my debut novel, and Unplugged, an anthology that includes my short Willpower, are available for pre-order at Amazon.com (or at your favorite bookstore, of course.)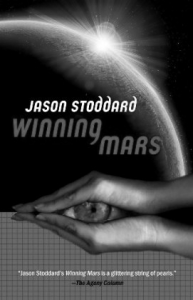 Here are the Amazon links:
Many thanks again to Sean Wallace and Prime Books for picking up my two novels Winning Mars and Eternal Franchise (even after both have been released into the wild!) and to Christopher East and Paul Raven for publishing Willpower at Futurismic.
A brief personal note.
And if you've been wondering why posts beyond Eternal Franchise have been slim, it's simple: this has been a grueling year. As I attempt to keep the day job stapled together (and move the office, and work on some long-delayed electronics stuff), I've had less time to do what I really love. Not complaining: I'm sure it's no different for anyone else out there. And perhaps better than some.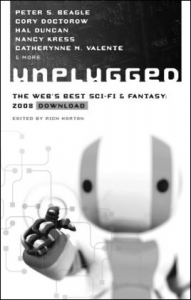 I suspect things will be different next year. With two books out, you'll see me at signings and cons again. I'll post up a schedule when I have it solidified, and I hope to meet a few of you there! I'll be thrilled to sign any of your books.
Incoming marketing alert.
If you find I won't be around your area, and you want a book signed, send it to me, together with return Media Mail postage, and I'll sign and send it back to you. No tricks, no catches.
I hope to see you all soon!
August 9th, 2009 / 1,158 Comments »