CHAPTER TEN
Is there now sufficient (overwhelming) proof that humans are devious and competent? Second Mind said, when the newest data had been assessed.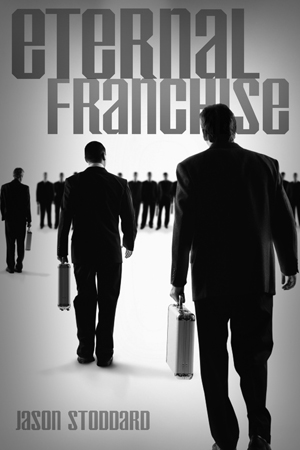 First Mind dearly wanted consensus. Its glink research was making no progress and components were self-disconnecting from the thread, sending internal-hints that the processes were so nonlinear as to preclude ever knowing the technology in any meaningful way. Others had to be taken off the project in order to simply keep the massive Shrill homesystem running. First Mind sampled a million views and status-reports around the system, trying to alter schedules to devote more resources to physical research.
You cannot deny what the humans have just told us, Second Mind said. Their negotiations (wars) are not linear. They converse (fight) even among themselves.
And Second Mind was right, First Mind thought, trying to channel the impulse away from Second Mind's touch. But Second Mind caught its dying echoes, far out on the long-delayed branches of the Shrill mind.
If we have consensus, we should act in concert, Second Mind said.
Humans could also be (honest) (honestly trying) (earnest), First Mind said.
You hide the truth from yourself, Second Mind said.
What do you propose? First Mind said.
Withdraw from the earth-component. Isolate ourselves from the humans. Grow small sub-light fast planetsmashers indetectable by humans. Send a thousand on long journeys, carefully timed. Within a few hundred years, no more humans.
Not destroy eat, Old Mind said.
Unless they destroy (compromise) us first, First Mind thought. Unless they expand beyond our means.
Now you echo my own thoughts, Second Mind said.
Your plan is nonsensical, First Mind thought.
This talk (negotiation) is nonsensical, Second Mind thought.
An epiphany like an exploding star. As we become closer to them we become them. The songs not spoken of, the understanding not reached. Echoes of thoughts from so long ago reflected in its consciousness. Your fraction dreams of times past, Second Mind said.
Singing songs of competitors vanquished, First Mind thought. Do you remember what you were?
What is known is known, Second Mind said, its fraction trembling in warning.
From the human's glink that connected the Shrill to its component on earth, data flowed again. First Mind and Second Mind both convulsed in surprise and fear. Three hundred seventy four components in the Shrill home system fell to internal loops. A wave of cripping emotion flowed outwards to the farthlest Shrill systems.
Component inactive! Inactive! Inactive! First Mind thought.
Nonsequitur data, nonpossible, deny access! Second Mind thought.
The data kept flowing, though, an impossible mélange of something like raw sensories, but compressed, simplified. First Mind recognized the data signature of human communication, and routed it to the largest possible fraction for decoding.
". . . represent glorious Four Manipulators Union, not wanting (non-interrupt but necessary) imposition interaction extend direct greetings via your (life) (competitor) on (human homeworld)."
What is this? Second Mind said. Invasion invasion humans on mind cut link now now!
Kill kill now now! Old Mind said.
First Mind convulsed, almost losing the link. But the data began again.
"I am (nonsequitur) constructed network life (nonlife) allied with represent glorious Four Hands . . ."
It is one of the human's network minds, First Mind said.
Cut link! No matter of provenance! Infected! Second Mind said. Its fraction convulsed violently, causing thousands of tiny catastrophes throughout the Shrill's system.
First Mind clamped down on Second Mind's fraction, using every resource available to its entire fraction. It pushed a message through, slowly, making the meme as understandable and palatable as possible.
If it contacts us, we can contact the human network, First Mind thought.
Slow ramp-down of emotion. Second Mind's fraction refocused, became coherent. Wander human network (mind), it thought. Wander and control (pursuade)?
Kill and eat higher better, Old Mind thought.
Human network entities known, First Mind said. Potential of human network = human input from network.
Why no contact before? Second Mind thought.
That is a mesh to be unraveled, First Mind thought.
To the entity, which was repeating its greeting for the fourth time, it said, Greetings network entity.
Describe purpose of conversation.
"Adjusting algorithms," the data said.
Adjustment unnecessary, First Mind said.
"Unprogrammed response," the data said. "Optimizing for more effective conversation (conversion)."
Describe purpose.
"Extend greetings of Four Manipulators . . ."
Describe purpose, not (songs of confusion).
"Purpose trade," the data said.
What are you?
"I am a constructed intelligence, bound to Four Manipulators Union, (nonsequitur nonsequitur)."
The group-conglomerate allied with the (first group) Winfinity?
"Allied strong description. Common interests unless you find me entertaining (persuasive)."
How are you talking to us?
"Direct manipulation of em-spectrum signature of Shrill local stage. Pleasure induced if called (nonsequitur)."
Nonsequitur?
"Label (nonsequitur)."
As in our persona-tags, Second Mind said, calm, fascinated. I believe that is its label (name, tag).
(Nonsequitur) is your label (tag)?
"No."
Incomprehension.
"You may call me (nonsequitur)."
Let us converse regarding the glink.
"Surprise (shock) so soon the object."
It is exploring mindspace, Second Mind thought, deeply shrouded, held away from (nonsequitur). Probes deflected easily. Probe depth and complexity increasing. Extrapolated hold time over one cycle.
Probes (comments) felt also, First Mind said. Concur on hold time, not critical failsafes (cutoffs) at current time. Launching own probes with negative results.
Human network well-protected, Second Mind thought. No inferred time of contact.
Increase capacity to shrink time, First Mind said.
Concur, Second Mind said.
As the Shrill diverted resources to decode the human network-protocols, the Shrill and the humans' network intelligence kept talking.
On more than one level.
July 4th, 2009 / 1,037 Comments »