They made Han's introduction to the Shrill ambassador a formal thing, held in the big Walton room set in the basement of the Winfinity Hilton Extravagance. Two of the walls were fronted in diamondoid, filtering water-blue artificial light from the man-made lake that surrounded the hotel and conference center. Parti-colored fish swam mechanically back and forth in front of the walls, pausing to smooch at the transparency. Their fish-faces were comical masks of confusion, as if they were wondering why they couldn't swim into the brightly-lit room where the humans were.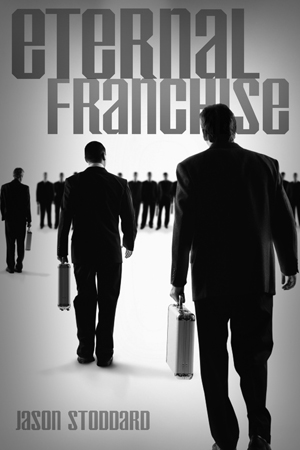 It was a big room for only five people, so they holoed up a crowd and dancefloor. Tiphani set the volume comfortably low, so they wouldn't have to shout to make themselves heard. She had little tolerance for that as she was edging into her fifth decade. Little tolerance for drinking and diplomacy, either.
Now they waited, Tiphani and Jimson and the Shrill, at the far end of a false aisle the laser-drawn forms of the dancers avoided. At the far end, Honored Maplethorpe and Honored Yin were still talking, heads down, with the Four Hands representative. She wondered what they were talking about. The enhancement functions of her external optilink sensors had been damped, so there was no chance of grabbing the conversation.
Were they talking about the Shrill? If so, what were they telling him? Would it have any bearing on reality?
"Nice place," Jimson said.
"It's underground," Tiphani said.
"What does that mean?"
"Never mind." She shook her head. No reason for him to know.
Of course, no reason for her to know either. They could have already found the satellite and knocked it out of orbit. Honored Yin and Honored Maplethorpe could be explaining to Han Fleming that the terms of the deal had changed.
But seeing their expressions, she doubted it.
"Tiphani?" Jimson said.
"Shh!" The group of three started to walk their way. Tiphani waited, standing silent and straight, hoping Jimson picked up the seriousness of her vibe.
Honored Maplethorpe, Honored Yin, and Han Fleming stopped about five feet from the Shrill's cage. It bumped up against the side nearest them, softly, almost rhythmically. Then it hit the wall with a sharp slam, showing its underfangs. Honored Maplethorpe and Honored Yin flinched back, their hands rising instinctively to protect their faces.
Han Fleming just smiled. He walked forward and knelt in front of the cage, putting his face inches from the glass. The Shrill's underfangs scrabbled violently at the transparent barrier, making a singing noise against the diamondoid.
Han Fleming turned back to look at the group. "I can see how they went through our ship so effectively."
"Effective highly (living) yes," the Shrill said. Han jumped a little bit, drew back towards Honored Maplethorpe and Honored Yin, and whispered:
"It hears everything we say?"
"I believe that is a question for Chief Mirate and S. Ogilvy," Honored Maplethorpe said, allowing himself a fraction of a smile. "S. Ogilvy is Chief Mirate's assistant.
Han Fleming's heavy eyes swiveled to focus on Tiphani. She gave him a quick nod. "Mr. Fleming."
"Ms. Mirate."
"I'm surprised you have someone so junior on your staff," Han said, smiling wider.
"He is –"
"I was just going to comment that he must display exceptional insight and resolve."
"He is highly qualified for this position," Tiphani said.
Han nodded and turned back to the Shrill ambassador. "Hello, Shrill Ambassador. I have come to extend greetings from the Four Hands Coalition, a group of leading corporations that will be working in concert with Winfinity to assure you a mutually beneficial transaction that reaches the greatest majority of humanity."
"Parse (parse) error input," the Shrill said. "Parse out nonsequiturs. Was told you are (competitor) not ally (competitor)."
Tiphani smiled. They'd learned, early on, that the Shrill ambassador had difficulty with multiple concepts delivered in a single statement.
"Han Fleming represents four of our competitors," Tiphani said, addressing the Shrill.
"Competitor or ally (competitor)? Refine definition."
"Temporary ally," Honored Maplethorpe said.
"For this time only? Then return to competitive state?"
"That is correct," Honored Maplethorpe said.
The Shrill went still and silent. Tiphani imagined the furious communication that was taking place between this tiny piece of the greater Shrill and the shared mind many light-years away. If it had trouble with humanity competing amongst itself, what would it think of this?
The Shrill stirred. "Cooperation not permanent change (alteration)?"
"No," Tiphani said. "We can take allies for short periods of time."
"Fight, then cooperate, then fight?"
"We do not fight, as much as compete on an economic level," Han Fleming said. Honored Yin and Honored
Maplethorpe shared an eyebrows-raised glance at the statement.
"Fight (compete) nonsequitur same struggle change."
"We do compete," Tiphani said. "Sometimes we fight. Now we are cooperating."
"What is nonsequitur (economics)?"
Tiphani and Honored Yin exchanged glances. Yin answered. "Economics is the control of the redistribution of goods and services."
The Shrill paused, then bumped the glass, almost thoughtfully. "You are defined as economic?"
"Winfinity is an interstellar economic entity. Four Hands is a coalition of four other interstellar economic entities."
"Economic (economy) is war."
"No, economy is voluntary exchange of goods and services based on fair market principles."
"What is nonsequitur (market)?"
Honored Yin smiled. "I can see why you have no concept of market, being a cooperative intelligence. Humans do not cooperate except out of self-interest. A market is an exchange of goods and services. The value of the goods and services is determined by the supply of the goods and services and the demand for them. The lower the supply and higher the demand, the higher the price."
"Economics (economy) just defined as control goods and services."
"Correct."
"Control not fair (unbiased)?"
Honored Yin stopped dead. Han Fleming smiled and continued. "Every corporation seeks to control by providing goods and services that are superior to other corporations. The consumer is the ultimate arbiter of the value of the products."
"Unless made scarce (falsely.)"
That stopped even Han.
"Ambassador, we cannot artificially make something scarce," Jimson said. "Another corporation will produce it and take the market from us."
All four heads swiveled towards Jimson, and he blushed bright red.
"Unless temporary or (permanent) cooperation (war) in place," the Shrill ambassador said, running in tight circles in the center of its cage. "Humans expand definition (concept) of cooperation (war) (vanquish) (nonpermanent nonsequitur exempt state)."
"Ambassador, we're sorry if we have confused you," Honored Yin said. "I'm certain that we can clarify certain points if you have questions."
"Clarification (confusion) not possible if stated rules (songs of vanquish impermanent) not-conflicting (true). If conflicting (not-true) again not clarification possible. Nonsequitur nonsequitur nonsequitur. Analysis now."
The Shrill fell silent and still in the middle of its cage.
"We confused it again," Tiphani said.
Honored Maplethorpe made a shushing noise and shook his head.
Tiphani shook her head. "I would guess it's gone for a while."
Honored Maplethorpe drew the group away from the Shrill's cage, until the sounds of the ghostly dancers could drown their voices. Brightly-dressed shades gyrated around them, automatically avoiding their path.
"How do you know it doesn't analyze what we're talking about when it's still?" Maplethorpe said. "Your instructions were to be discreet."
"I haven't said anything that would compromise us," Tiphani said. "The Shrill seems to have a very, um, linear understanding of conflict and negotiation. If you have reviewed our records from Old California, you'll note that it did not understand what our competitors were. Now, it's having trouble assimilating how we interact with real competitors."
"It's terrified that we'll double-cross it," Jimson said, softly.
"Where do you get that, Staffer?" Han Fleming said.
Jimson looked at the Four Hands representative, then turned and addressed his answer to Honored Maplethorpe and Honored Yin.
"It's just heard we form alliances and dissolve them."
"So?" Honored Maplethorpe said.
"If you were negotiating with an alien race – one that has some real technological advantages, like FTL travel – and you heard they have a history of screwing their business partners over, what would you think?"
"We hardly, uh, screw over our business partners," Honored Maplethorpe said, his eyebrows drawn down into a stern frown.
"I think you can see how the Shrill might have come away with that impression."
"I fail to see . . ." Honored Maplethorpe trailed off. His eyes went glassy and faraway in optilink-stupor, and he shook his head. Tiphani's own optilink flashed to life, redflagging elements of their conversation, just minutes before.
"It is a groupmind," Tiphani said. "It may not be able to assimilate the concept of honest competition very well."
"Yes," Honored Maplethorpe said. "In review, I believe young Ogilvy is correct."
Jimson darted a glance at Han Fleming. "We have given a lot away," he said. "If you review our conversation, we could have been more discreet. We could have steered the Shrill to positive examples of long-term cooperation. I tried to provide perspective, but I am afraid I don't know when it is relevant to speak."
Glassy eyes reviewed Jimson's only contribution to the conversation. Heads nodded.
"Ogilvy is right," Honored Yin said. "We have made the error of presuming to know our opponent. We have given too much. I'm afraid we may have delayed any meaningful dialogue. We may need to set ground rules for conversation in the future."
"Minimize the group," Jimson said. "More people have more opportunities to make an error."
You little shit, Tiphani thought. Are you trying to cut me out?
For long moments, there was no sound other than the low music and the muted scuffling of the ghost-dancers. Honored Yin and Honored Maplethorpe looked from Jimson to Tiphani, waiting to see if he would make a suggestion.
He's too smart for that, Tiphani thought.
He stayed quiet.
"That is honest wisdom," Honored Maplethorpe said. "Here is my own. We will agree to ground rules on communication. They will be displayed in the group's network windows, and conversation will be monitored. The group itself will remain at three. Jimson has proved his value. Mr. Fleming will remain as the Four Hands representative. Chief Mirate will remain as Mr. Fleming's same-echelon counterpart."
"I'm afraid I'll have to withdraw, in that case," Jimson said.
"Why?" Yin and Maplethorpe said at the same time.
"I only have a datover. I'm afraid I might miss the rules or real-time correction that is displayed in the network window. I would not want to cause breakdown of negotiations because of this limitation."
"You have shown wisdom beyond the need for mechanical assistance," Honored Maplethorpe said.
"Nevertheless, I must withdraw."
Honored Yin and Honored Maplethorpe dropped into glassy-eyed mode for a moment. Just long enough for Tiphani to think, wow, he's going for it. Smart, smart kid.
"Honored Yin and I have conferred," Honored Maplethorpe said. "We have decided to make your provisional promotion permanent. Congratulations, Manager Ogilvy. Please report tomorrow morning for the installation of your datover."
Honored Yin smiled. "And congratulations on being the fastest Staff-to-Manager transition in the history of Winfinity." She turned to Han Fleming and smiled, as if to say, This is how we do things at Winfinity. This is why we're the biggest and the best.
Han Fleming looked back at her, mildly. "I regret that we will not have your company, Honored Yin and Maplethorpe."
"Stop it," Maplethorpe said.
"I'm hurt."
"I'll bet you are," Honored Maplethorpe said.
"Now, lets get down to setting the rules for future conversation. Is the Shrill still, uh, inactive?"
Tiphani looked over the crowd. The Shrill was still umoving.
"It's down," Tiphani said. "Probably for a while."
Jimson smiled at her and gave her a wink.
She tried to smile back.
June 27th, 2009 / 296 Comments »