Jimson scrolled through the icons and textbits on his datover, but it gave him no clue when Tiphani would come back. He wished he had her access codes. With those, he could trawl through some of the less-censored data on the higher channels. He almost asked for them last night, but he knew it wasn't time.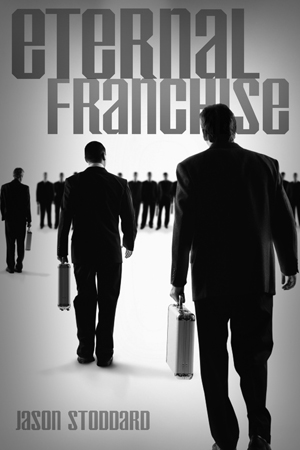 Not quite yet. Soon, but not now.
He paced the plush confines of Tiphani's suite as the sun crawled overtop the city, turning it into a blue, black, and chrome portrait in ultramodern tropes. The Shrill scrabbled and occasionally muttered in the other room, but Jimson forced himself to ignore it.
He could piece the scenario together. The shit had hit the fan, as they used to say. Clearly the competition was less than thrilled about Winfinity's negotiations with the Shrill. They were probably all gathered together, complaining in the way a small dog might beg for scraps from the table. Jimson was thankful he'd cast his lot with Winfinity. Being part of the most powerful corporation in interstellat space had its advantages.
But why had Yin seemed so nervous? And why did they need Tiphani?
Probably just too long since she'd seen any real competition. Yin and Tiphani were both earth-native, he knew. And earth was almost entirely owned by Winfinity. They'd grown up comfortable and insulated at the center of the corporate universe. None of them had lived through Disney's infamous Mousketeer Raids, or the Microcon Beta-Tests. None of them know what raw competition really was.
Yes, that made sense.
The door banged open and a white-suited man lugging a bright blue plastic container struggled through the door. The container bore the Winfinity logo, as well as the corporate ID for the Sentience Division, a holographic light-bulb, brightly illuminated. Beneath it was another ID, one signifying Research, Applied Science division.
"Who are you?" Jimson said, as the door slammed shut.
"Shrill care and feeding," the man said, in a tone of voice that would be the audiobook definition of a sardonic drawl. His face was round and soft, and stereoptic datovers obscured his murky brown eyes. The telltale metallic tatoo of an early-style optilink encircled his neck.
Complete geek, Jimson thought.
He gave Jimson a half-hearted smile and Jimson's datover exploded with information: Dr. Jeremy Gomez, Distinguished Scientist First Class, Sentience Research and Applied Science Division.
"Oh," Jimson said, frowning. Back on the ship, the servicing had always been done by third-class technicians, not by anyone with a title of Distinguished Scientist. "A0ren't you a bit high-rank to be swabbing out the cage?"
"It's not swabbing out the cage," Dr. Gomez said. "I need to run in-place diagnostics on the power systems, check the integrity of the system visually, make several measurements of the Shrill, and replenish its food supply."
"Ah."
"But yes, since you asked, it is beneath my capabilities," Dr. Gomez said.
"So why you?"
Dr. Gomez, who had been in the process of picking up his big blue plastic carrying case, let it thump down on the floor again.
"Because everyone here is too over-ranked to do it!" he said, shaking his head. "Hey, wait a minute, you're the kid who did the unauthorized Shrill study."
Jimson held up his hands. "I'm sorry, I thought it was . . ."
"Don't apologize! Without you, we wouldn't have the data we have now."
"Like what?" Jimson said.
"Things I shouldn't be talking about," Dr. Gomez said, picking up the blue case.
Jimson followed him into the Shrill room. It was in one of its silent modes, completely still in the center of its cage. It must have eaten recently, because a fresh film of blood was drying on the glass.
"Tell me something," Jimson said.
"No."
"Come on! You just thanked me bringing in the data!"
Dr. Gomez opened his case, but said nothing.
"Let me guess. You already found the secret of immortality."
A head-shake. "No," Dr. Gomez said. "Not that. Maybe not ever that."
"What does that mean?"
"It means they're terrified," he said. "The Chief Scientists. They're scared we'll cut the thing open and find absolutely no difference between its telomeric structure and our own."
"Why?"
Dr. Gomez squatted over his case and looked up at Jimson. Data scrolled in both his datovers, obscuring his eyes. Jimson might as well have been looking at two old-time video screens. "Because rejuvenation should work."
"It does!"
"No. I mean, as long as we want it to. There's no reason someone shouldn't be able to be rejuvenated a hundred times. But they can't. Just a couple or three. Which is why we only live two or three hundred years. There's lots of talk about how the Shrill may not have telomeric triggers, or something that constantly rebuilds . . . hey, wait a minute, I shouldn't be telling you this."
"The Shrill are DNA-based, like us?"
"They're a lot more like us than they should be," Dr. Gomez said, flipping up one of his datovers to see better.
"Might as well tell you. Might help the negotiations," he said, looking towards the ceiling as if playing for unseen cameras. "Yeah, they appear to use some of the same basic structures as us. RNA, anyway. And if the samples of excreta are correct, they may be even closer. Way closer than the mats, the Floaters, anyway. Closer than most of the nonsentient native forms. But we knew that before you. Which is why we started the negotiations."
"What did you learn from me?"
"From you, nothing," Dr. omez said. "From the cutie from the U, some interesting things. First, they see by radar. Should've known that. Their fractal-tree shells are covered with millions of little transmitting and receiving antenna. Extremely short-wave. Kinda abandoned tech here, since the Spindle Drive and the glink and the Quantum See, but serviceable. And the shells are plenty strange themselves. They have a cellular structure and nervous system of their own. I don't think they're manufactured. They're grown."
"So? Lots of nanotech is grown."
"This doesn't have that signature-of-design. It has a signature-of-life. Like it evolved by itself."
"But it's silicon carbide!"
"Sure, why not, got things like that on Jetta."
Unbidden, images of the grim, dry world of Jetta showed in his datover. Grey, shiny, multi-segmented worms crawled over rocks, leaving shiny tracks. A textbit explained that these were silicon-based lifeforms, and gave lots of data on silicon carbide, life cycles, habitat and more. Another textbit indicated that the study was abandoned when no commercial application could be found, and the first colony put on the world fell to drought and disease within a decade.
"Oh," Jimson said. He had a sudden vision of them carting the Shrill from world to world, looking for competitors for it to talk to, never finding the secret of true immortality. Tiphani and him growing old, never making perpetual, spending their life for this bizarre alien.
"There are no guarantees," Dr. Gomez said. "None. You could finish your negotiations, we could get the help of the Shrill, and still never have true life unending."
"It might be enough to just have rejuvenation cheap enough to be enjoyed by everyone."
Dr. Gomez snorted. "Hell, I've heard that some of the Independents are doing it to everyone . . ." he trailed off and turned his attention back to the blue case, pulling out a stack of frozen steaks.
"But it's too expensive to do it to . . ." Jimson trailed off. What if it wasn't expensive? What if that was just what they said?
Was it possible that Winfinity was keeping rejuvenation for Perpetuals only for the sake of privilege, rather than economics?
Jimson smiled. If it was, all that meant was that he had to make Perpetual. He would have to stand on the mountain and look down.
No matter what it took.
It might be time for him to be very, very charming. To ask Tiphani for a very, very special favor.
He watched Dr. Gomez as he worked, sweating, not speaking again. It was good to know what the rules of the game were.
Even if the rules were bent.
June 19th, 2009 / 1,465 Comments »