CHAPTER NINE
Knock, knock!
The sound of knuckles on the thick wood door of Tiphani's Winfinity High-Lux apartment cut through the still morning like large-caliber gunshots. Tiphani opened one eye, slowly, trying to sort her thoughts into order. Outside the big picture-window the chrome towers of Winfinity City were painted in cool blues, edged only faintly with orange. The clock in her optilink told Tiphani it wasn't even seven o'clock yet.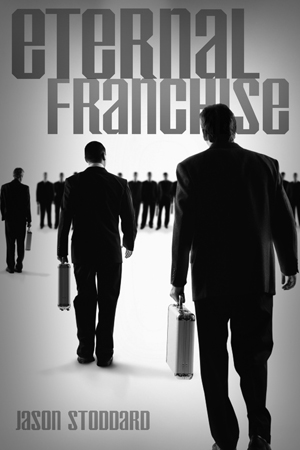 Knock, knock, knock!
Tiphani groaned and sat up in bed, looking back over her shoulder. The puddle of sheets that Jimson had wrapped himself with were there, but Jimson wasn't. She reached over and felt the bed. Cold.
"There's someone outside," Jimson said, sticking his head in through the suite's bedroom door.
"Where were you?"
Jimson went silently red. Sleeping in front of the Shrill cage again, probably. She really had to query records about what they were talking about.
Tiphani shook her head and sighed. "Never mind."
"I think it's Yin."
"Honored Yin."
"Honored Y . . ."
Knock, knock, knock, knock! Louder. More insistent.
Tiphani scrolled through the to-dos on her optilink, but they provided no enlightenment. She wrapped a robe around herself and went to the front door, telling Jimson to disappear.
She opened the door. Honored Yin's face was red, shiny, and even less human than Tiphani remembered. Something was very wrong with the way the flesh was gathered at her ears and neck, like nightmare photos of ancient cosmetic surgery. Her colorful scarf was carelessly knotted, and the lapels of her suit hung open, ruining its geometric perfection.
"What happened?" Tiphani said, feeling the first acid touch of fear.
"Delay," Honored Yin said. "Meeting. In-person. Seven-thirty. With Honored Maplethorpe and other guests."
"What does this do to our tour with the Shrill?"
"Fuck the Shrill."
Tiphani gasped. What monumental thing just changed all the rules? She scrolled through data on the optilink. Nothing. Nothing at all.
"The ambassador won't be happy, Honored Yin," Tiphani said. "It seems to feel some sense of urgency, for whatever reason."
"The ambassador can go pound sand!" Honored Yin said, her face going from crimson to an almost-beet-like color. Then, gasping, she held up a hand. "Sorry. Not to be so harsh. But there are more important things. The ambassador will have to wait."
"What do I tell it, Honored Yin?"
"Tell it you need to wait another day. Or two."
"No reason?"
"Make something up."
Tiphani frowned. Yeah, and end up holding the bag if the thing decides to sign off once and for all. No, thank you. "Honored Yin, I must respectfully ask for some reason that I can provide to the ambassador, or I feel I will be remiss in my duties."
Honored Yin smirked. "No need to be formal for the microphones. Here's your CYA. Tell the ambassador he'll be getting a chance to meet some of our current competitors."
"Our . . . Winfinity's competitors?" Tiphani said.
The smirk bloomed into an ironic smile. "You're getting the picture now," Honored Yin said, and walked swiftly away.
Tiphani caught Jimson scampering to the safety of the Shrill room when she re-entered the suite.
"How much did you hear?" Tiphani said.
"Not much . . . I wasn't . . ."
"Don't lie. If you missed one word, you've probably rigged your datover sensors to augment and interpolate."
Jimson shrugged, stood a little taller. "I heard it. Our competition has come to pay a visit."
"Listen to me," Tiphani said, walking up to him so their faces were separated by mere inches. "You will not tell the Shrill a word of this. I don't know what you talk to it about at night – not yet – but this isn't going to go past this room."
"I would never . . ."
"Shut up. This is a direct order. I'm recording this. You will not talk to the Shrill when I am out, no matter what it does. You can alert me, but that is all."
"I'm not coming to the meeting?"
"No way in hell, dearest Jimson."
The boy was smart. He didn't argue further. He just followed Tiphani into the Shrill room and waited silently. She told the Shrill that their meeting with the Original Sam would be postponed by at least one day and possibly more.
The Shrill slammed itself against the side of the cage, its underfangs a blur of frantic motion. "Contract made not interested delay (not acceptable) diversionary wanting trade meeting possible no no not now," it said.
"We apologize sincerely, but it is not possible for you to meet the Original Sam now."
"Meet leader (consume) wanting now!"
"It is simply not possible."
The Shrill raced around the inside of its cage and slammed back and forth a few times. Jimson leaned near her and shrugged, his eyes looking a question.
Tiphani knew exactly what he was asking. Why not offer the other competitors now? Why are you risking it? For a moment, it was as if Tiphani was hooked to the most powerful inference algorithms Winfinity had. She could look through and see black burning ball of his concern. And she knew why he was thinking, he was worried about his own career. It was as if the jolt of fear she'd felt upon seeing a disheveled Yin had kicked her into a higher state of awareness, where everything was revealed.
She shook her head at Jimson and mouthed, No. Never put all your cards on the table. Not yet. Let the disappointment sink in, then apply the salve of compromise.
"Completely unreasonable state," the Shrill said. "Unreasonable, unresponsive, boredom, want to resolve."
Tiphani let it slam itself against the cage walls a while longer. Jimson watched, open-mouthed, sweat beading on his brow.
"We can possibly arrange an alternate tour," Tiphani said.
"Alternate not acceptable not interested (anger) fear now not interested."
"What if you could meet some of our current competitors?"
Movement ceased. The Shrill crawled over to the side nearest them and pressed itself up against the diamondoid. "Current living competitors?"
"Yes."
"Forms like yourself, sentient (intelligent)?"
"Yes."
"Forms not yet sung (assimilated)?"
"Yes."
A long pause. "That is an acceptable compromise (satisfaction.)"
"Thank you, ambassador," Tiphani said, and dragged Jimson out of the room. She had only a few minutes to throw on a suit and run an autostyler through her hair.
"Remember, no talking," she told Jimson as she headed out the door.
One minute before seven-thirty, she entered the VIP suite. Standing stiffly near the white leather couches, were two familiar figures and one she didn't know. Honored Maplethorpe and Honored Yin – both now thankfully well-presented, thank the Holy Franchise – looked up when she entered, a complex mix of relief and annoyance playing beneath their carefully pokerfaced exteriors.
The third also looked up at her, smiling a smile so genuine it had to be calculated and fake. Tall and wide, he wore a severe black suit and a bright-red power tie, in the old fashion that had come back on some of the Disney worlds recently. He wore a brilliant diamond-and-gold Disney pin, the instantly recognizable mouse-ears, below a larger, multicolored pin showing four hands grasping wrists to form an interlinked diamond.
Tiphani frowned. She didn't recognize that pin.
The man stepped forward and offered his hand. "Han Fleming," he said. "Four Hands Coalition and Disney. Pleased to meet you, Ms. . . ."
"Chief Mirate," Honored Maplethorpe said, offering a grim frown. "Chief Sentience Officer. Our liason with the Shrill ambassador."
"Pleased to meet you, Chief Mirate," Han Fleming said. "I am General Manager, Extraterrestrial Relations Division. My title approximates yours. I would be pleased to speak to you as an equal."
"Mr. Fleming, I'm afraid I'm unfamiliar with the Four Hands Coalition."
"Disney, Microcon, Diamond, and Mann-Westinghouse have joined in the largest cooperative venture in the history of mankind."
"Larger than the Great Merger?" Tiphani asked.
"Yes," Honored Yin said, tightly.
"Four Hands wishes to ensure that the secrets obtained by Winfinity are equally spread among all members of humankind's community," Han Fleming said.
Sudden illumination came. The other corporations were terrified of Winfinity getting the true secret of immortality. Nightmares of a Winfinity monopoly had finally driven them to band together. They'd talked about mergers and joint ventures before, but nothing had taken . . . until now.
She did the mental arithmetic. Disney, the entertainment powerhouse, Microcon, the software empire, and the twin manufacturing and land development concerns of Diamond and Mann-Westinghouse were, combined, roughly equal in size to Winfinity, if not a little larger.
And here they were, confident enough to send a single representative rather than four. That was power. That was unity. No wonder Winfinity was scared.
"A noble idea, Mr. Fleming," Tiphani said.
"We believe it is, Chief Mirate," Han said.
"I see one minor flaw."
A polite tilt of the head. "And that is?"
"We have no secrets. Our diplomatic engagement with the Shrill has just begun; we are still in the show-and-tell phase."
"Perhaps the considerable resources of the Four Hands Coalition could help you achieve your goals."
"That is a generous offer, but I wouldn't presume to speak for Winfinity."
"I would," Honored Maplethorpe said. "And I believe that Winfinity would invite you to make your own deals with the Shrill. We paid the price to acquire our Ambassador."
"It is very difficult to open negotiations with the Shrill when you have blocked access to their home system and inhabited sphere with your corporate fleet."
"The Shrill are dangerous," Honored Maplethorpe said. "We consider it our duty to protect the general welfare of humanity."
"Still, you would concede that it does pose a barrier to opening negotiations."
"We would be more than happy to discuss terms for information-sharing once our negotiations with the Shrill ambassador are complete," Honored Maplethorpe said.
"I'm sure you would," Han said, offering another one of his too-genuine smiles. "Nevertheless, we must offer again the help of Four Hands in your current negotiations."
"And we must respectfully decline, even given your earlier demonstration of most sincere earnestness."
The smile froze. "You must admit the implicit right that Disney earned following first contact with our cruise ship Minnie II."
"It was your golden opportunity. It is a pity you didn't exercise it," Honored Yin said.
"You cut us off!" Han said, wearing a momentary mask of rage. Han shook his head and composed himself. "It is regrettable, yes. But I hope you are not going to make an even more regrettable decision."
Tiphani shivered, remembering stories of worlds lost on the edge of the Web, and tales of fragmented Mars. She ran the figures in her optilink and felt a thrill of fear. The Four Hands Coalition owned more of Mars than Winfinity, seventy percent of the developed asteroids, and virtually all the activity in the Jovian sphere. They had resources. They could bring a lot of pressure to bear.
"He was only a figurehead," Honored Yin said.
"Who?" Tiphani said.
"The Original Sam," Honored Maplethorpe said.
Meaning suddenly coalesced. Tiphani's mouth dropped open.
Honored Yin nodded grimly. Images appeared on Tiphani's optilink, overlaying reality with shades of plaid and red. The Original Sam, in his Original House, laying down for a night of forgetful slumber, wearing his original red-and-white-striped pajamas. A flash of light and a sudden crack, like the report of a gun. Blood and smoke geysered from Sam's head, leaking from his eyes, curling from his ears. Moments later, smoke cleared to reveal a clean cauterized hole in his forehead, spattered grey with boiled brains.
One of the old weapons, we think, Honored Yin whispered through the optilink. Saved up by one of the Four Hands for a desperate time. Probably one-time use.
I see why we have to divert the Shrill, Tiphani subvocalized.
Yin transmitted the shrugged-shoulders icon of indifference. We'll have a new Sam installed later today.
"We are very earnest in our request to work with you," Han said.
"And we are very secure in our refusal."
Han Fleming tilted his head to one side and smiled. A thin smile, a real smile. Combined with the leaden look of power in his eyes, a terrifying smile.
"I think you'll agree you are not a figurehead," he said to Honored Maplethorpe.
Before anyone could move, the room exploded in a booming crack. Flaming bits of composite ceiling rained down on the perfect white couches, and a patch of carpet directly in front of
Honored Maplethorpe flared to incandescence and disappeared into a smoking hole.
Honored Maplethorpe jumped back, losing his balance and falling to the floor. He pushed himself backwards with feet and hands, scrambling like an inverted spider, until he banged his head on the floor-to-ceiling windows that looked out over the city.
"That could just have easily cut you in two," Han said, smiling his wide fake smile again.
Correction, Honored Yin sent through the optilink. It is probably a multiuse weapon.
Tiphani felt as if the room was receding from her. She had to cover her mouth with her hand to keep from laughing. Crying. Something.
"I think . . . we can . . . work out a mutually beneficial agreement," Honored Maplethorpe said, still pressed against the window.
Han Fleming smiled. "I said you'd agree I was a persuasive negotiator."
"You are a complete ass," Honored Yin said, extending a hand. "Welcome to the team."
Han Fleming took her hand. Smiling.
June 14th, 2009 / 1,247 Comments »