The elevator ride back up seemed ten times slower than the trip down. Dian gripped the rail tightly with both hands and looked up through the mesh. She half-expected to see the brilliant stab of hand-flashes, murmured voices, and the metallic clack of magazines snapping home.
But there was only silence and darkness. At least for the time being.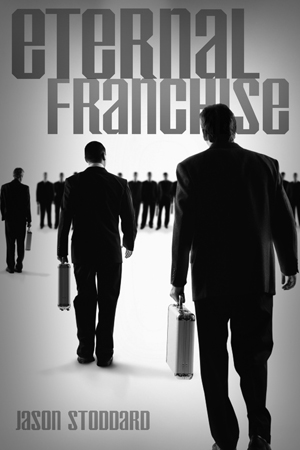 "Come on, come on," she said. "Hurry up!"
"We're moving at the same rate of speed we did when we descended."
"Now you sound like a computer."
"We will make it."
"Says who?"
"Sara's tracking Winfinity Security's progress. Their closest presence is near New York City, and they're only just in the air. We have a safe margin . . . ahh!" Lazrus put his hands to his head and bent over, as if in pain.
"What? What's wrong?"
"Corrupting . . . my connection," Lazrus said. "I may . . . ah, too small, too small . . ."
Dian had a sudden image of the elevator sliding to a stop to a Winfinity team, all red leather and steel, with her bending over the useless hulk of an AI. Fear spiked in her, sending her pulse racing.
"Don't leave me here!" Dian said, grabbing Lazrus and trying to pull him to his feet. He remained kneeling, as if glued in place.
"Not leaving . . . just . . . Sara . . . rerouting . . . what she can."
"Come on, Sara," Dian said, through chattering teeth.
Lazrus opened his eyes. "Better. Ah. Yes. More of me. I can live with this. Thank you, Sara." He stood up and nodded to Dian. "We have a workaround."
"How long until they work around your workaround?"
A shrug. A smile. "I don't know."
"Why are you smiling?"
Lazrus' smile disappeared. "I don't know," he said. "I shouldn't be enjoying this. But I do believe we will escape, and the thought is tremendously exciting."
"You know they have people here local, don't you?"
"Who?"
"Winfinity! The themeparkers! They have a team here! Even if your W-sec team doesn't make it here in time doesn't mean they aren't alerted."
"Sara tells me they are not typically armed."
"I didn't see anything," Dian admitted. "But I don't want to stake my life on that."
"Ah. Yes. That may be a problem." Lazrus looked up into the darkness for the first time, his eyes darting from side to side nervously.
"You're a master of understatement."
Lazrus looked confused, then his eyes opened wide, as if in fear. "They've been notified, according to Sara. "She backtracked them coming towards the Pentagon. They're either undercover or in a building now, so I don't know where they are."
"Great," Dian said.
Lazrus went silent. For a while the only sound was the squeal of ancient drums and rusty cables. Dian looked up and caught a fleck of rust in her eye. She cursed and rubbed at it, looking down.
"You can still play the innocent," Lazrus said.
"What do you mean?"
"If they aren't waiting for us at the elevator doors – and I doubt if they will be, they cannot pinpoint the bandwidth use that close – I can go on ahead. You can stay here. Whether they catch me or not, you can leave the area once their attention is elsewhere."
Dian frowned. And lose my ticket to the outer planets? Who says the balance won't disappear the moment you do?
"Up to now, you have done nothing," Lazrus continued. "Get on the auto-trans with me and you're a corporate turncoat."
Which was true. "Why do you care about me?"
Lazrus looked down, as if embarrassed. He said nothing.
Wow. Dian thought. Just wow. Was it possible that he really did care about you?
Was it possible he was attracted to you?
She shook her head. Too much to think about. Too strange. Too fast.
The elevator bumped to a stop. Doors slid open, revealing an empty corridor. Lazrus looked up at her again. "Well?"
"I'm going with you," Dian said.
"Do you realize what you're getting yourself into?"
"More than you think," Dian said.
Up through the dark halls of the pentagon, her light stabbing ahead. Dian ran fast behind Lazrus, trying not to let her imagination run even faster. In every shifting shadow there was a W-sec officer waiting to pop out, in every reflected gleam of broken glass there was a muzzle-flash.
But the halls remained dark and silent. They ran past gaping doors and broken desks, scattered papers and the remains of ceiling tiles.
"Sara's bringing down the auto-trans right outside the Pentagon," Lazrus said, as light began to color the hallway ahead. "All we have to do is make it out there and we're gone."
"Won't they track it?"
"Tracking's the easiest thing to dodge."
"Unless they discover your friend."
"Yes, that is a possibility."
Out into corridors lit by noonday sun, curiously gray and dull and dead.
They were going to make it, Dian thought. Nobody here, they told the themeparkers too late, they realized they didn't have weapons, we're going to make it just fine . . .
Ahead of them, a single figure stepped out into the middle of the corridor, backlit by a random beam of sunlight. The silhouette darted towards the wall and grabbed at his hip. There was a sharp crack and something whizzed above Dian's head.
"Shit!" she said. She skidded to a stop and jumped for the wall.
Lazrus beat her by a fraction of a second. When she hit the wall, he'd already spun around. He shoved her back the way they came. "Go!" he hissed. "I'll be right behind.
She ran, hugging the wall. Two more sharp cracks chased them down the corridor, but neither came close. Small puffs of dust fell down from the ceiling panels ahead of them. Behind them, the sound of running feet came as they rounded a corner.
Lazrus shoved her in a new direction. "Inside," he said. "Go in."
"Thought we were meeting outside."
"Inside now. Closer."
They ran through corridors gray and dusty with age. Only once did their pursuer come close enough to shoot again. It took out an ancient office window but did no other damage.
Out into the bright blinding sun. Dian stopped and blinked, seeing everything as glowing blobs. A moment later, Lazrus bore her to the ground and the report of a gun boomed from inside the building.
She heard the bullet hit Lazrus with a metallic ching! Lazrus grunted. She tried to roll him off of her, but he was incredibly heavy. She grabbed for the gun on her hip.
Lazrus' quick hand caught hers. It dripped warm blood. "Don't," he said. "Kill one, you'll never have a chance."
"You're hurt!"
"No," Lazrus said said, picking her up and shuffling her forward.
To where, she thought, as a shadow fell over the sun and the screech of an auto-trans drowned out every other sound. It dropped like a stone between them and the corridors of the Pentagon, bouncing sharply on its landing gear once. It was a cheap little two-seat model, bubble top and plastic body beneath.
Lazrus hauled open the door and shoved her in as new bullets spanged off concrete. Two shooters now, she could see through the transparent bubble. They saw her inside the auto-trans and brought their guns up, pointing at her.
She dropped to the floor as two holes pierced their transparent canopy. Lazrus pulled himself in, slamming the door and going to ground.
The auto-trans lifted into the sky, pressing them to the floor. Dian thought she felt another bullet impact their craft, but they kept lifting, up and up. Then the lateral thrust kicked in and they were pushed into new configurations on the floor.
Dian was the first to get up and into a seat. Lazrus followed her, his blood staining the white leather upholstery. A ragged tear in his sleeve showed where the bullet had traced his skin; a raw red channel revealing shiny metal beneath. Blood dripped down his arm to his hand, falling in bright crimson drops to the floor.
Lazrus saw her looking. "Unnecessary, really," he said. "They could have given me flesh without the need for blood."
"Are you going to be OK?"
Lazrus nodded. "It'll close up soon enough. Didn't hurt any of the real structure underneath."
Dian sighed. "Are WE going to be OK?"
Lazrus laughed and shook his head. "According to Sara, we're safely off the charts. As far as Winfinity's concerned, we don't exist."
Dian nodded. And so here we go, she thought, right into the place where they're most powerful.
June 6th, 2009 / 1,146 Comments »