CHAPTER EIGHT
Dian and Lazrus spent the night in the big overgrown park in the middle of the Pentagon, after a quick side-trip to pick up Dian's things at the old brownstone. Lazrus had expected Dian to want to stay in the shelter of the wide echoing corridors of the Pentagon, but she'd walked quickly through, glancing into the gaping black doorways of abandoned offices quickly, nervously. The slap of her footsteps and the deeper bass thrum of his greater weight doubled and tripled from the unadorned walls and ceilings, turning them into a parade of lost people from another age.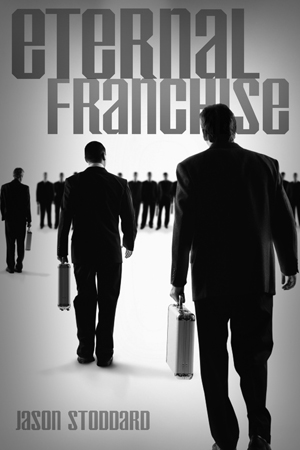 "You don't want to stay inside?" Lazrus asked, when they were peering into the undergrowth in the center of the Pentagon.
"No way," Dian said. "That's way too spooky. Makes me think of the cavern-ghosts that everyone talks about back home."
"I see."
"You're supposed to tell me that's a human superstition, with no basis in fact."
"Am I?"
"You're an AI. You're supposed to be cool and logical like that, aren't you?"
If only it were that easy, Lazrus thought. "I'm afraid I'm not as perfect as you might think I am."
"So you're not going to tell me that believing in ghosts is dumb, and that we should stay inside?"
"I can tell you that it's more likely there is wildlife in this overgrowth that we don't want to meet."
"Then we'll stay out of it."
Lazrus nodded. Despite Dian's light tone, he could tell she was still terrified of him. The way she held herself rigid, the way she watched him closely, the tension that his algorithms could discern in her voice – she didn't want to be anywhere near him, but she didn't have a choice.
Stop using the bandwidth for voice stress analysis, Sara Too said. You're peaking even over your extended redlimits.
I'm sorry.
You should consider a low-bandwidth mode to make the usage pattern seem more human. It will reduce the chance that your additional usage will be noticed by algorithmic or human review.
Go to sleep?
Go dim.
What if she shoots me in the night?
Sara Too sent him a quick, jerky video image of her flapper persona, laughing heartily, head thrown back. She will be sleeping as well, she said. Analysis indicates she is exhausted.
Who is wasting resources now?
I am inferring based on your own image and sound data. I'm not using any more bandwidth.
Lazrus watched as she set up her camp, small blue fabric tent and sleeping-bag within, with quick flashes of a dim yellow light and fleeting glances at him. She set up on the concrete of an old plaza. Beyond, the infinite darkness of trees and undergrowth bulked to the horizon. The breeze had died and the night was almost unnaturally still. Crickets chirred, something larger scuttled through the dead carpet of leaves, something else creaked softly, perhaps a frog. Other than that, silence.
Above, the stars stretched infinite and colorful. Human photos never showed the true subtle palette of star colors. Plain white dots, nothing more. But Lazrus saw the bright blue of young hot stars, the comfortable yellow of middle-age, even a few dim red suns. More than human eyesight? Doubtful. The independents probably had given him the best human eyesight available, but nothing more or less.
Somewhere out there was his core, spread amongst the Web of Worlds at gestalt-level speeds, communicating with his body here by a tenuous thread, stretched tight by distance. It was strange, having so much of him focused in one place, one very limited thing that seemed nothing more than a vehicle for sight and sound and touch and smell. Being in a body was immersive. He couldn't ignore the stimuli. He couldn't pull back. It was no wonder so many humans focused on the simply tactile, he thought. With so many sensations to experience, they could drown in the simplest actions.
The more still he became, the more his sensations impinged. Being still made him part of the evening. He felt the chill of the night on his skin. He smelled the faint scent of Dian's perfume, or shampoo, or soap.
You're attracted to her, Sara said.
I haven't even thought about it, Lazrus said. But comparing her template to human ideals, she had a fine form. And she was young. She would be attractive, if he was human.
She is attractive.
I am not interested in her, Lazrus said, watching her bend over to work a tent-cable. Something, barely perceptible, happened between his legs.
Don't be an ass, the flapper-girl Sara said, blowing smoke. I know you're equipped. And I know you're not as pure as you'd like to be.
I am not interested in her! I love you, Sara. I really do.
Sure.
I do!
A long, skeptical look. You'd better not take advantage of your equipment, she said. I'll know. I'm watching your feeds.
You don't trust me.
I cannot not watch your feeds. In this mad enterprise, you and I are intertwined.
I have no interest in her.
I wish I could believe that.
Dian finished setting up her camp and turned to face Lazrus, hands on hips. For a moment she seemed to be considering whether or not to say anything at all. Then she walked over to where he was standing and said:
"Do you sleep?"
"I've been advised to go into low-bandwidth mode," Lazrus told her. "I understand I'm straining local resources as it is. My greater mind will remain active, but I won't be able to devote many resources to my body here."
Dian shook her head. "That is so strange. I can't wrap my mind around it."
"I was just musing that having a body itself was strange. I can drown in a sea of sensation and never think again."
Dian gave him a quick frown. "I don't know whether to be thankful or scared."
"You have nothing to fear from me."
Except your penis, Sara Too said.
You keep quiet, Lazrus said.
"I . . . it's hard to get past what you're told."
"It's hard to be in so small a space as a body."
"What is it like?" Dian said. "When you're not?"
"What's it like when you are?" Lazrus said. "It's just the way I am. Hard to describe. Much less sensory input, unless I want it. Most everthing I see and hear is piggybacked from some sensor, or from some array of sensors. I can see a sunset on San Fernando, an ice hockey event on Newtown, and a wildlife refuge on Manoa simultaneously without really thinking about it, without interrupting my conversations with sixteen of my fellows, and half a hundred humans who think I am human myself. It is a much vaster life, much less focused. This is almost overwhelming in its focus."
"Where are you? The real you? Right now?"
"I don't know exactly. Most of me is somewhere near Manoa, I can tell from the gestalt-lag. But there are parts of me running locally, parts on the labs orbiting Centauri, parts in the dust clouds of Tau Ceti."
"Oh," Dian said. She was quiet for a long time. Lazrus let the silence be. Finally, she said, "I'm going to sleep. Goodnight, Lazrus."
"Goodnight, Dian," he said.
She won't be here in the morning, Sara Too said. You'll go into low-band mode and when you wake up she'll be gone.
That would simplify things.
Or she'll shoot you in your sleep, once she sees that you're really asleep.
Then I will go into low-band mode with my eyes open.
She'll figure it out anyway.
I'll take that chance.
One last wry glance from the flapper. Sara blew him a kiss and disappeared. Lazrus signaled his connection to ramp down to minimum bandwidth.
Things became soft and unfocussed.
Lazrus slept. With his eyes wide open.
May 16th, 2009 / 1,162 Comments »