Okay, let's get right to the meat of this: Winning Mars and Eternal Franchise have been purchased by Prime Books, and you'll see both of them in 2010.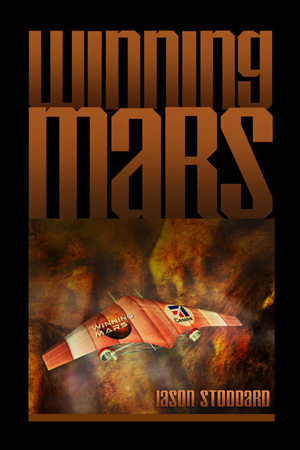 "Wait, didn't you release Winning Mars under a Creative Commons license a while back? And aren't you serializing Eternal Franchise right here on the blog?"
Yes, and yes. And like John Scalzi, that's where I expected them to stay.
"Wait, wait, isn't free content the death of a scarcity economy? Won't a book be a no-go after giving it away? I thought only big-name people got to give it away and also have a book! I'm confused!!!"
Well, it looks like the answers there are no, no, and no–at least according to the enlightened Sean Wallace of Prime Books, who looks at the electronic versions as a positive, rather than a negative.
(Sean, fair warning: you're probably going to be inundated now.)
And to be fair to Sean, the versions of Winning Mars and Eternal Franchise he'll get will be significantly, ahem, better than the ones released into the wild. Winning Mars will benefit from the changes that need to be baked in to any near-future novel, 2 years after release, and 5 years after the novella it was based upon–as well as the improvements that come from working with a real editor, which I've alluded to before.
So how'd this go down?
In a phrase, completely unexpectedly. Sean contacted me to see if Winning Mars and Eternal Franchise were available. I did a quick google of Sean's name and company, saw that he was an established small press that worked with solid authors, and sent a quick email back saying yes, the books were available, but that both had been released into the wild. I fully expected the typical publisher reaction: you killed them there books, son, when you released 'em. But no. Sean has to go and restore my faith in humanity and the publishing industry.
(Another aside to Sean: Man, don't do that. Don't you know that we're all supposed to be negative these days? Or maybe that's over, and we're supposed to be positive. So does that mean I need to go negative? Ah, hell.)
So I get to put my money where my mouth is. A while back I opined that small presses should be able to do well by consistently serving their audiences and applying all the core principles of niche marketing.
Now it's onto the real work: cover quotes. I'm sending to everyone I know, but if there are any big-name authors who read this blog and would like to shill for me, hey, let me know. I have tequila . . .
No. Wait. That's how you do advertising deals. Never mind.
(But I do still need quotes.)
Please note that the cover shown here is not the print cover; it's simply something I whipped up a while back for the Creative Commons version.
May 11th, 2009 / 1,217 Comments »