CHAPTER SEVEN
It is possible that (humans) are more mind-complex (capable/advanced) than us, First Mind said, when the latest failure to decode the secrets of the glink were apparent. It knew this conclusion would drive Second Mind into a convulsive rage, and that its rage might be powerful enough to affect actions of individual components, and those actions might cause death (cease-functioning) amongst many individual components. But it could not wait. The results were in the network. Second Mind would draw its own conclusion, and First Mind's silence would only make its rage all the more towering.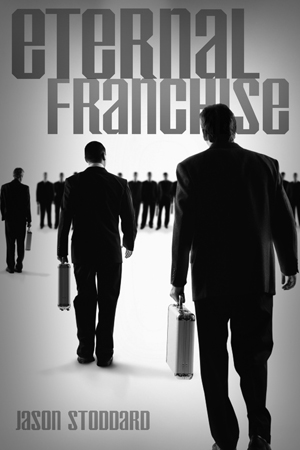 But Second Mind was deadly calm. Given the speed at which they spread (infest), it is possible, it said.
First Mind tensed, waiting for Second Mind's anger. When it didn't come, First Mind began to worry. I would have expected temper, rather than (meek) disappointment.
Kill them eat them destroy them dangerous, Old Mind said.
I would have expected temper, as well, Second Mind thought. I may be beyond evaluating this. I counseled action when the aliens (humans) were first contacted. Your majority-of-power kept me shackled. I listened to your thoughts when you argued that decoding the human technology was the proper course of action. Now we have failed at that
Not failed, simply have not yet produced results
Failed, look at subtextuals for indications this is not a linear process, may be an unknowable-until-verged, like the mystery of conglomeration, extrapolation of progress to date shows no future completion
Work continues.
I know work continues! Second Mind said, finally sending bursts of anger over the network. Individual Shrill twitched, or paused in their duties, momentarily distracted. First Mind awaited reports of death and injury, but none came.
I know work continues, Second Mind said. I am just unable to encompass within my fraction that there will be a date in which we deliver this wonderful gift, a date that precedes the dimming of our sun, or even the heat-death of the local sector of this galaxy.
You are engaging in hyperbole
How long have we traveled off-surface? Second Mind said. One hundred fifty thousand cycles. Long enough to remember the time before, when there was a world here, when there was a surface. Long enough for you to remember the lonely days of Only Mind. And in those one hundred fifty thousand cycles, how do we compare to the aliens accomplishments in only two hundred?
There is only eat kill, Old Mind said.
Our volume of explored and colonized space is still several times theirs.
For how long?
Maximum date-assessment is within one hundred ten cycles.
That is maximum.
Yes.
It could be less.
Recent data indicate humans are slowing expansion.
Slowing because they have reached limits of resources, or slowing because they are massing for next wave? This is unknown.
Know to kill and eat and enjoy great pleasure, Old Mind said.
It is unknowable.
And so we play with their technology and engage in futile word-games (negotiation) via a component that they hold. A component we know, in retrospect, that they examined closely.
Records of the examination do not support any theory of the aliens being inherently superior. The technology used was, in fact, relatively primitive, scanning probe microscopes and non-contact volatiles analysis predominant, as well as mechanical abrasion. Fractions are postulating that human glink technology is a product of contact with another spacefaring race, substantially in advance of humans.
And that race is where? We are in their origin-space. There has been no evidence of this.
It is possible contact has been on far side of human-controlled space.
At edge of galactic arm? Very doubtful. Where is evidence of this race? If more advanced than humans with glink technology, why not infesting entire galaxy?
It is possible our best course is to begin negotiations, First Mind said, though it pained it to do so. To begin negotiations without fully understanding the alien mind, to be able to sing the songs of thought in their own manner – it was disgusting and somewhat repellant.
Begin receiving patterns from humans without complete understanding of their meme-structure (minds)? Without fully understanding what their goals are? How do you propose to protect (us) when alien memes enter our mind-network?
No protect when destroyed eaten, Old Mind said.
No evidence that humans intend anything but honest (painful) trade.
Even if deceit unintended, possible contamination due to self-replication and strange attraction. Humans have displayed many signs of being slaves (in thrall of) nonproductive memes.
First Mind sent reassurance. We are not yet able to understand cultural context. When we can understand cultural context, the aliens' actions may be completely explainable by linear, logical thought processes.
They preserve the past.
Even we remember the past, First Mind said.
We do not build shrines to it!
We are of a more unified mind and purpose, First Mind said.
I am finding humor in that statement.
Our externals express a single mind and intent.
Yours.
Ours. When your fraction rules, I bow to it. Even now, I am twisted (altered) by your decisions.
The central question is whether or not humans can ever be known, Second Mind said. If they are indeed separate networks, their actions are random (dangerous) and without logic. I do not understand their motivations.
We do not have complete understanding of anything human, First Mind said. They have played willing host to us, yet taken great risks to examine our component when the opportunity presented itself.
They are random (dangerous).
Dangerous eat now, Old Mind said.
We do not fully understand them. It is still with disgust that we look upon their ability to war with selves.
They are random (dangerous).
We have progressed far in our ability to understand them.
They are random (dangerous).
Consider their viewpoint, hosting a hostile and dangerous organism themselves. We cannot be allowed contact with humans, or Old Mind
Kill eat yes immediate, Old Mind said.
Would harm them.
Nevertheless, they are random and dangerous.
This argument is circular and has no purpose, First Mind said.
So you damp my fraction.
I propose we continue investigation for a short period, then begin negotiation. It is entirely possible that the humans may give us what we want, free from corrosive memes, for nothing more than the sacrifice of a single component.
Second Mind sent anger and frustration. I believe you consider the costs too lightly.
In Second Mind's anger and frustration, First Mind caught a glimpse of something else. The pain of resources sequestered. A shadowy outline of some grand plan. First Mind reached for it, using many components of his fraction, but it slipped through the net of his mind.
Was this why Second Mind reacted so calmly to the news about the glink? First Mind wondered, deep in the heart of its fraction. It could sense Second Mind turning towards the thought, but caught no hint of comprehension.
Second Mind's fraction was too focused, too calm. Second Mind always had grand plans, but also great frustration when it realized those plans could not be carried forward.
In the nodes where Shrill thought flew hot and fast, First Mind turned a measurable percentage of its fraction to wait-and-watch. Data streamed in to deepest mind, minor eddies in Second Mind's thought and fractional action. But there was nothing to suggest a tipping of the fractions, or even a hidden-majority strategy. And Second Mind proceeded on calmly, like one of First Mind's own fractions. Supervisory actions and data processing fractions were unchanged from historic norms. Everything, except reaction, was knowable and understandable.
So then why was Second Mind so calm?
What plans did it have?
And what made it think that those plans might ever be carried forward?
May 9th, 2009 / 1,188 Comments »