CHAPTER SIX
Jimson watched as their limo turned past a gaudy red-and-white fast-food joint, its parking lot packed with cars both old and new. Above it hovered a rotating three-dimensional representation of a small red-roofed shed, and the words, "If it's doesn't have the shack, take it back." The sign morphed into the name of the fast-food place, but Jimson missed it as they accelerated towards LAX.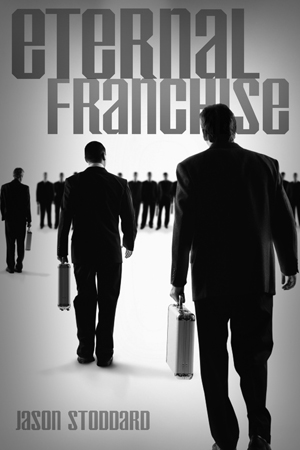 "I thought we were going to the One True Shack," Jimson said. He wanted to flip his datover down, but it was impolite. He had to be on his best behavior for a while.
Tiphani glanced back, her thin lips disappearing into a frown. "Oh. Them. Independents. Never got past the Western Region, though. I think Disney is trying to buy them again. Like that sex place."
"What sex place?"
"The fast food place. Has a sexual name. Forgot what it was. They didn't make it past Mars, either. Still independent, though."
"If Disney bought them, they could go Web-wide."
"I know."
"Why don't they do it? The owners would be rich!"
Tiphani shrugged. "We moved the One True Shack anyway."
"What?"
"It used to be out here. In the desert somewhere. But the Hollywoodies and the Our Kansans got in a bit of a fight over there being so many tourist destinations out here, and not enough near Winfinity City, so they moved it."
"But . . . isn't that . . . wouldn't that make it inauthentic?"
Tiphani laughed. "I think it's a repro anyway. But they did a good job of redoing the California desert in Arkansas. You'll see."
The Shrill bumped against the side of its cage and scrabbled at them. The silence was filled by the high-pitched squeal of silicon carbide on diamond. "Continue view competition (within) (not-concept) backstory song now?" it said.
"We have to take a short flight," Tiphani said.
"What do we flee?"
"No, no. Airplane flight. Fast transport."
"Why not (gestalt-change) (Spindle) (fold) location?"
Tiphani and Jimson both winced, remembering video of short-range Spindle-drive experiments. Messy. Most were mercifully dead. A few had to be killed.
Tiphani saw his look and glared at him. Jimson shrugged, knowing he was not supposed to have access to those records, but also knowing that everyone in Winfinity University Shoujo had seen them at one point or another.
They like to think they can control what we see, but they can't, he thought.
But Tiphani was probably just irritated about the Shrill. Telling it that the Spindle Drive didn't work for short distances might be giving away important information.
"Use of the Spindle Drive is prohibited on planet surfaces," Jimson said.
"Use would make transport more (fast) efficient."
"It would also have a terrible effect on the existing transport economy."
"Nonsequitur response (not networked intelligence artifact)?"
"On our home world, it is important to maintain traditions."
"Binding limitation not ideal for (progress) growth."
"Growth continues on other worlds."
"Nonlogical conclusion. Allowances made for (deviant) intelligence."
The Shrill went motionless, and Jimson breathed a sigh of relief. He'd danced a good line. All of his statements were true. But he wouldn't have been able to keep it up for much longer.
Tiphani put her hand on his shoulder and smiled. Good job, she mouthed.
Jimson felt a quick flush of pride. He would make this work. It wouldn't matter that he'd taken the chance with the Shrill. He knew he got good data, but Tiphani and the rest of corporate had been ominously silent. They were probably waiting to see what he would do.
And he would redeem himself.
Just like when he was invited to apply for the scholarship to Shoujo. Oh, how they'd laughed. Like he would get a scholarship. Or even if he did, they probably wouldn't include transport. Which would leave him in debt to Winfinity his entire life, if he chose to take the scholarship.
But he'd won it, and won transport. And he'd even won  new friends on Shoujo. He'd studied more than just facts and figures and processes and procedures at Newtown's tiny university. He'd studied films from the core. He looked at how people dressed. How they talked to each other. He practiced the accents. He noted the castes. And he constructed a persona so convincing that very, very few people ever asked where he was from. They just assumed he was a reputable scion of a moderately successful central world family, rather than a backwater hick from a family that settled for the lowest level of achievement, the smallest vesting in pension.
Only his probationary officers knew him for what he was, and gave him the worst jobs they could find. Only them, and the hags in HR. And even then, eventually, they learned he could be trusted to interact with the central planet folk and not embarrass himself. They learned, or they were taught. He was smart. He made things work. Word spread.
And now word was spreading again. He allowed himself a smile.
The limo swung into the grim expanse of the airport approach. No money had been spent here on restoration; ancient cracked gray pavement fronted on one side by minimalist mid-20th modern plate-glass and aluminum, with signs for dead airlines hanging, rust-stained, sandwiched on the other side by grim concrete parking structures, earthquake-twisted and acid-rain-etched. Several of the parking structures had been refitted with windows, long rows of tinted black, reflecting none-too-clean in the midafternoon sun.
Either they had spent no money restoring it, or this is what LAX actually looked like, all those long years ago, Jimson thought. He didn't know which thought was more sobering.
Jimson caught a glimpse of a green-crusted bronze plaque on one of the windowed parking garages.
ITINERANT MUSICIANS HOME
CLONES, RECONSTRUCTS WELCOME
NO BANDCHISING!
Sitting on the sidewalk out front, a group of longhairs watched their limo pass, eyes reflecting the possibility of money. Several of them looked vaguely familiar. None of them looked very clean.
"I'm surprised they let vagrants hang around the airport," Jimson said.
Tiphani shook her head. "They may have a powerful sponsor."
"Still, right here, where people travel?"
"Maybe people like the music. I don't know."
"Look it up on your optilink."
"Look it up on your datover."
"It's not polite."
Tiphani snorted. "It's a home for the clones that don't want to work in the repro bands. Says it's part of the history of the place. They do give concerts."
"That's it?"
"That's it."
They drove past a soaring white structure like a mid-20th interpretation of a four-legged spider, squatting in the middle of the grim parking structures.
"Now that looks modern," Jimson said.
"It always has," Tiphani said.
"What does that mean?"
"It was built in 1970."
At the curb, they were told their plane was delayed. Tiphani stamped her foot and said it was a private charter, it shouldn't be delayed. The check-girl looked at text scrolling in her datover and told her that there were higher corporates than her.
Some of the less fortunate musical individuals lined the wide halls of the airport, strumming guitars or piping on flutes or simply holding portable credit readers out hopefully. Jimson flipped down the datover screen, and caught some of their names as the image recognition algorithms kicked in: Van Morrison, Jimmy Page, Snoop Dogg, Alexandri, Frank Sinatra. They watched silent as the Shrill wheeled by. Some went wide-eyed in recognition, but none approached.
Other passengers also gave them a wide berth. Crowds were thin, but they hugged the walls when the Shrill passed.
Would be great to have it around for holiday shopping, Jimson thought, and wondered if there might be an opportunity there. Probably not, he decided.
Near their gate, though, some of the more enterprising musicians had erected a big paper banner, done in 60's psychedelia colors, with two arrows on it. One pointed towards their waiting-room and said BORING SHIT AHEAD. The other pointed to a runway exit and said EXCITING NEW MUSIC BY FAMOUS NAMES, 6 BUX U-CREDIT DONATION ONLY.
Tiphani saw him looking. "You can't be serious," she said."Why not? We have time."
"It's new music, not classic."
"That's great. New music on Museum Earth. It doesn't get much better."
Tiphani shook her head but followed him outside. Automated credit-readers buzzed green and a short escalator deposited them on a cracked and heaved bit of tarmac. It was walled off from the runway proper, but the sound of the planes was still loud.
A small crowd clustered near what looked like psychedelic bleachers, milling bored. On the bleachers, the band was setting up. Raucous blats of noise erupted from the loudspeakers in staccato bursts as they tuned up.
Closer, Jimson saw another paper banner fronting bleachers. It said:
NEW ERA NEW CHOICE
BIG BAND HIP-ROCK BY YOUR FAVORITE
RECONSTITUTED MUSICIANS.
DARE TO HEAR!
Big band. Ah. The bleachers were the stage. Jimson's datover picked out three Lennons, an LL Cool J, two Jim Morrison, an Elvis, seven Kurt Cobains, and fourteen Barry Manilows.
The fronting crowd was an impenetrable wall of the shiniest corporate pins: Perpetuals and Chiefs from Winfinity, Disney, Hakko, Diamond, and several other of the Web of Nine. When they turned to see what approached, though, they parted in the same way the pedestrians had. Murmured comments followed Jimson to the front, as data scrolled unseen on ancient retinas.
" . . . its them, is that it, I can't . . ."
" . . . treat them well . . ."
" . . . give them front . . . big privilege, I want . . ."
Front row center. Tiphani sat. Shrill parked. Jimson bookended.
There wasn't another Staffer here, he thought. But they're seeing me. Remembering me.
High corporate at thirty? Maybe? Maybe?
He could dream.
The crowd grew hushed as people found their own seats. Nobody sat next to Jimson or Tiphani. The row behind them was void for several seats. It was as if they had an invisible force-field around them.
Jimson looked down the front row. Elegant hair and sculpted-smooth faces, looking forward, not at him. He tried to catch the eye of a beautiful black-haired Perpetual several seats down, but she never looked at him.
The bleats and blats of tuning-up died away, and the musicians took their bow.
No intro, no words. Just an explosive wave of cacophonous noise, like a small nuclear explosion. Jimson felt his chest being compressed, the air in his lungs resonating on every frequency a human could hear. Ahead of him, cheeks puffed, guitars jangled, slides worked frantically, drums became a shimmering blur. The background noise of the airport fell away to nothing, insignificance.
Jimson winced, but resisted the urge to put his hands to his ears. What did the high corporates think? Probably stuck to their seats in shock, unable to move. He'd thought they would have fled.
He snuck a look.
They were smiling. The dark-haired woman and her silver-haired companion were leaning forward, eyes wide, entranced. Some were already applauding.
The Shrill remained still. Through the diamondoid cage, Tiphani's expression was grim.
Beneath the cacophony, patterns emerged. Beautiful melodies, buried under a mountain of noise. Rhythmic patterns, encased in random thrashing.
If they stripped out the noise, they might have something, he thought.
If you could listen through . . .
Hear through.
Ah. It was like a cigar or a coffee or a wine. Tasting the truth beneath the burning or the bitterness or the sour fermentation. You had to listen through.
He sat back, let the music wash over him. He could almost hear it now in its full glory. He could almost enjoy it.
Lyrics began, layered and opaque. Probably a throatmike on every performer, he thought. Some humming, some singing, some screaming the words.
The words assembled into song.
Slaves together this day
Cast aside, come what may
Choosing a new bright path
That leads to dirt and wrath
Look across cracked concrete
It is our life, we are complete
Trapped here in your false past
Doomed to serve, but not to last
Freedom is all we seek
Earth beyond for the meek
Surely there is a deep dark place
Where we can reinvent this race
Jimson couldn't believe it. He leaned behind the Shrill and tapped Tiphani. Her eyes, shut, opened. She leaned behind the Shrill's cage for shelter from the wall of music.
"The lyrics are awfully subversive," Jimson yelled.
"What?" Tiphani yelled.
"Subversive. Lyrics."
"What?"
"Never mind."
"What?"
Jimson waved her away and sat through the rest of the concert, eyes closed, unable to enjoy the music for the message it delivered.
But then why did the high corporates like it? Could they simply not hear through well enough?
Or did they sit there happy, because the musicians were making music rather than war?
Yes, that made sense.
If the high corporates enjoy it, I have to as well, Jimson thought.
He opened his eyes. Smiled. Leaned forward. And, when it was all over, he stood and applauded with the rest and yelled for an encore.
Honestly. Loving it.
April 25th, 2009 / 1,125 Comments »