Yeah, I'll get comments on this.
But let's get it out in the open: there are no evil masterminds running large corporations seeking to destroy the middle class.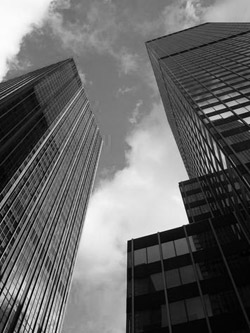 To think that a corporation would voluntarily destroy a middle class (source of most of their income) to replace it with slaves and serfs is really silly. They'd rather see more middle-class. More upper-middle class. More people with more money buying more of their stuff, period.
That's the singular motivation of business: to generate profit. There's no evil mastermind sitting in an ivory tower plotting the destruction of the world. All a large corporation wants to do is generate profit.
(Now, that's not to say that their actions might not bring about a collapse.)
So, if you're interested in writing about business realistically, follow these rules:
1.    All businesses care about is making a profit. That is their sole motivation.
2.    They actually want people to make more money and buy more stuff. See #1.
3.    Corporations are not inherently evil, but the pursuit of #1 may cause some, ahem, "unexpected conditions."
To expand:
A corporation doesn't care if you're living in a 300 square foot studio apartment or a 6000 square foot McMansion. They don't want to wipe out the McMansion dwellers, or elevate the studio apartment owners. They only care about one thing: that you buy their stuff.
For everything they do, they'll have justification. There's no hidden business plan with a top-line mission statement of "Destroying Civilization As We Know It."
But there will be hundreds or thousands of decisions, all based on maximizing profit. Substituting cheaper ingredients: maximize profit. Use low-income countries for labor: maximizing profit. Driving smaller competitors out of business: ensuring growth, which maximizes profit. Extending credit to anyone: maximizes profit.
If they can make a bigger profit selling you a "green" condo and a Prius rather than a McMansion and an Escalade, that's exactly what they'll do. If they think they'll make an even larger profit renting you an apartment and leasing you a bike, that's what they'll do.
"And I still hate big corporations," you say.
And that's perfectly fine. In their pursuit of profit, big corporations have made it easier than ever for people to get in over their head. In their pursuit of profits, big corporations have used financial instruments that are questionable at best and fraudulent at worst. In their pursuit of profits, big corporations have lobbied governments, cut corners, exploited low-income workers, and dozens of other unsavory things.
But, remember this: it's all for profit. And the irony is that in the blind pursuit of profit, a corporation may find itself inhabiting a world where nobody can afford their products. A world that it helped create.
Now, that's a realistic scenario. And isn't that even better than "the evil corporation?"
Happy writing.
April 21st, 2009 / 1,087 Comments »