What if he's right? Dian thought, as the street gave way to the grassland before the White House. She couldn't see the tents yet, but their bright glow sent streamers of light into the cooling night mist.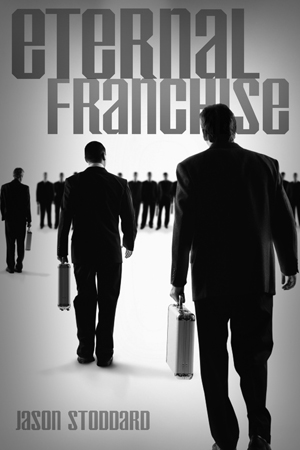 Nobody was perfect. Corporates weighed the costs versus the benefits and designed around them. Maybe the failures weren't caused by rogue arties. Maybe it was just scapegoating.
Or maybe it wasn't, she thought. He snuck in here. He's not supposed to be here. And he's worth a whole lot of money to you.
Maybe that's clouding your judgement, just a little bit.
But to actually be able to go to the Edge, to live where she could at least see the free stars and dream about living there, wasn't that worth it?
The artie – Lazrus, wasn't it – trudged ahead of her, head down. His clothes had knit into solidity, an old faded plaid shirt and jeans tucked into worn brown leather boots. She wondered momentarily if the clothes were attached to his body, or if they could be removed.
He moved with an almost unnatural grace, the smoothly-oiled motions of a well-designed machine. Steps taken with a little too much precision, feet placed just a little too fussily.
Unhuman, she thought. He might pass at a glance, or even on a brief encounter, but if anyone watched him closely they'd see there was something not quite right. Maybe it was his first time with a body.
She shook her head. Why did she care? She was turning in a rogue artie. It had to be worth something. If the themeparkers didn't try to steal the credit, that was.
But it wasn't like she had anyplace to store him. And as long as they made the call with her there, she was the one holding the weapon, wasn't she?
"Let me go," Lazrus said, soft and low, as the first peaks of the big tent poked over the low hill. "Please."
"I can't."
"I've never harmed anyone."
"Shut up."
"I just want to be myself."
"Stop talking. Now."
Lazrus half-turned towards her and opened his mouth as if to say something. She felt her finger tense on the trigger as she said, "No."
Lazrus froze for a moment, then faced forward and began walking again without a word.
In front of the themeparkers tents, a single man sat in front of an impromptu campfire. Dian could see fire-lit eyes tracking Lazrus and her as they came up close. It was the young guy. Gerr. Good.
"Out hunting?" Gerr asked, looking from her Winch to Lasrus and back to her.
"Not exactly," Dian said. "I caught something, though . . ."
"You know you're not supposed to be here anymore?"
"What does that mean?"
Gerr shrugged. "Means what it means. You got recalled."
"What?"
"Winfinity made a mistake, sending us both here. Now they fixed it. Probably a message about it on your datover, if you care to flip it down."
Anger surged through Dian, acid-hot. "But I caught a fucking rogue . . ."
"I don't think Winfinity cares about transients."
"He's not a transient. He's an artie!"
Gerr stopped. Laughed long and hard. "Oh, that's funny. That's good. You find some mushrooms or something?"
"I'm serious. I saw him land and . . ."
"What'd he do, drift out of the sky like a dandelion?" Gerr said. He stood up and walked over to Lazrus, poked his chest. "He's a guy. Human. Not something that lives in a network. Arties don't have bodies. Get it?"
"I . . . I . . ." was all that Dian could manage to get out. She'd never envisioned that they'd simply refuse to believe.
But if you hadn't heard the stories, if you hadn't seen it with your own eyes, would you believe? She thought. Maybe it wasn't so strange.
But what would she do now? Especially with . . .
"What do you mean I'm recalled?"
Gerr circled Lazrus once, looking him up and down. "Just what I mean."
"Where's Peter?" Maybe she could make her case to him. Maybe he'd understand.
"Fucking off. Got some new virtuality stuff through the uplink today. He's got dibs."
"I want to talk to him."
A laugh. "Right. I'm gonna go in there and interrupt him. I don't think so."
"Jo?"
A snort. "Probably still looking for you."
Dian shivered, wondering if their paths had crossed, if Jo stood right behind her at that moment. She fought the urge to turn around.
"Okay," she said. "I'm going."
"Okay," Gerr said. "You go."
She got Lazrus turned around and walked him out. His too-smooth, too-perfect walk was so obvious! She could see he was fake.
Of course, you know he's fake, too.
When they were back over the hill, and the light of the tents fading behind them, Lazrus threw back his head and laughed, long and hard.
"Very funny," she said.
"It is."
"And now, supposedly I'm fired."
"You could find out," Lazrus said, turning to look at her. He pointed a finger above his left eye. "Your datover."
She grabbed her forehead and found cool plastic. Shit. She'd been wearing it off, flipped out of view, this whole time.
She told Lazrus to stop and flipped down the little screen, flicking the power on in the process.
"You don't have to hold the gun on me," he said.
"Yes I do."
"I'm not going anywhere."
"Shh!" Icons flashed in her peripheral vision, angry red, twisting and coiling as if getting ready to strike their prey. Priority messages. From High Manager Po.
She toggled them on. Frozen flashes of Po appeared in her vision, but they quickly cleared as the planetary net rerouted her to a very tired, very irritated, very real Po.
"High Manager Po! I didn't have a chance to review your messages."
"And there is a reason why you had system off?" Po said, her eyes crinkling in anger. Her mascara, thick blue in the Martian corporate fashion, was smeared.
Dian took one look at the local Martian time and shivered. It was past midnight.
"I think I've found . . ."
"You know inaccessibility cause for termination in itself."
"Yes, but I found . . ."
"Not interested in what you found!" High Manager Po screamed. "You should have informed other team in area, have precedence, came before!"
"They showed up after I was already here!"
"Not what they say! Not what records show!"
"I was here first!" Dian cried.
"Have records indicating otherwise."
"They faked them!"
In front of her, Lazrus broke into a wide smile and covered it up with a hand.
You? She mouthed.
Eyes wide, an innocent head-shake.
"I probably have video from when I was here, showing they weren't."
"Doesn't matter. Could be fake."
"Theirs could be too!"
"Doesn't matter. Corporate HQ has decided. Theme Park division has precedence. Established clear right of development. You should not be there!"
Fine. Change the subject.
"I think I witnessed the descent of a rogue artie. I have him here."
Po looked confused for an instant. "That is of no importance. We did not hire you to catch artificial intelligences."
"Winfinity wouldn't be interested in a rogue artie that might be coming to earth for sabotage?"
"It is not part of your scope of work."
Dian opened her mouth, but she couldn't make any words come out. This was stupid, just idiotic. Suddenly, all the warnings about consulting with corporates came back to her. They'll screw you, every way they can.
"Fine," Dian said, finally. "Pay me the rest of my fee and I'm out of here."
"No," Po said. "You should have informed of other activity. By not doing so, you are in breach of contract. We have already rescinded your deposit."
"My deposit! I already spent it!"
"Then I expect your balance is negative at the moment," Po said, with a thin-lipped smile.
"You complete asshole."
"Your verbal assault on me has been noted," Po said. "You will not be doing business with Winfinity again."
Po broke the connection. In place of her image came a simple graphic: the universal red circle-and-slash of denied service. They'd terminated her data connection, too.
"Fuck! Fuck! Fuck!" Dian said, peeling off her datover and raising it high above her head. It would make a pretty sound shattering on the concrete.
"No," Lazrus said, stepping forward and grabbing her arm.
Shit. Her Winch was pointed at the ground. She struggled to bring it up, but it was like struggling against a vise.
Damnit, she thought. From dreams of the outer planets to this. What was he going to do with her?
"Don't worry," Lazrus said. "I just don't want to be shot. And I think I can fix your datover."
Up close, his eyes were a pretty steel-blue, Dian noticed. But there was no emotion in them, nothing friendly, nothing human. She shivered. "How? They've locked 'em out."
"Magic," he said, letting go of her datover hand. "Try them now."
"Let go of me," she said.
"Are you going to shoot me?"
"No."
"Then relax."
Dian let her gun hand go limp. Lazrus released his iron grip, but, surprisingly, didn't try to take the gun. She pointed it back at him.
"Is that really necessary?" Lazrus asked.
"Yes." Dian slipped the datover back on and flipped the screen down. And gasped. Now, all the icons and feeds were back, together with a dozen more she'd never seen before.
"We thought we'd give you a few more access privileges while we were at it,"
Lazrus said.
"We?"
"Sara Too," said a voice in her earphone. "Pleased to meet you."
"Are you a rogue like . . ."
"Lazrus? No. I'm happily captive. But Lazrus is trying to enlighten me."
Dian shook her head. Things were happening too fast. This was just a little too bizarre. She let the Winch fall and point at the ground.
"I fixed the problem with your account," Sara said. "You're no longer overdrawn."
Sudden tears loomed close and hot. Dian's breath caught. "But I . . . I . . ."
"Tried to turn me in, yes," Lazrus said.
"And I . . ."
"Held a gun on me, yes."
"Why?"
"Maybe not being human has its advantages," Lazrus said, softly.
Dian looked down at the ground. She felt like she was floating in free-fall, ungrounded. It was too strange. Too weird.
"One door closes, another opens," she said, softly.
"What is that?" Lazrus said.
"Something my father used to say."
"Father," Lazrus said. "What a concept."
"All CIs dream of breeding," Sara said.
Dian let the silence stretch out. "What do we do now?" she asked.
"Help Lazrus find Oversight," Sara Too said.
"Sara!"
"What?"
"I thought you didn't want me to perfect myself."
"I love you," she said.
Lazrus held out a hand to Dian. "What do you think, Dian?" he said. "Want to help an old rogue?"
Why not? She had food back at the camp. As long as they didn't find her. "Won't they track me?"
"We can convince them you walked out on your own," Sara said.
Dian held out a hand. Lazrus' hand felt completely human. She would never have known.
April 19th, 2009 / 521 Comments »