First, an apology for lack of content (besides Eternal Franchise) recently–life has been incredibly busy, and I've been neglecting lots of things. On the other hand, I have some new stories completed, and will be shopping them soon. At least one treads some very new ground for me. Hopefully you'll get a chance to see it soon!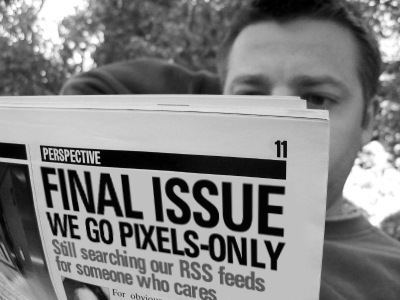 Enough. On to the content.
I recently saw an interesting presentation from a Morgan Stanley analyst on the subject of advertising spend versus the amount of time people spend on different media, and the disparity between the spend and attention.
Or, to put it a little more understandably: if you add up all the time that you spend with all forms of media–newspapers, books, TV, internet, radio, mobile, etc–you can come up with statements like:
"On average, people spend 33% of their total "media time" with television; and because of this, you'd expect companies to spend 33% of their total media budget on TV."
Makes sense. Especially when these are real numbers–people, on average, spend 33% of their time watching the tube, and companies spend about 33% of their marketing budgets on TV. There are instances, though, where the time and dollars are way out of whack:
People spend much more time online and on phones than advertisers are spending on advertising—300 to 3000% more, in fact.
On the other hand, people spend much less time on newspapers and radio than advertisers are spending on advertising—ad spending is 300-800% greater than time spent on these media. For an ad-supported industry, this is a big, big problem.
And yeah, you know about this. Everyone knows newspapers are hurting. Printing old news on dead trees is really a silly model when news is easily accessible via millions of sources online, instantaneously. And simply having the newspaper move online probably isn't going to work; the economics of ad-supported models are much, much leaner online. And putting content behind paywalls typically won't work, except in very specific and unique cases.
So, let's look at the armageddon scenario: print newspapers die, the economics of online newspapers don't work, and we lose the entire newspaper industry. Poof. Gone.
In this case, what do we lose, among the sea of free news outlets online, plus blogs, plus posts on Flickr and YouTube and up-to-the-second Twitter posts? Arguably, we lose only one thing: investigative journalism. There are few blogs which can afford to send journalists around the world in search of a story, or finance their digging in to discover some hidden truth.
And even that loss is arguable. Many of today's big stories break online. Newspapers are frequently the also-rans.
So, are we left with a future of sifting through a million different news sources via our RSS readers? Of not knowing who's reliable, and who isn't?
For a while, probably yes. And then things will change.
Even today, it isn't hard to create a community that sifts out the most reliable sources from the least reliable, or biased, ones. Things as simple as the DailyKos' trusted user model, or even Amazon's "This review was helpful to me" button helps us separate useful information from the noise. Apply this on a grander scale, and I think we'll quickly see intelligent agents that can track and rate the quality of information from individuals and organizations. These intelligent agents will turn the current era of pervasive media generation into the era of useful information.
Add another layer of human digging on top of the most reliable sources and advertising-supported monetization, and we may even be looking at an era of pervasive journalism. Individuals don't have the operational requirements of a large media conglomerate. They don't have offices, printing presses, or advertising campaigns.
While ad-supported monetization may fail for big organizations, it might work very well for individuals. Well enough that they could go to the ends of the earth to pursue that next great story.
April 13th, 2009 / 1,060 Comments »