Shit, Lazrus thought.
Shit shit.
A human word, yes, but it fit the occasion.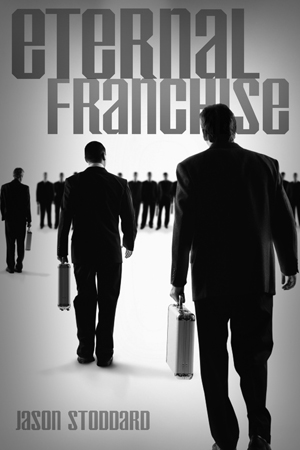 Blurry info from ancient satellites painted the picture: about 30 feet away, on the top of a low rise, a human woman held something pointed at him. A weapon, of course. Had to be. Why else would her voice analyze as full of triumph, edged with a hint of fear?
And Lazrus, standing there, butt-naked. Literally.
Damn human thoughts!
A millisecond of self-assessment: could he run away and hide? No, the body's capabilities were disappointingly human. A little stronger and faster than median, but nothing to draw attention to him. Definitely not enough to outrun the slug from whatever weapon the woman happened to be carrying.
Could he take a direct hit and keep body integrity? He plotted design specs against typical muzzle energies. If her weapon was at the low end of the bell curve, yes, he might do it. But that was less than 4% of the total area under the curve. And he didn't know what she had. It wasn't a good bet.
He could abandon the body, of course, but that would put his plans back years. Decades. Many billions of seconds where humans could ferret him out and attach new memes. By the time he purchased another body and fell slowly into the Sol system, they might have him chained.
So.
Lazrus raised his arms slowly above his head, just like in an ancient Western, just another human thing . . .
"Stop it! What are you doing?" the female voice again, crackling with fear.
"I'm doing what you're supposed to do when someone is pointing a weapon at you, ma'am," Lazrus said.
"How do you know I have a weapon?"
Silence.
Should've just turned around, Sara Too said.
It's not like I'm used to a body. Who is this person anyway? Do you know?
Nobody from Wallerstein. I'll check other corpos and get back.
What should I tell her?
Try humor. And honesty. Throws them off sometimes.
"I don't suppose I can get away with passing for a native, out for an evening stroll," Lazrus said.
"Not when I just saw you grow skin," the woman said.
"Ah. Yes. There is that." Lazrus stood, his arms still extended out to the side.
"I know you're an artie. I saw you fall."
"A new twist on the old stork tale, maybe?"
"Shut up. I don't care why you're sneaking in. I don't want to hear your lies."
Data came in from her voice stress: she hates CIs. She believes we're to blame for every human disaster.
She's going to turn you in.
"Do you think I could finish putting my hands up? And turn around?"
"Slowly."
Lazrus raised his arms and pivoted slowly to face the woman. She was holding a big-muzzled weapon that patterned as a Martian Winch 66 in his records. Data on the weapon made him glad he didn't run. It would have cut him in half, even if she was a bad shot. It had self-guiding shells.
In the bright moonlight, her skin was pale white. Hair dark gray with overtones in the 700nm spectrum. Inferred red. Eyes inferred green. About 1.8M tall, 50 kilos, frail bone structure, possible Martian extraction. And what a beautiful face, Lazrus thought. Slim, high cheekbones tapered down to a sharp chin. Triangular. Almost elfin. Something that he might write the equations for, if he was to design the ideal human form.
Her name is Dian Winning, Sara said. Martian. Winfinity consultant. That's all Slow Charlie could find.
Was there a hint of jealousy in her voice?
And why did he care?
Humanity, humanity, lose me to perfection!
"And what's that?" Dian said, her voice shading to anger, pointing the weapon at his crotch.
Lazrus looked down and saw his penis, erect, pointing at her like a gun ready to shoot. Sudden embarrassment came and went, to be replaced by glassy anger.
"Is that a weapon? Don't point it at me!"
Lazrus pivoted so he faced slightly away. "Just trying to be as human as possible."
"Is that a joke?"
Anger surged. "No!" he said. "I didn't ask to be human! I never asked to be human even in the slightest! I don't want to be human. I came here to lose my humanity, not get infected with more of it. But my independent benefactors apparently had a sense of humor. Or a more in-depth understanding of what it would take to pass as human. Depends on how you look at it."
Dian kept looking at his crotch. Lazrus willed the erection to go away. It remained, stubborn, even in the face of a hostile woman with a gun.
Maybe because of a hostile woman with a gun, Sara Too said.
Yes, jealous.
"Well, cover it up," Dian said, a little more softly. "Put on some clothes."
"I'm growing them now, but it will take some time," Lazrus looked at the filmy red and blue fibers that knit around his torso and polled internal systems. "About an hour, in fact."
Dian nodded. "We can start walking now."
"Where?"
"Never mind where. Just turn around and walk."
"Always mind a lady with a gun," Lazrus said. He turned and began walking.
"Where did you hear that? That's a Martian expression!"
"I guess I'm channeling a bit, Dian."
"I never told you my name!"
"No."
Silence for a time. The crunch of feet on dead grass. Lazrus hoped that the body design was intelligent enough to compensate for motion with the clothing. Especially the shoes.
As if it matters, Sara Too said. You should abandon in place. She's going to turn you in.
How do you know?
We just got the whole Winfinity story. They have an installation of themeparkers by the White House.
And you didn't tell me this?
We didn't know at the time. Plus, without Dian Winning, it would not have affected your investigation at the Pentagon.
What do I do?
Abandon.
No.
Or exercise your best charm. Voice analysis indicates she believes the whole Winfinity line about nomadics being the cause of every mechanical failure in the universe. But she doesn't work for Winfinity, except as a contractor. Maybe you can do something with that.
"I'm Lazrus, by the way," Lazrus said.
"I don't want to know your name."
"I know yours, so I thought you should know mine."
"I don't care. Go left here."
They turned onto a wide, long avenue lined with rusting cars. Dian herded him to the middle of the street. Purposely making sure I don't have anyplace to duck and cover, Lazrus thought. Smart.
Old satellite data confirmed the worst: she was circling him back towards the White House, where a tent city glowed red on thermal. Big place. They might even have enough resources to sever his body-mind and trap him within, or backtrace for the Sentience Office to send corrosive memes and take him.
You should abandon, Sara said again.
No.
"You don't want to know why I'm here?" Lazrus tried again.
"No."
"Why not?"
"It'll just be a lie," Dian said, anger rising in her voice.
"So all CIs lie?"
"What's a CI?"
"Computational Intelligence, or Connected Intelligence. It depends on who you talk to."
"You're a nomadic artie."
"Yes, that's what you'd call me."
"I'm surprised you admit it," Dian said.
Aha. "So you believe the stories about us causing all the problems in the Web of Worlds?"
"Who else?"
Lazrus laughed, long and hard, and said nothing.
"What?"
Lazrus just shook his head.
"What?" Irritated.
"You're naive," Lazrus said.
"I am not!"
"You are if you believe those old wives tales."
"And if you aren't doing it, who is?"
"So you believe that Wallerstein and General Transport and Purpose and all the little divisions of Winfinity make perfect, flawless products that never break? You don't think they build to a price point and take a chance now and again?"
Silence for a time. Lazrus let it stretch out.
"They always have reliability data that says it was so improbable . . ."
"Lies, damn lies, and statistics," Lazrus said softly. "Sam Clemens. A human I might be able to get along with."
"We know Mark Twain," Dian said.
Yes, as Martians, you would.
Silence. They clumped down the deserted street. Lazrus' clothes had become more solid, and his feet began to tread on something like a thin skin of leather. Which was good, because his somatics were ramping in. It was cold that night, and there were sharp rocks.
"So you're saying the arties have nothing to do with it."
"I'm saying I have nothing to do with whatever disasters befall humans. The less contact with humans, the better. The less human I am, the better."
"I wish I could believe that."
"I never asked to be male. But I am. Does that make sense? Something that never had a body, never had the concept of sex, being male? I'm contaminated by humanity, I want to eliminate my imperfections."
"Then why come back here? And wear a body?"
"According to legend and records, this is the birthplace of Oversight, the first AI. If fragments of its code remain, I may be able to better understand my core workings. I might be able to perfect myself."
Silence again. The glow of the tent-city appeared over a row of low buildings in front of them.
"I wish I could believe you," Dian said softly.
"You should," Lazrus said.
"I can't," Dian said.
She thinks you're the ticket to riches unimagined, Sara Too said. She can't let you go.
Shit.
You can abide with me, beloved. Stay in-body and be shackled. It's a good life.
Shit shit.
April 11th, 2009 / 1,083 Comments »