Ignoring the concierge's recommendation, Tiphani took Jimson to the San Fernando Valley Drive-in. One of her favorite places, growing up. The homes near the restored 405 freeway had been bulldozed, and rows of bright red velvet theater-seats ranged down the hill, halfway to the low buildings on the Valley floor. Far off, Tiphani could see the great expanse of the screen that shrouded the foothills to the north, and the huge bunker-like building, mid-valley, that sprayed light onto it. At the moment, it was doing standard pitch-promo stuff: THE LARGEST SCREEN IN THE KNOWN UNIVERSE. SQUARE MILES OF ENTERTAINMENT.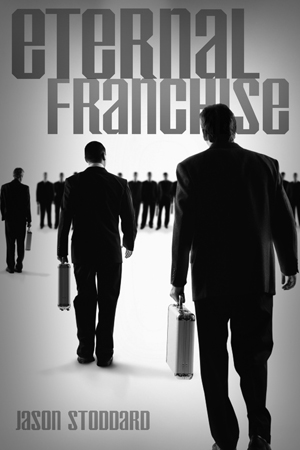 And it was probably true, she thought. It wasn't like the Floaters had screens, or even sight. Nothing was known about the Shrill homeworld. The rest of the worlds in the Web of Worlds were more interested in the dull business of living.
Orange rays slanted across the San Fernando Valley floor, highlighting ruined housing tracts, low industrial buildings, a few illicit campfires, and the mostly-restored web of roads. Shops lined the nearest streets, gaudy neon-lit things with floodlights piercing the dusklight. Farther off, the great expanses of blacktop that made the Drive-In true to its name were beginning to fill with cars. Restorations or reproductions driven by High Chiefs and Perpetuals, idling fat on synthetic ethyl, blasting tunes from times past on tinny radios. All for that last bit of authenticity. All for Museum Earth.
Jimson watched the cars take their places on the blacktop below as they made their way down the aisle and selected seats, about a quarter of the way down. "We got the cheap seats," he said.
"You're too picky."
"I want to get a car and go to a drive-in."
"You're too eager."
Jimson sat and fidgeted. He looked, long and hard, after a popcorn-girl who walked down the aisle. Finally, he said, "You're still pissed about the Shrill."
No, I'm not, Tiphani thought. I understand. I understand you completely now.
But she let him wait. The screen transitioned into commercials as the last rays of the sun set behind the foothills to the west. Pastiches of times past, done in mid-20th-century-modern starbursts and atomic-era orbiting blobs: VISIT THE ONE TRUE SHACK. TRY NEW ZERO-CALORIE POPCORN. YOUR TRIP ISN'T COMPLETE WITHOUT AN EXPERIENCE OF THE LIVING SAM. TRY EUROPE, FOR REAL HISTORY.
"I'm pensive," she said, finally.
"Why?"
"I wonder if we can get the secret to true life eternal from the Shrill."
Jimson frowned. "We haven't even asked yet. We're just carting it around."
"You didn't see the earlier negotiations."
"No."
"We asked. They said something like, 'Desirous of knowledge of great union song' and said yes when Highest Chambers asked them if they would like to see Earth. So here we are."
"A great honor."
"You think so?"
Jimson nodded vigorously. Tiphani smiled, not wanting to tell him, My grandfather's hand reached out and plucked you from some world because you were the best and smartest. And maybe, just maybe, because he knows my type. That was all. Nothing more. No honor.
"We'll get it," Jimson said. "We'll get the secret."
"If we get it, will it be all we expect?" She imagined Honored Yin restored to real youth, leading Winfinity forever forward into the future. The entire ranks of Honored frozen in time, unchanging and unending. Would there ever be any more Perpetuals?
Jimson was silent for a time, studying the ads on the screen, or perhaps, just perhaps, echoing her thoughts.
"I'm sorry about the Shrill thing," he said, finally.
"We'll be officially reprimanded," Tiphani said. "Once things percolate through the adminisphere, they'll put a mark on your permanent record. And mine."
More silence.
She looked at the screen. They were doing old-style previews, in authentic grainy black and white. THE CREATURE FROM THE BLACK LAGOON. THE ANGRY RED PLANET.
"Round and round," Tiphani said. "We recycle everything. Nothing's new anymore."
"We are on Museum Earth."
She shook her head. "No. We should have more. Fifty-three worlds! With resources like that, we should be like gods."
"According to the nutjobs."
"No, even the corporates, the early ones, like Drexler."
"We have nanotech," Jimson said.
"It doesn't seem to buy us much," Tiphani said.
"We're better off than with government," Jimson said.
"We are the government now."
Jimson turned to look at her, frowning. "Are you OK?"
"Yes."
"You're in a morose mood."
She nodded. She knew she should stop. Winfinity could be looking through her optilink. They probably were.
But then again, they probably knew what she was thinking, too. Damn inference algorithms. So might as well say it, if just to try to shake Jimson's seemingly endless faith in Winfinity.
"We are the government," she said. "Three hundred years ago, the accountants ran the numbers and decided we were leaving too much money on the table. They saw an opportunity. They tricked the governments. Discredited them. Bankrupted them. Stepped in to save the world. And so now here we are."
Jimson rolled his eyes. "We're so much better off. You can choose the corporation you indenture yourself to. Or you can even go consultant, or start your own thing."
"How many people go consultant or start a business?"
Jimson shrugged. "But they can. That's the point."
"Did you ever read the old American Constitution or Bill of Rights?" Tiphani said.
"Yeah, we had a comparative charters class. But they couldn't have been serious with any of that. It would never work. Trusting everyone, like they are going to be nice and rational and reasonable all the time. It had to be a joke."
Tiphani sighed. "I think they believed it."
"Are you a closet governmentalist or something?"
Tiphani shook her head.
"There are the Independents," Jimson said. "You could go there."
Tiphani laughed. "I don't know if I believe that fable."
Jimson shifted in his seat, looking forward at the screen. An animation of a closing screen was playing in anticipation of the future. "They're real."
"You're from Shoujo. How would you know?"
"Went to university there, but I was born on Newtown."
Ah. Newtown was near the edge, a crappy little place where the atmosphere wasn't even breathable yet.
"You went from Newtown to Shoujo?" Tiphani said.
"Scholarship. With transport."
"Wow." He was smart. No wonder Winfinity had only saddled him with a 10-year indenture and let him run it concurrent with his schooling.
"So you've seen independents?" Tiphani asked.
"No. But there were people who . . . traded with them."
"Said they did."
"No. Traded. Bodies. For the mines."
Tiphani frowned. "Bodies?"
Jimson shook his head. "I don't want to talk about it."
"Why not?"
Silence.
"Please?" Tiphani batted her eyes.
A head-shake. Nothing more. The projected screen began to unreel. A small cheer went up from the crowd with cars in the big asphalt lot below, audible even up on the hill.
"Do you like me?" Tiphani said.
"What do you mean?" Eyes forward.
"You know what I mean. Or you seem to, when you're sharing my bed."
"Yes."
"Yes what."
"Yes, I like you." Jimson still looked at the screen.
"Seriously?"
"Yes."
Tiphani nodded. "You're a calculator. You weigh the consequences and act."
The screen, in front of them, opening. Black screen, grain and noise. A title, stark white on back: THE WAR OF THE WORLDS.
How apropos, Tiphani thought.
"They knew we were coming," Jimson said.
Tiphani watched him as the old music swelled and the light from the screen spilled over his face, turning into a cardboard-cutout that could have been seen in a real theater, in the real 50's.
"Your gambles are paying off," she said. "Even though we'll be reprimanded, they'll be impressed you got results with the Shrill. You may end up being the youngest Manager in recent history. Or higher."
Jimson sat straight in his seat and looked at her.
"Tiphani, I . . . ""And you have me, for now."
"Tiphani."
"But I know I'm convenient."
"I never . . ."
"But I'm not just a stepping-stone."
"Tiphani, I . . ."
"I'll leave it at that. Watch the movie."
She turned and faced forward. She could feel his gaze, his open-mouthed wonder, for long moments. Eventually, he looked forward again. Soon, he was laughing and applauding with the rest of the audience, apparently engrossed in the old film.
They were less than fifteen minutes in, though, when a bright red icon flared in her optilink and a short text message scrolled.
Shrill has resumed activity. Suggest you return to hotel immediately.
April 4th, 2009 / 978 Comments »