"It's like a silicon-carbide tribble," Amy said, watching the data scroll in the near-invisible screen of her datover. Jimson Ogilvy had his on, too, but he wasn't looking at it. Damn, she was pretty. He could see the two of them riding surfboards on the waves down in Malibu, coming ashore to fight cowboys and Indians and make love on on the wet sand . . .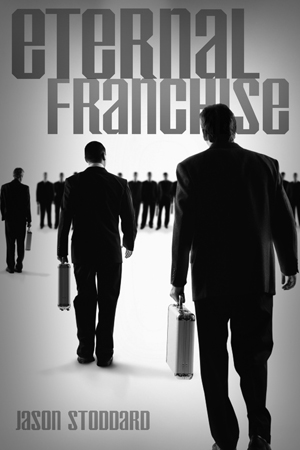 "What's a tribble?" he asked.
From the other room in their suite, voices babbled in excitement. Sharp, ceramic sounds. More mumbling. Jimson wondered if he should worry about the team she'd brought. But they were the experts. And they were wearing body armor.
And it got him the chance to get her in here, where bright California sun streamed across antique rugs and dappled the real silver of the room-service tray. Anything you can to impress, he thought.
"Star Trek," Amy said. "Linear entertainment. Early government fabulation, actually."
"Which tells me absolutely nothing."
Amy turned to him, focusing. "It was a TV show. Faster-than-light travel. Humankind with a Federation of Planets. Tribbles were a lifeform they found on one of the planets."
"Sounds like us."
She frowned, full perfect lips pulling into a thin line. "Like us without the datanets. Or money. No, wait, that's the later one."
Data scrolled in his datover: Star Trek, Original, 1966-68, Science Fiction, set approximately 300 years in the future. Explored "the final frontier" of space. Note: strong anticorporate tropes, especially in later (90s and 00s) follow-up series. Excerpting or strong reality-grounding suggested prior to exposure.
"It's like us," he said, looking at ancient stills. Plain uniforms, spaceships imagined by people who still used rivets and iron.
"Not the tribbles," she said.
More data: sock-puppets, soft, fuzzy. The antithesis of the Shrill.
Or not. Replace soft hair with tough silicon carbide, wrapped in turn by carbon nanotube muscles and mems motors, and you might have something very much like a Shrill.
"They bred," Amy said softly, her gaze fixed on the datover. "The tribbles."
"We still don't even know if the Shrill breed. Do we?"
She shook her head. "Everything that lives, breeds."
"Not the Floaters."
"They have a system of life."
"But we still don't know about the Shrill."
"No. But we know a lot more than we used to," Amy said. "Thanks for this chance. I can't tell you how much it means."
From the other room, a thump and muffled cursing.
"Amy, would you like to go out to dinner . . ."
The doorknob to the suite rattled, the ancient song of key in lock. Jimson sat straight up, eyes jogging to the status screen on his datover. But Tiphani was still in her meeting! Her icon stayed green, status unchanged.
The door swung open, revealing Tiphani. Backlit by afternoon sun like a dark angel dressed in a sharp-angled business suit. Jimson could see her eyes by reflection only, as they juddered from him to Amy and back again.
"What the fuck is this?" Tiphani said, her voice ramping up in waves to an impressive soprano blast.
For a moment, it was as if time itself froze. Jimson's breath stopped. Amy, mouth wide, didn't move. The mutterings and bangings from the other room went completely silent.
"I . . . I didn't know . . ." Jimson said.
"You didn't know I'd be getting back so soon, yes that is very very apparent!" Tiphani said, slamming the door behind her.
"Chief Mirate, I . . ." Tiphani said.
"Don't Chief Mirate me, little curator. I . . ."
Tiphani trailed off as the two geeks appeared in the doorway to the other room, wearing bright orange armor. One of them held something that looked like a cocktail shaker in one hand. The other held the Shrill.
Tiphani screamed. Amy jumped up and backed away. Jimson sat frozen on the couch, pinned between the two powerful life-forms, seeing his career in flaming ruin.
There were no words. None. Nothing he could say.
"Get that thing back in its cage," Tiphani said, holding up her hands in front of her face, as if it would stop the Shrill's carbide underfangs when it came for her. But the Shrill remained inert, unmoving, on the one technician's hand. He looked down at it with eyes wide behind a diamondoid visor, but didn't move.
Fragments of explanation assembled themselves, like a jigsaw puzzle put together with the aid of a hammer. "I thought . . . this was a great opportunity," Jimson said. "With the Shrill dead, we could find out a bit more about it. So I called . . ."
"It is not dead!" Tiphani said. "It could come back to life at any time. Get it back in its cage!"
That got results. The man holding the Shrill looked terrified. His hand clutched involuntarily, and the Shrill popped out of his grasp. He grabbed at it with the other hand, shredding a carbon-fiber glove on the fractal silicon carbide. Tiphani and Amy both screamed. He dove towards the floor and managed to grab it with both hands before it hit. The other man could have been a statue.
Tiphani was white, panting. Amy cowered by the door. Jimson felt his heart like a series of explosions in his chest.
The only way out of this, he thought, is to lead.
"Let's get it back in its cage," he said. He helped the fallen man up, careful not to touch the Shrill. The tech's gloves were shredded, but he wasn't welling blood. Good enough.
"Help him," he said, to Amy's other tech. "Take the Shrill."
He backed away, hands up, mouthing unheard words.
"Come on. Your gloves are still intact."
Still backing away.
"OK. Then get your toys out of the cage and get it ready for lockdown.
The second tech nodded and scampered into the other room.
"Easy with it," Jimson said to the first guy. "I don't know how much glove you got left, but I'm sure you don't want to be missing part of a hand."
"No, sir."
Sir. Sir. Jimson had a momentary vision of himself as a Chief or even a Perpetual, living on a villa in the Meditteranean. Then, right on its heels, another: the Shrill reanimating in a blur of motion, grinding through the man's gloves, leaping for Jimson's face.
"What are you doing?" Tiphani said, her voice ragged.
"Cleaning up my mess," Jimson said.
He helped the man into the other room, where the diamondoid cube was sitting on the floor. Dried brown blood still smeared its sides. The air was thick with the smell of copper and rotting meat.
The first tech quickly placed the shrill on its diamond-hard platform, then both lifted the box and sealed it back on top. A click and a hum and a green icon in Jimson's datover attested that the cage had been sealed again.
In the box, the Shrill remained silent and motionless. Almost a disappointment, Jimson thought.
Behind him, a sigh of relief. He turned and gave the thumbs-up sign to Tiphani and Amy, both white-knuckled on each side of the door.
Tiphani recovered first. She stood, walked into the room, glanced at the readout on the base of the Shrill's cage, and said, "Tell me why I shouldn't fire you right now."
"I'm sorry, Chief Mirate, I overstepped my bounds. I sincerely believed that the Shrill was dead, and this was . . ."
"Apologies are meaningless, beyond a certain limit. You're beyond that limit now."
Jimson swallowed. "This was an excellent chance to discover things about the Shrill. I called in the best resources to examine it, hoping it would help in future relations."
"And it was an excellent chance to chase skirts," Tiphani said, eyes flashing mad.
Jimson almost smiled. An indirect reprimand. Just like Winfinity Prep. She was trying to put him off-guard. Old lessons returned: admit weakness, counter with strength.
"Any man would have trouble resisting Amy, I would venture," Jimson said, gaining a soft smile from her. "In your absence, though, she was my direct link to Museum Resources. Excuse me if I took it."
"Tell me why I should trust an assistant that goes behind my back."
"The assistant had your best interests in mind."
"Not your own?"
"Data was ported directly to your store. You should be able to see that through the optilink."
Tiphani shook her head. "And into yours, as well."
"Backup, only. Examine the data, tell me if it is worth the gamble."
"Summarize it!" eyes bright, testy.
Was it possible that she didn't have access to the data? That her optilink was down? It would explain why her status hadn't changed.
"You're off the net," Jimson said.
"I had a very important meeting this morning. Summarize the data!"
"We have a solid idea as to shell structure," Jimson said. "We can see optical nodes that they probably integrate for sight. We have mems for sound. And, of course, the antenna network they use when they're near others like themselves."
"Bio?"
"Not much. We have new samples from the cage that might be excreta."
"We were about to drill through the underfang palate to get an internal sample," said one of the techs. "Then you arrived."
"I can't imagine how disastrous that might have been," Tiphani said.
"I thought it was dead," the second tech said, visibly shaking.
"Your datover, please," Tiphani said to Amy. Amy pulled hers off and offered it in an open hand, saying nothing.
Tiphani blinked through several screens of info, sighed, and handed the datover back.
"It seems your gamble has paid off, Jimson," she said.
Jimson felt like a coiled spring, suddenly released. His vision went soft and swimmy for an instant.
Tiphani turned back to Amy. "Feed the bio data directly to my datastore. I'll send you the key."
"Yes, Chief Mirate."
"Now, all of you, please get out of here."
There was a brief flurry of activity, and two orange-suited techs carrying big bags and one very cute young curator exited their suite. Amy gave Jimson a small, hopeful smile and a wink before Tiphani slammed the door in her face.
Tiphani kept her hand on the door, as if to steady herself. "Have you ever seen the records of first contact with the Shrill?" she asked.
"Yes."
"The unedited version?"
"Yes."
A quick glance up. "The one where they try to hide inside the Disney character disguises? The ones who lived after they ate through the hull?"
"The one where the captain is inside of Pluto?"
Tiphani shuddered. "Yes, that one. You saw it? All of it?"
"I saw Pluto bleeding, yes."
"Then you know what they can do."
"Yes."
Something that might have been admiration or disgust flickered across Tiphani's face. "And you took this assignment anyway."
"It was an opportunity I couldn't pass up."
"Only criminals are offered opportunities that they can't pass up," Tiphani said, sitting down on the couch.
Time again for truth. "But this isn't a step up. This could be leaping over the ladder entirely."
There was a soft knock on the door. Jimson's datover announced the person as an optilink technician.
"I think they're here to reconnect you," Jimson said.
March 29th, 2009 / 938 Comments »