CHAPTER FOUR
Tiphani Mirate walked up the wide wooden steps of the Western States Consumeristian Church. Slowly. One step at a time. Counting. One, two, three, fourteen, thirty-eight. The boards looked old and weathered and gray, with gaping knot-holes and deep splits, but they didn't creak. Probably backed by some miracle composite, preserved by a diamond-hard polymer. Ahead of her, the façade rose almost fifty meters in the air, more weathered wood holding tight to colorful stained glass, dark today in the bright sunlight. Like a cathedral re-rendered by a frontier town. A belltower supported a large, unadorned cross of rough whitewashed timber. A tourist waved at her from the belltower, and she waved back. Queries to the optilink fed closer images; it was not Honored Yin. Just a random expression of goodwill. Tiphani frowned. She did not understand random expressions of goodwill. She needed to decode what was behind them. Especially on the third day after the Shrill had gone silent.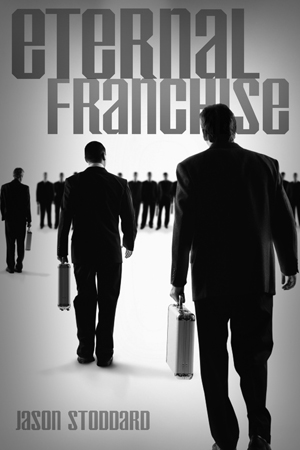 They could fire me from afar, she thought. Honored Yin wouldn't want to meet with me just to let me go.
Or that's what you would like to think.
Tiphani pushed open the door and entered the anteroom. A cheery fire burned in a stone fireplace, flanked by carved wooden doors, embalmed in honey lacquer. The carvings were standard consumeristian stuff, western-style imaginations of the Infinite and Ever-Renewable Product, Christ the Consumer, the Cloudscape of Perpetual Satiety.
Colorful patterns of light and shadow drew Tiphani's gaze up and back to the stained glass. On them, the Trinity of Manufacturer, Consumer, and Holy Franchise were done in frontier tropes – a smiling, round-faced man in a plaid shirt standing in front of a rough wood building and a waterwheel, reaching a hand down to help a dirty man dressed in rags. The ragged man's family hung from his waist, a wife and two children. The wife's expression of woe and horror were perfectly rendered, even though her face was no larger than an apple. Above them all, the halo of the franchise hovered above the mill-owner's head, gold-threaded to alight in hills and valleys cramped by the perspective of the glass. Everywhere the threads touched, another mill had flowered.
Tiphani smiled. On the last world she'd lived on, San Fernando, they used much the same tropes.
When she was growing up on Earth, her father had never said much about the church, but her mother had shaken her head tolerantly and even chipped in a time or two when the indentured or the young Staff needed help. She remembered a boy with beautiful dark hair and eyes who might have been hers, save he wasn't even indentured, he was completely unattached . . .
"Can I help you?" said a smooth voice, behind her.
Tiphani jumped and whirled. A short man wearing buckskin robes stood before her. Maybe fifty years old. Not wearing a corporate pin, so he probably was really fifty, rather than a hundred and a half or two hundred and a half. She didn't know the church policy on rejuves.
"You startled me," she said.
"I'm sorry," the reverend said. The bland expression in his clear blue eyes didn't change.
"I'm here to meet Honored Yin."
"Then you are Tiphani Mirate, Chief Sentience Officer class two."
"Yes." Had to add the class two, didn't you?
"Honored Yin is in the vestibule, awaiting your arrival."
"Thanks . . ." Tiphani said. What was a vestibule?
"Through the doors," the reverend said.
They're like Human Resources, she thought, turning. Always wanting to keep you off balance, waiting for you to make a mistake.
"Many of our ranks are recruited by Winfinity's Human Resources department," the reverend said, behind her. "As well as Disney, Roland, and Mann-Westinghouse."
Tiphani almost stumbled. Fucking church, she thought. Leave it to them to give the revs optilinks and inference software.
She thought she could feel the man smile, but she didn't turn around.
Inside the church, rows of rough-hewn benches stretched away to an altar holding another whitewashed cross. Old-fashioned screens stretched taut around it, showing abstract light-crawls. Low, deep organ music made the air shimmer with foreboding power. Lights traced her walk down the aisle, towards the single figure that knelt on a low platform before the cross.
Tiphani stopped before the platform. "Honored Yin, I am pleased to stand in your company," she said.
The figure on the platform unfolded slowly and stood, still facing the cross. Icons flashed in her optilink, red things with teeth and hair, gnashing and showing rude.
It may be a natural instinct to accost random strangers on the street, Honored Yin's avatar said. But it is unwise to interrupt someone in a place of worship.
I am sorry, Honored Yin. Tiphani subvocalized. To herself, deep below subvoc: I didn't know you believed.
A noisy crowd of tourists entered from a side door as Honored Yin remained standing, facing the cross. Their guide mumbled low the history of the Consumeristian Church, the melding of the final and best destiny for man, the mystery of the ever-renewing product, the myth of the Infinite Charge. He steered them well clear of Honored Yin and Chief Tiphani, mouthing apologies. For long moments the crowd hovered behind her, reverentially silent. Probably Staff and Managers, high-placed in the church, or sacrificing all for a once-in-a-lifetime trip. To see a Perpetual close, on the altar of their belief . . . Tiphani sighed softly and waited until the sound of shuffling feet diminished and disappeared.
"You give them too little credit," Honored Yin said, turning smoothly to face Tiphani.
Damn inference engines. "I'm sorry, Honored Yin, I will work to hold the reins of my thought."
"Your first thought was more honest," Honored Yin said, giving her a thin ghost of a smile.
The smile stretched Honored Yin's taut, shiny skin into something all hard angles and sharp lines. The whites of her eyes shone bright green-yellow, probably the victim of some strange rejuve chemistry, but her hair was still shiny blue-black, perfect and young. How old was she? Two hundred? More? Right at the edge where rejuvenation stopped working.
When Honored Yin spoke, her voice was soft.
"You're not a believer."
"Honored Yin, I am . . ."
"Not a believer. Tell the truth."
Tiphani sighed. It was over. She was done. It didn't matter what she said. "I'm surprised you are."
Honored Yin made a soft gurgling noise that might have been a laugh. She stepped down off the platform and sat on one of the rough wood benches.
"The older you are, the easier it is to believe," Honored Yin said. "No matter how ridiculous the tale."
"I never thought it was anything more than a fantasy," Tiphani said. "The Infinite Charge, and all that . . ."
"But we do have an Infinite Charge. It's called a Winfinity Perpetual expense account. The resources of fifty worlds at your request. More than you could ever consume, no matter how greedy you are."
"I know some who would still want more."
Honored Yin laughed. "And sometimes I think that is the real wonder. That we could have all this and still reach. There are times when I think there is something deeply wrong with all humanity."
"The people who go here will never have the Infinite Charge."
"How do you know?" Honored Yin said.
"What?"
"Who are you to judge them, daughter of Chiefs? You are one step away from Perpetual. You are one reach away from your own Infinite Charge. Who are you to say a devout could not lift himself or herself up the same way, to stand next to the Trinity with me?"
"I will never be Perpetual, Honored Yin," Tiphani said.
"If you complete this negotiation successfully, you will have an excellent chance of becoming a true Perpetual," Honored Yin said. "More so than I have been."
"There is no negotiation," Tiphani said, her heart pounding. Could she still have a chance? Could she?
"There is more than you believe. Wait." Honored Yin held up a hand. The air around them seemed to shimmer for a moment. The organ music wavered and went hollow. And the tiny green "ready" icon of Tiphani's optilink winked out of her peripheral vision.
Opti, on and menu, she subvocalized.
Nothing happened.
"What did you do?" Tiphani asked.
"I gained us some privacy."
"Why?"
"Because you never know who might be watching." The air around them shimmered and warped. Tiphani nodded. A shield. She suddenly understood. She wasn't being fired.
Or was she being fired in the most final way?
"Our friend the Shrill is not as inactive as you think," Honored Yin said. "Data continues to flow over the glink. From where, our strategists don't know. What it is saying, they don't know. But all of this seems to indicate that this negotiation continues, even if words are not swapped."
"If there is something deeper here, perhaps another CSO . . ."
"No. We will continue with you. You are cynical and jaded, but that might prove an asset. And we do not understand how well they know human cultural nuances. When the Shrill begins to communicate again, you will continue the tour. You will attempt to negotiate whenever the opportunity arises. I am bringing artie capacity online to look at the glink data."
"My assistant seems to think the translation algorithms are flawed . . ."
Honored Yin laughed. "Your lover is correct. They were rushed through in fifteen days following first official contact, only two arties and one human team. They are probably severely flawed."
"And that might be good."
A nod. "You read between the lines well, Tiphani. Have you studied first contact?"
"Yes."
"Uncensored?"
"Yes."
"Have your lover study it too," Honored Yin said. "He's a smart one. He needs to know what's going on."
"I will, Honored Yin." Translation: we have been watching. We know everything you are doing. Don't presume to think for a second you are truly free.
"Do not discuss or subvocalize these speculations. We are probably overreacting, but we cannot take chances."
"How do I turn my optilink back on?"
"I've already scheduled a medic to come to your hotel," Honored Yin said. "She'll take care of that for you."
Honored Yin stood up and brushed nonexistent dust from her tight-fitting black suit.
"Honored Yin?" Tiphani said, as the small figure turned to leave.
"What?"
"Thank you."
One final laugh. "It may be I who is thanking you when this is over."
Tiphani shivered. She didn't want to think about that. She didn't want to think about that at all.
March 20th, 2009 / 877 Comments »