CHAPTER THREE
One hundred fifty-seven light-years from Sol, a small yellow-orange sun hosted the clusters where Shrill thought flew fast and hot. Not quite planets, not quite ships, thirteen great nodes placed equidistant in a single orbit. One point five trillion individual Shrill basked in the sun-food on the surface of these hollow spheres, or crawled through the billions of tunnels below to feed on the old-food, or flew on little ion-propelled rafts from sphere to sphere to balance workload or population or to transfer the materials necessary to grow Shrill life. Great hazy Shrill starships docked near the spheres, hot fusion drives growing long to lance the stars. They weren't much more than bare scaffolds. In flight, Shrill clung to the scaffolding, shutting down as many oldprocesses as they could, holding to the common mind as long as possible as the ships drove outward into cold empty space. Eventually, they would form a Shrill colony linked out of phase with the rest, their small and simple thoughts beating like waves against the huge palace of thought of the home system.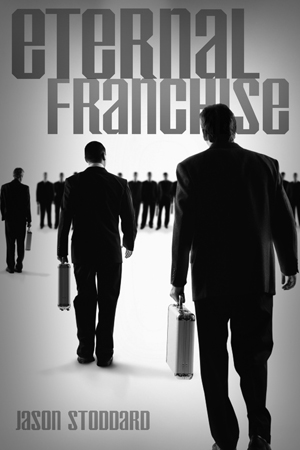 Outside of the 13 Shrill nodes, three gas giants, and an asteroid field that made Sol's look barren, the Shrill system was empty. No rocky worlds, nothing with the blue gleam of life. When Old Mind was in a somewhat coherent phase, it sometimes babbled about Life before, flashing garbled memories of green-coated hills and heaving seas. But for First Mind and Second Mind, those times, even if they had existed, were long past. There were more immediate challenges. Like the humans.
Installed in the largest node, the human gestalt-link performed the wonder of near-instantaneous communication with the Shrill's single entity there. Not perfect; some of the (subtextuals) were lost. But it was a wonder, one that a large portion of the Shrill mind was working on decoding. With something like a human glink, colony-ships wouldn't have to be lost to the dark. With something like the glink, their speed of thought even in-system would increase an order of magnitude or more. But the glink was not easily giving up its secrets. They had reached the point where disassembly would be required in order to take the research further. And it was not time to chance the loss of contact with their single entity. Not yet.
Second Mind favored action over words. Dissect the glink and discover its secrets, its factions repeated. Statistical analysis indicates their (over-lightspeed) communication and (over-lightspeed) travel are linked. Discovering the secrets to one will likely lead to the discovery of the secrets to both.
We do not need tricks, kill humans eat eat more oldfood, Old Mind chanted.
First Mind's majority held them in-path. Both courses are (un-optimal), its factions said. Suggest continuation of negotiations (meaningless-conversation).
Humans are anomalous! Second Mind said. You perceive latest data. They compete within their own groups! They enslave and destroy less competitive factions, rather than participating in the Great Discourse. They keep unintelligent life
Food! Old Mind thought.
in captivity. They are unknowable and unpredictable. They could have ships surrounding our (beautiful homeplace) within (an indefinably short time). Our symphony of thought would cease.
Aware (have perceived) this fact, First Mind said. Continuing the discourse (battle) with you, awaiting consensus to reopen negotiations using entity in-place.
Lockup hard for reasons of (undefined) fear, Second Mind said. Synthesis of available data indicate unknowability/inferiority of humans. I are networked race. Human records accessed indicate networked race nearest their star, inward-turning. Preliminary indications are that humanity has created (spawned) another networked race. Human reach for networking themselves and never quite (attach). Data fed directly to (senses) from network high honor. Yet fear of being (integrated).
It is good of you to share your conclusions, First Mind thought.
Availability of same data to all.
We have reached different conclusions.
Please entertain with delusion (fantasy).
Ignoring implied slight. Humans can also be thought of as each a network.
Not having complexity to sustain!
In previous conversation, comment held. Request courtesy of comment held by Second Mind as well.
Agreed.
To continue, humans each network, each a mind. Each single-network can also form loose networks with other single-networks. Ideological infection transmitted by loose network, causing something like (time-lag separation loss) to overtake loose network. Loose network exists separate from larger network. Effectively separate race. Hence competition between races.
Same structure, same race!
Matter of perception (deception). Humans of loose network groupings do not perceive themselves same as other (loose network groupings).
Still same, Second Mind insisted, but with less force.
Eat all them anyway, Old Mind said.
It is possible for us to be one, and yet three, First Mind said. Is it not possible for another race to be many, yet (few)?
Would have to conquer one by one to infinity, Second Mind said, fading, its thought edged with fear.
Unkillable unknowable impossible to eradicate.
Will not have to conquer if secrets provided willingly.
Then get secrets rather than feed knowledge.
First necessary to understand, then necessary to decide. Songs of trade and integration to sing forth in future.
You bind me in a wall of words, Second Mind said, fading.
Kill them eat them, Old Mind gibbered.
First Mind's thoughts ran free once again. Its entity, far away on earth, was hungry. Second Mind still chattered and protested, throwing every bit of data its skew.
It is time to act.
It is not, First Mind thought.
But it was not yet time to reestablish communication, either. Integration of self-competition and ability to willingly fragment weighed hard on First Mind. Even its most alien components, whispering old songs of races once encountered, were not yet ready to accept this wild and strange hypothesis.
It makes my words weak, First Mind said.
And so the great balance goes, Second Mind said. Something, deep within, almost hinted at irony.
Kill, Old Mind said. Eat.
March 13th, 2009 / 1,145 Comments »