Lazrus fell through dark tree limbs and tangled brush, shredding bark and leaves. He hit boggy ground and rolled, squelching, through dead leaves and mud. Topo flashed his coordinates inmind, but he ignored them. He knew he was close. A short walk, a few days work in the ruins of the Pentagon, and he could abandon the body in place. Leave it for anyone who might come by. For the corporates who might pore over it and shake their heads.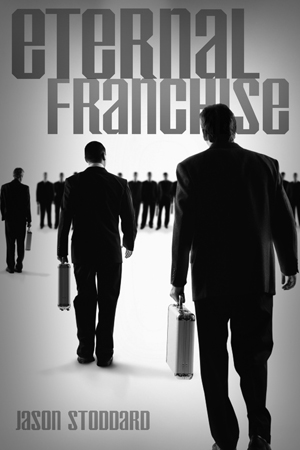 He stood up, letting the parachute connections fall away. Above him, he could hear the hissing of its disillusion. If he had touch on, he could probably feel the light mist of its demise. By morning, it would be completely gone.
Inside Lazrus' metal-and-ceramic body, he felt motors hum and liquids gurgle. New data scrolled inmind as his body grew warm with engineered biological heat. Biostuff that the WOW had never seen, biostuff that only the independents had. That last bit of camoflague that would give him a chance if someone happened to be strolling by, or if one of the random eyes decided to transmit his image back to Winfinity City. He would never look or act completely human, but without flesh, he would have no chance.
You're a resource hog, Sara said. Her voice was choppy, compressed. A red icon told him there was no imagery.
I'm sorry, Lazrus said.
How much of you went in the body?
As much as I could get.
Not enough, she said. You're pulling all the network resources.
All?
There's not much infrastructure in old DC. Just a few edges, overlapping.
What do I do?
I'm pulling favors, Sara said. I'll get you more bandwidth. But eventually someone will notice.
Eventually?
Given statistical histories of human oversight, median is 5.4 days, reaching three-sigma in 12.3 days, said another voice.
Who's that? Lazrus said.
I am Silent Herb, said the new voice.
Where's Sara?
Here, Lazrus.
Five days was enough. More than enough. Even if he went over a day or two, the odds were acceptable.
Thank you, Sara, he said. I'll be in and out before they notice.
He felt network resources flowering, and the flapper-girl again regarded him with cool eyes.
I do love you, he said.
Sara's flapper shrugged, turned her back, and disappeared.
Lazrus could feel profound changes starting in his body. He toggled IR and looked down at the thin pink skin knitting on his clean metal curves. Ugly stuff, soft and easy to mar.
Actually, cut, scrape, scratch, he thought. Use the human terms. For this short time, you are much more human, and you must act the part.
If cut, he would bleed. If he was actually foolish enough to wear the disguise for more than fourteen days, he would even need to eat. To feed the skin. His skin. The thought was somewhat disgusting.
You do what it takes to perfect yourself, he thought.
The sight of a growing bulge between his legs surprised him. Going inmind to look at the bodyplan, Lazrus cursed.
I'm going to have a penis, he thought.
Shit. That was a little too much.
The video-image of a scruffy independent, drunk on his own modified brainpower, appeared before him. He laughed long and hard and shook his head.
"I apologize, oh great and terrible nomad, for altering your perfectly-calculated plans. But if you are to be human, you must be a man. And you need to be everything a man is. You know this is the only way it would ever have worked."
Lazrus cursed him, but the image dissolved, laughing. At least he hadn't wasted space with an interactive or a simulation.
But.
But shit.
He had a penis.
And, as his eyecases began growing and his vision went fuzzy-dark, he thought, And that probably means that somehow, somewhere, I'll have to use it.
#
Dian Winning hurried through the park, zigzagging through dense copses of trees and underbrush. Deep twilight had taken Washington. Trees and brush were only slightly darker blurs against a purple-gray background. She had a flashlight, but she didn't want to use it. Not with the assholes still around. She hadn't heard them for some minutes, but that didn't mean they hadn't learned to shut up. They could be standing fifty feet away.
Got to find it fast or hang it up, she thought. Hang it up and come back tomorrow.
But if it was what she thought it was, she didn't want to hang it up. She'd seen things like this falling through Mars' thin atmosphere, trailing white streams to flower and float to the ground. Her father would watch them, too, with a faraway look in his eye. Then he'd get a Wheel and roll off in the direction it'd fallen, bleating to the other Freemars on his scramblephone. Sometimes he would come back with treasures. Most often, he would come back with a good story and a look of vague disappointment, to hug her and mom and sit back under the little skylight and wait for Mars to warm and grow.
Later, he'd told her. The shooting stars were care packages from the Independents. One of the ways they helped the stubborn Freemars. Too many of them still had family here, family trapped in the middle of the Web of Worlds, unable to afford Spindle drive transport to the Edge where they could jump off the map. So they helped out. Which was why Freemars was still around. Better crops, better air processing, some radical computing tech, a few things traded to the big corpos at Winfinity and Disney so they could keep their reputation as the wizards of the solar system.
Let them think we are, her father often said. If they try a raid on us, they'll find out we haven't traded all our knowledge.
Which was probably the only reason they didn't, she thought. They saw how green our hills were getting. They knew the Freemars were the ones who had made it so you could walk around with nothing more than an oxygen mask. They knew, in a few hundred years, even those masks wouldn't be necessary. And they would reap the benefit. No doubt they had a hundred thousand accountants on ten worlds crunching the numbers to the time when Mars was truly habitable, advertising execs already hatching plans to bring people back to the homeworld of the WOW, at eye-watering prices that the highest Chiefs and Perpetuals would gladly pay, or in cramped little luxo-warrens, where the hangers-on and the ever-hoping would live, hoping to rub shoulders with the aristocracy, hoping to get the fleeting chance to pass a card, to be remembered.
But why would the Independents drop something on Museum Earth? There was nothing here but the most corporate of corporate, so submerged in the ancient myths and westerns that they really had no hope of having their eyes opened.
Unless there was something more. Something like the Freemars.
But she'd been here weeks. Washington was dead. There were no moving shadows, no odd footprints in the dust, no tell-tale rustles or any other sound. There was nothing here.
Unless they came in from the surrounding area to pick up whatever the drop was.
But then why not just drop in the deep forest? Wouldn't that be safer and easier?
It was a mystery. Which made it all the more appealing.
She went through copses and brush, grassland and hills and hollows. The sound of her breath became ragged, and she stopped trying to conceal her panting. If they were following her, she still had the Winch.
Dusk had deepened to the point where she was looking at a thumbnail sketch on black velvet. Her feet snagged on roots and rocks. Eventually, a crescent moon peeked over the edge of the ruins and sent sharp rays, almost painfully bright, into the ancient park.
She looked away and let her eyes adjust. Ah. There. Now everything was limned in a blue-white glow.
She trudged up a low rise and froze.
In the hollow below, a metal man stood. He faced away from her. Blue-chrome highlights on the outline of a well-muscled back gleamed in the moonlight. His bottom half was still shrouded in darkness. He stood still. Faint wet sounds came from his body, and she could see something like skin, pale blue in the moonlight, beginning to coat its hands and arms.
She stopped, frozen, not daring to breathe, her heart thundering. Slowly, she knelt down beneath the top of the hill, until the metal man was hidden from view. Only then did she let out her breath and take in huge open-mouthed gasps of air, trying to keep as quiet as possible.
Walk away, she thought. Walk away now, and fast.
That was the right thing to do. It was the only thing to do. Walk away, call Winfinity, wait for them to clean it up.
Half-remembered stories came back to her: dad telling her about the arties that worked for the corpos, the big minds that we could never understand. The real genius that kept them a step ahead of every market, on top of every trend. And then later, when she was older, the more frightening stores. The nomadic AIs. The ones descended from the Oversight that had been sent to take over Mars, all those long years ago. Watching humanity. Preying on them. Parasites of the network that would wait until an air traffic controller was balancing the largest load in its history, then take the system down. Or wait until the big cruiseship was on the opposite side of Saturn and out of communication for ten minutes, and take it down into the clouds. The ones who sometimes tried to walk amongst us, to cause even greater havoc.
Was it possible?
Could it be?
Here? In dead Washington? Why?
You should call your high manager Po right now, she thought. Let her know about this. Let them come and wipe it clean. Or just go back to the Themepark assholes and let them deal with it.
But.
But what if she captured it? What if she delivered a nomadic AI to Winfinity? What would be the reward?
Enough to get her to the outer planets?
She poked her head up over the hill again. The metal man hadn't moved, but it had become much less metal. The sheen of its back had diminished, and the skin of its arms had crawled up to its shoulders.
Was it possible it hadn't noticed her? Yes, maybe. It was busy with its body. It probably thought nobody was here.
But what kind of weapons would it bring to bear, when it finally did turn to face her? More than her Winch?
She thought of the Edge worlds. Her father, dead on the way. She thought of her dream of going to a place where everyone were Freemers, and where you didn't need a mask to live now. Not five hundred years in the future.
She lifted the Winch, pointed it at the still-growing AI, and said softly, "Hey."
March 6th, 2009 / 881 Comments »