Dian Winning ignored the Winfinity staffers for two whole weeks after they landed and set up their brilliant white tent-city in front of the ruins of the White House. At night, she could see the glow of their lights from the dirty back window of the old brownstone she'd picked as her own base camp. She'd stand and look out at it, thinking, Inconsiderate assholes and Boy I'm lonely and I really should ask them what the hell they're doing here.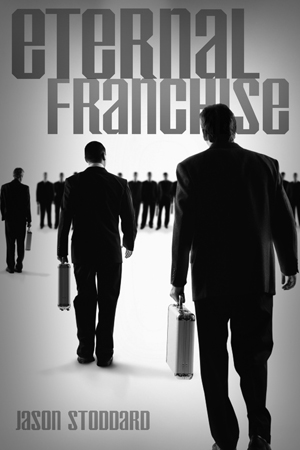 But it was easier to ignore them. Easier and safer. They were Staff. Maybe Managers. She'd seen the shiny pins. She was just a lowly contractor. Tentative probes with her datover gave her no info. As far as Research was concerned, there were no other Winfinity teams that should be here in the ruins of Washington.
And so she went about her work, not avoiding them and not seeking them out. Ten- and twelve-hour days sifting the massive paper records in abandoned office-buildings and the wing of the Capitol that hadn't been hit. Gingerly repowering ancient laptops and cellulars and hoping for usable data. There wasn't much in digital form that had survived. Mainly flash memory. Most hard drives had long since locked into place, refusing to spin. But the fragments she got were chilling and immediate, cut shards of one of the last great disasters of the Age of Government:
Jerky video, taken from a cell, showing two people dragging a body into a shallow backyard grave. The sun shone cheerily through the trees, dappling the ground with light and shadow. A dull keening sound might have been a child crying. In the distance, the sound of helicopter blades and sharper, more immediate screams.
Part of a text message string: OMG OMG OMG it's the end like they said im at staples and its burning, the houses behind it are burning and they wont let us out. I don't believe the few more days
Cellspeech, ragged and punctuated by heavy breathing: I've got it Jerry, don't even try to come in now. I love you so much, but it doesn't matter now, I saw what it does, I saw Kim and Joe and . . .
A few days ago, she'd dreamed that bony fingers had poked up through the new grass in the overgrown backyard of the brownstone. She'd heard the scrabble of bone on dirt, the scratching of thin spectral hands on rusted door-knobs. She'd sat up in her sleeping-bag and screamed, echoing loud in the small and musty bedroom.
She didn't sleep again until she went downstairs and looked out over the undisturbed grass and weeds of the backyard. No sunken spots, no raised spots. Just the wreckage of an ancient urban lawn.
And the house itself was clean. Like it had been empty before the Twelve Days in May, before the New Deal With Business. No pictures of children and grandchildren sat on the mantle. No drawers-full of half-completed felt-marker drawings stood ready to assault her with the reality that someone had once lived here. Even the kitchen cupboards were relatively barren. It was more like a hotel-room, more like it had been . . .
. . . owned by a corporation or something . . .
Which she thought funny. Maybe she was living in something once owned by an ancestor of Winfinity, all those long years ago. But her datover said nothing. She was used to it now, the empty screen. Just latitude and longitude and the last flickering bar of datastream integrity. Sometimes a few dry facts about some of the most well-known buildings.
But finding out who owned the brownstone wasn't her job. Her job, according to Winfinity, was to document processes and procedures of the American Federal Government, 2017-2029. Her contact at the Process Research Department, a balding High Manager, hadn't been more specific. Three months alone in Washington, then report back to Winfinity City. Debriefed and out. If she was lucky, maybe another contract job. Maybe not.
She caught glimpses of the three other Winfinity men from time to time. They were usually carrying a heavy surveying tripod with a big laser-head that she recognized from her land-grab years on Mars. But surveying for what? Was Winfinity going to come in and redevelop? Clean up the steps, cut the lawns, polish the wood, take a few Perpetuals through to tour the quaint ruins?
The thought angered her in an abstract way. She shook her head. Why should she care? She was a contractor. Nothing more. Not one of their slaves.
They saw her on the day she was trying to decipher the meaning of a 12-page paper memo regarding meetings, which began like this:
12/3/16
Re: Integrated Security Project Meeting Requisition
To: Planning; IT; James R, Deborah M
Purpose: Minimize number of meetings necessary to achieve project goals, with subgoals of minimizing number of meetings necessary to achieve project definition, project functional specification, and project deliverables.
1.    Meeting, Definition
1.1    In-Person Meeting
1.2    In-Person Meeting, Large Group
1.3    In-Person Meeting, with Presentation
1.3.1    IPMwP, Milestone
1.3.2    IPMwP, Management
1.3.3    IPMwP, Contractors
1.4    Meeting, Videoconferencing
1.4.1    MV, with Presentation
And so on, down to 12.2.2. She supposed it had something to do with process, but why did anyone care? Did they want to recreate that?
She went out to sit in the sun for a while. It was mid-April and warm, and she liked to get out of the gloomy, dusty halls to sit and think.
As she exited, though, she saw the three men. They weren't carrying anything this time. She had time to think, Maybe they're just enjoying the day, too. Before one of them looked up and pointed at her. The other two froze.
So did she.
Move, she thought. You don't want to be here.
She stayed still, rooted.
"Hey!" one of them said, the tall blonde-haired one. He waved.
She turned and fled back into the old office building. Up the steps, through the clear paths her feet had traced in the dust. Luckily, she'd been there enough times so that her passage didn't make obvious tracks. She couldn't stay there, though. She found another stairway, went down, banged through another exit, and was out in the sun again.
Silence. No sounds of pursuit.
This was stupid, she thought. The comforting weight of the Winch rested on her hip. The men were unarmed. Worse came to worst, she could . . .
What, shoot them?
Well, it worked on Mars.
She shook that thought away. You aren't going to shoot them if you ever want to work for Winfinity again. But you really should find out what they're doing here.
She waited for them to appear. She wandered the ancient street, cracked and weed-grown, heaved with the passage of hundreds of years of frost and rain, and turned to face the back door of the office building. Still nothing. She paced, turned. Still nothing.
She went back into the building, drawing her Winch. Nothing but dusty silence. A confusion of footsteps, heavy, large, not hers. She prowled the old cubicles, waiting for them to appear.
But there was nothing. She picked up a couple of new flashcards on the way through the building and began cleaning the contacts for the reader. She sat cross-legged in a pile of new memos, trying to sort out the ones that were clearly process and procedures.
This is stupid, she thought. You know where they are.
And so, late afternoon, with the sun slanting in low and golden, she left the memos and the flash cards and went to the White House lawn.
The tent-city had grown. Their three tents had become seven. Including one that towered over the rest, like a circus big-top from a historical video, bleached white and perfect. Their little autoflyer sat on a pad of new-fused earth. A dozen silver half-bubbles hummed at the edge of the landing-pad, slowing extending it into a landing-field.
She walked towards the tent-complex, using their own beaten-down path. She didn't have to wait long for the three of them to stream out of the big tent.
"Hey," the big blonde said, raising a hand. "The lady returns."
She waved back and kept trudging towards them. No need to shout a conversation you could share, her dad had always said.
Up close, they were all typical Winfinity lifers. Slim bodies, good muscle tone, faces that could have graced three-hundred-year-old movie posters. Craggy, rugged, yet sensitive and caring. She wondered how much surgery they had gone through to look that way, or if they were the children of Chiefs and Perpetuals who were allowed gene-twiddling.
Probably not. Blondie, the tallest, looked to be in his late 40s. And only a High Manager. The other two were Staff in their 30s. They weren't exactly rocketing up the ladder, then, were they?
She wondered what they were seeing in her. Tall and slim. Martian build. Red hair, green eyes. The Martian ideal. But how did it play on earth?
"I didn't know anyone lived here," one of the Staff said. He had glossy black hair and big brown eyes that looked like they may have had a touch of Asia at one time. Blondie shot him a frown.
"I don't live here," Dian said. "I'm a Winfinity contractor."
"Excuse us," the blonde said, offering his hand. "I'm Peter Finley, and these are my staff: Jo Chen and Gerr Winders. I didn't know that Winfinity had any other projects running concurrent."
His hand felt like velvet-covered steel. She could imagine him carefully calculating the exact pressure to use based on data thrown up in his optilink. She hated him instantly.
"Neither did I," she said, smiling. "I'm Dian Winning." She shook the other men's hands, briefly. Jo crushed her hand until bones creaked. Gerr barely touched it.
"Where are you from?" Peter said. "Tourism Development has no info on you or your project."
"I'm with Process Research," she said. "Looking at processes and procedures of the old central government here."
Blondie went misty-eyed for a moment. "Ah. Got it. Yeah, makes sense."
"What makes sense?"
"Process Research. Still trying to get that old centralization thing going. Washington's legal and economic systems were several orders of magnitude more complex than ours."
Hotair-head, she thought. Brainbloated with optilink data.
Peter shook his head. "Better move fast," he said. "We're going to be deep into reconstruction in a month."
"Reconstruction? You're going to make this a tourist trap, too?"
"No. We're going to themepark it."
"Themepark?" Terrible visions of the Rogers part of Winfinity City came to mind. She saw car-shaped trams taking Directors and Chiefs and High Managers down Pennsylvania Avenue, past realistic pseudocitizens carrying placards protesting the nuking of Iran, or the exponentially devaluing dollar, or the coming of Oversight. She saw Perpetuals being greeted by the clone of a dead president. Reagan, or maybe Clinton, or even Derr. She saw little bubbles floating over the city, strung by wires, filled with the privileged brats of the higher classes, dropping melting icecream into the crowds in the parks below.
"It'll be great!" Jo said. "All the torture, the beatings, the riots! We'll have to use pseudocitz, of course, but it would be even better if we could get some clones, nobrains of course, and just wire them up to respond to pain. Then we could do the interrogations just like they used to, way back when. If we had the budget we could even do the whole 12 Days in May reenactment. You could come here on the 4th, we'd put you up in a hotel, and you could see the whole thing, the riots and the blockade and the explosions on the edge of town. We could even give you a 12-day flu, so you thought you had it too."
"You're a sick asshole," Gerr said. "We don't need to do any of that. Just restore it the way it was, so that people know what it was like when they didn't have any choice. Everyone had to bow to Washington."
"I don't think Washington was as bad as you're making it out," Dian said.
Three heads swiveled, as if on cue.
"Sounds like an interesting discussion," Peter said. "Would you like to join us for dinner? I don't know where you're staying, but I'd venture to guess we have better supplies than you."
Dian crossed her arms, trying to exude a strong no-you're-not-gonna-fuck-me-just-because-I'm-the-only-woman-around vibe. But it was tempting. She was lonely. It was good to hear a human voice, even if it was coming out of the equivalent of an automated advertisement. And her food was shit.
She was about to accept, reluctantly, when a thin orange line streaked across the darkening sky.
Shooting star, she thought. Big one. It flashed lower, into the horizon still warm with sun. Really low. Might be one that reached the ground.
The shooting star slowed suddenly.
Slowed?
Meteors didn't slow.
She saw something unfold, something gauzy and familiar. Parachute. But if it was a chute, it was close. It would come down in the city somewhere. Not far from here. Maybe that big park she'd seen.
More Winfinity stuff?
No. This was a sneak. Why would Winfinity sneak in?
She frowned, channeling old memories of independents who lived on the edge of the stars.
The men saw her gaze, and her frown, and turned to look behind them. By that time, the meteor – or whatever it was – had passed out of sight.
"What?" Jo said.
She shrugged, forcing a pokerface. "Shooting star."
"So how about that dinner?" Peter said.
"No, sorry," she said, putting a hand on her Winch. "If you're going to be paving in a month, I need to get back to work."
Something like anger flickered across Peter's face. He covered it with a hasty smile. "I understand. Perhaps some other time."
"Perhaps," she said.
"It was nice to meet you."
"Same here," she said, walking away.
She hit the city and circled around to the (big) park. Maybe she was just seeing things. But she didn't think so. She took out her Winch and carried it, safety off.
They only followed her once. Probably just the two staffers. She was cutting through an old cemetery when she heard their voices on the sidewalk.
". . . come all contractors are gorgeous?"
A snicker. "Why do you think?"
"Oh." That was Jerr. "Young, too!"
"Yeah. No indenture. But no benefits either."
"Should we . . ."
"Come on, keep going!"
The voices faded. Dian shook her head and kept walking.
February 27th, 2009 / 1,161 Comments »