"This is the best-preserved example of a Starbucks in the western half of the United States," the tour guide said. "The entrance was sealed in the Second Big One in 2034, and the shop itself was not rediscovered for almost three hundred years."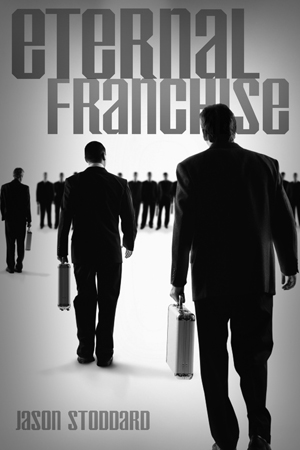 Her name was Amy. Pretty thing, Jimson Ogilvy thought, blonde and blue-eyed like you'd expect in Old California, young and bright with that curatorial fervor. He nodded and smiled, angling his bright new Staff pin to catch her eye. But she looked only at the Shrill.
"Because of its isolation from light and moisture, you can still see the original ink-jet printed art on the walls, and the menus are complete. The espresso machines have been fully restored, and we host historical re-enactments of what conversation might have been like in the early 21st century."
The shop had that gloss of historical perfection that museum Earth put on all its treasures. Coffee-stains on the blonde wood counters. Fingerprints on the stainless-steel credit readers. Impromptu art showing smoothly-muscled surfers leaning on boards on the even-then-retro chalkboards. Inedible reproductions of scones, complete with little plaster crumbs. The flickering of ancient fluorescent lamps. And, of course, the lingering smell of over-roasted, super-caffeinated beverages.
For a moment, Jimson forgot the sharp scratching noises of the agitated Shrill and wondered what interactive moguls or 3D artists might have sat there, almost three centuries ago. They were on the canals in Santa Monica, near the resto-Third-Street mall where even the old linear guys used to hang out. It was possible that Jere and Evan had sipped a frappucino here, while talking about Winning Mars.
"Is this an original Greiman?" Tiphani Mirate said, leaning in close over the inkjet wallpaper. Jimson imagined her optilink feeding data on long-dead digital artists.
Tiphani was the archetype of a powerful woman Chief. Slim and almost curveless, her skin soft and smooth and pale, gray no-color eyes flashing below white-blonde hair cropped short. She wore a bright blue suit of almost geometric perfection. Not a Perpetual, but well-kept. Jimson guessed fifties.
"It's a pastiche, Chief Mirate," Amy said. "We sell reproductions in the gift shop."
"Wallpaper?" Tiphani said, turning, her bright Winfinity CSO pin glinting on her perfect suit.
"Giftwrap and wallhangings, Chief Mirate," Amy said.
"Call me Tiphani."
Amy looked around quickly. "I couldn't do that, Chief."
"Ah." Tiphani shook her head.
"I'm sure we could special-order wallpaper, Chief Mirate."
"This is the home (lair) of your dead competitor?" the Shrill said, its synthesized voice a deep, rich baritone.
Tiphani and Amy snapped around to look at Jimson and his cart. In the diamondoid cube on top, the gray fractal Shrill beat against the glass, revealing a the complex nest of its underfangs. Blood stained the sides of its cube, remnants of its last meal.
"This is one of our former competitor's retail stores," Tiphani said.
"Competitor made its (their) home here?"
"Starbucks had 11,556 retail stores at their height," Amy said, her bright eyes locked on the Shrill. "However, by the time this store was sealed, only about 3,440 dedicated retailers were left."
"You killed (vanquished) an enemy already in decline?"
"Winfinity and Starbucks weren't really direct competitors," Jimson said.
A look of horror from Tiphani, quickly concealed. "We offered coffee and tea beverages through both our restaurants and our retail stores. We were competitors."
The Shrill went silent and still for a time. Probably conferring with the rest of its mind via the glink. Jimson wondered again what went back and forth on that raw datafeed, and if he could pull some favors at corporate and get a transliteration for himself.
"Where are Starbucks?" it asked.
"What?" Tiphani said. "If you're asking about geographic distribution, I'm sure Amy can get you a map."
"Is this where Starbucks life (entities) lived?"
"I'm sorry, I don't understand."
"Life (entities). Your competitors. Breed like you. This less-than-shell. Dead. Where are songs of vanquish?"
Tiphani shook her head, looking at Amy.
But for Jimson, sudden meaning flowered. "I think it's talking about the people who worked here."
"Entities who lived here, that is correct," the Shrill said.
"We do re-enactments on Saturdays," Amy said. "You could come back and see then."
"What is re-enactments (undefined term)."
"We have people play the roles of Starbucks employees," Amy said. "So you can see what it was like, back when they were in business."
"Your people (humans) (Winfinity) take these roles?" the Shrill said.
"Yes, our people . . ."
"Your people not Starbucks, therefore invalid. I wish to see Starbucks entities (life), or hear songs of them."
"The original employees are long-dead," Tiphani said. "Our lifespans are limited."
Silence and stillness for a time. Then the Shrill beat at the diamondoid with renewed vigor, shaking the cart. Amy jumped back, and even Tiphani flinched.
"There must be representations (songs)."
"We have photo and video records of the time period."
"Flat forms not useful. You do not preserve life of competitors?"
A sudden thought struck Jimson. "Our competitor was Starbucks, not the people who worked in it."
The Shrill stopped moving and pivoted towards Jimson. Even though it had no eyes, he couldn't help but think it was looking at him. Regarding. Processing. Somewhere, deep in space, millions of other Shrills were decoding his words. Jimson looked away from the motionless alien, down at his new-minted Winfinity staff pin. He'd thought Sentience would mean working with the Centauri floaters and the Arties. He'd never expected to be here on earth, with the Shrill ambassador, trying to decode its cryptic requests.
"Correct. We are interested in entities (life) you have vanquished," the Shrill said.
"You asked to see our defunct competitors, not battlefields."
"Meaning is roughly same."
"Starbucks was a competitor. It was a legal entity," Tiphani said.
The Shrill slammed against the diamondoid, hard, and everyone jumped. The voice was the same as before, probably taken from a long-dead movie butler, but the words were biting:
"Uninterested in human non-network limited skewed concepts not relevant. Life only. What life (entities) have you (life) vanquished?"
"We were never at war with Starbucks," Jimson said.
"Except in a corporate sense," Tiphani said.
"Show me life or songs (representations) thereof. Life not winner of competitive universe (lottery). Uninterested in fables."
"A zoo?" Jimson said.
"You want to see animals?" Tiphani said.
"It is possible (yes)."
"That may be it," Tiphani said. "Life that did not reach the peak of human?"
"Life (entities) not able to raise itself to your level is acceptable for display."
Tiphani nodded. "Where is the nearest zoo?"
Amy frowned. "I'm just historical, Chief Mirate. If you're talking current biodiversity, that's a different division."
Tiphani rolled her eyes. "God, you're not much better than government. I'll get it myself." She mumbled something into her throatmike and her eyes went glassy with optilink data.
Jimson wished he had an optilink, but Staff was the lowest level of Winfinity, just out of indenture, no higher really than the girl Amy, curator of a tiny corner of a dead and preserved world. Eventually, he'd make Manager, and Director, and maybe someday Chief, but for now he was Staff, and Staff were lucky to be issued datovers. Staff were incredibly lucky to be able to travel by Spindle Drive from the Web of Worlds to museum Earth. And it was almost unheard-of for staff to work directly with a Chief. His career stretched ahead of him, shiny and beckoning. Manager by thirty-five. Maybe Director by forty. With his own desk in a physical building, a big expanse of real wood, with his own antique datascreen, his own optilink.
And then maybe someday Chief, with his own office, his own dominion. Just like the Chiefs of times past, from the noble Native Americans to the legendary precursors to the modern age: Rockefeller, Ford, Gates.
"This datanet is crap," Tiphani said. "I can't get a reliable con."
"Outside, maybe," Jimson said.
Tiphani nodded. Jimson wheeled the Shrill back up the ramp that led down from street level, out into the ruins of old Los Angeles. The sun was slanting low on the horizon, and the bleak gray concrete structures were painted in golden tones. The remaining dark-mirrored panes of the chrome-glass buildings cast shards of sun along the restored facades of Fourth Street. Museum Earth had parked period cars along the roads, Corvettes and Mustangs and Hyundais and Toyotas, shiny and perfect enough that Jimson wondered if they might actually run. To drive on the reconstructed freeways, with a beer in one hand and a babe by his side – that was one of the central images of American legend, complete freedom to go anywhere, top down, wind in your hair, everything within reach, stopping only momentarily at drive-thrus like a strange species that never landed, blasting vintage hip-hop on his radio, vacuum tubes glowing softly within. Jimson had heard all the stories from his Manager dad and his Staff mom, and now he was here on Earth! He could live some of their dreams! He could . . .
"Showing life when?" the Shrill said.
Tiphani frowned. "Still not a good con. Let's go back to the hotel. I'll find a zoo and we can go tomorrow."
"Disappointed in time passed."
"I'm sorry for the inconvenience," Tiphani said, turning to face the Shrill. "We misunderstood your request, and will make every effort to understand you better in the future."
"Do not understand why cannot show now."
"The zoo will be closing," Tiphani said.
"And you are life (entity) needing rest."
"Yes."
The Shrill bumped once against the side of its diamondoid cage, showing its underfangs. Amy frowned and turned away. Jimson smiled, thinking, Good thing it's in there, or we would be its next lunch.
"Are you still interested in the wallpaper, Chief Mirate?" Amy said, as the tourbus hummed to a stop in front of them.
Tiphani just looked at her. After a while, Amy looked away.
###
January 23rd, 2009 / 1,677 Comments »