I'm so thrilled with this one that I'm breaking my "no color in the posts" rule to show you just how cool the Interzone 220 cover is.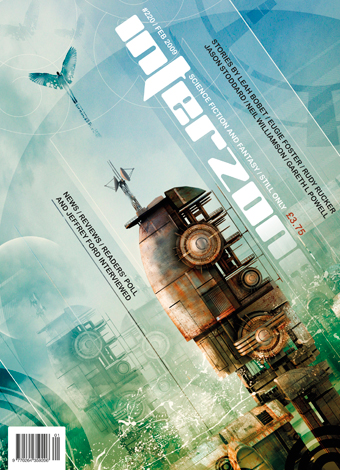 And no, I cannot claim that "Monetized" inspired the cover, but I have to give kudos to the designer and to Interzone for pushing things well beyond what you'd expect to see on a newsstand. One of the strengths of print is in freeform layouts; it's great to see someone not locked into the horizontal grid format.
But I am thrilled about the story, too. "Monetized" is my best bet at what the world will really look like, in, say, about a decade and a half. It takes a number of trends, mashes them together, and puts an overarching de facto propagation economy on top of them.
And, before people jump on me about being one of the first stories set in a future US that is post-economic downturn, let me say this: "Monetized" was written well in advance of even the earliest outliers of the global economic crisis.
(Though I doubt if what we're in now is the "Big Dump" I mention in "Monetized," it does bear some striking similarities. Maybe I'm more prescient than I think. Or just lucky.)
In any case, I hope you enjoy the story. You can pick up an electronic copy of Interzone here and subscribe electronically here or in print here.
January 13th, 2009 / 1,079 Comments »