. . . that the old way of doing this is the right way or even the cheapest way.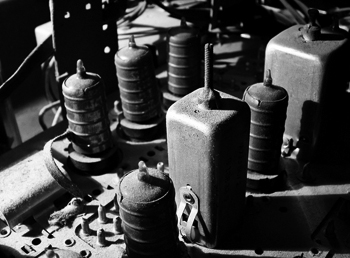 I've had this drilled into my head by several real-life examples over the last few months. Things are changing so fast that you really owe it to yourself to do a couple of quick Google searches before you go romping off with assumptions that are a decade (or even half a decade) old.
Fair warning: the following post contains a couple of engineering-ish examples. If you're allergic to technical stuff, it's probably best to skip this one.
Case 1: Pen and napkin versus Google Earth/Redfin/Second Life. You may have seen the Sylmar fires on the news a couple of months ago. A friend of mine lost his house in the fire. It was insured, so it'll get rebuilt.
But, while it's in the process of getting rebuilt, he figured: "Hey, this is my chance to throw in some money and fix some of the problems with the house. Change the floorplan. Make it a bit bigger. Hell, maybe move the foundation back for a better view."
And so, a few nights after the fire, he was sketching his ideas in the most classic of forms: pen and napkin. I glanced at it and thought, "Wow, he's drawing the house as if his lot is 200 feet wide." Which I knew it wasn't.
To make a long story shorter, I helped him find his lot lines on Redfin and match them up to a dimensioned Google Earth map, which showed a lot size of just about 60′ wide. Knowing that Google Earth isn't exactly an architect's tool, though, we also measured the lot the next time we were at the house. It turned out to be 59.5 feet wide. Good enough.
From there, we did a 0.1″ = 1′ overlay in Adobe Illustrator and let him sketch something like what he wanted, with believably-sized rooms, that fit on his lot.
And then, just for the hell of it, we imported the sketch into Second Life, threw up a few walls, and created a walk-throughable house in about an hour. When my friend doubted the dimensions of his garage, I simply pulled a car out of inventory and put it in the garage, cloned it, and showed him how there'd be plenty of space for washer, dryer, and tools.
Bottom line: no, it's not architect-ready, but the architect he's working with now has a much better idea of what he wants–and we can tweak the plans in real time if we want to do what-ifs. Not bad for a total of about 2 hours invested . . . which you could easily burn making non-workable sketches on napkins.
Case 2: iPhone versus a whole lotta engineering. My wife is a TAPS member. Yes, that's right. She chases ghosts. That's a whole different story in itself. But one of the things they do in TAPS is look for EVPs (electronic voice phenomena), which tend to appear most on noisy equipment.
(Now, I'm not going to get into arguments about whether or not ghosts exist, or, if they do, are they influencing the equipment through the EM spectrum or through quantum effects like shot or thermal noise. That's her bag.)
But, I figured, "Why not make her a piece of equipment that is inherently noisy? I could use a noise diode, amplify it to 1/3 the sample step size, and use a really bad A/D converter, like, maybe, 8 bits, or even 6. All I'd need would be a noise diode, a microprocessor, an A/D, a power supply, a microphone and some associated electronics, and an output to a recorder, or maybe I could add in some memory so it could record internally, but then I'd need a USB interface, and I'd need to write the code for the PIC micro, and I should put it on a PC board, and in a case so they could carry it around–"
And then I looked at the iPhone in my hand.
Which had a microphone, an (extremely powerful) microprocessor, A/D and D/A converters, power supply, case, associated electronics, computer interface, memory, recording capability–
–and had a free software development kit that I could download.
Hundreds of hours of hardware and software work just became learning the capabilities of a platform and doing some coding.
Case 3: Cheap eBay scope versus new scope. For a number of reasons, I've decided to get back into the audio engineering game a bit. Yes, I am an idiot. But, to do this, I needed to get some new equipment. My old oscilloscope was finally dead. So I started looking on eBay. A cheap Tektronix 465 would be just fine, I figured. And maybe a Sound Tech for distortion analysis. Or an Audio Precision System One, if I could find a used one.
All very sound, logical reasoning.
But, just for the hell of it, I decided that I'd look at what was available new. And got the shock of my life. Today, inexpensive digital sampling oscilloscopes also include FFT–which can be used for distortion analysis and used to be only found in expensive, standalone packages.
The bottom line? I could buy a new Tek scope with FFT, the ability to export files for analysis on a computer, and a lifetime warranty for not significantly more than the old, used scope. And the new scope would outperform the $20,000 or so of equipment I used to work with a decade ago.
So what's the point of all of this, from a science-fictional perspective? Well, actually there are two points:
1. Things are moving so fast, we can't base our futures on linear extrapolations. It's no longer about a new, incrementally better model every year. It's about wholly new capabilities being remixed in wholly new ways.
2. With all these new, wonderful, and free (or inexpensive) capabilities, more people can do more things. And they can come up with new ways to use the tools. Change is going to accelerate even more.
I'm looking forward to our future!
January 2nd, 2009 / 1,267 Comments »