Okay, let's keep this going. This post is a followup to my previous one on the wealth of analytics and marketing tools available today. It covers my recommendations for a small publisher who would like to use these tools to boost sales.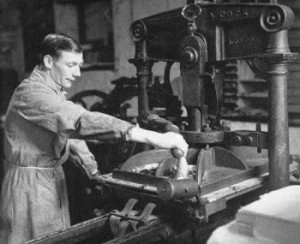 Here's the setup: By "small publisher," we're talking about one who doesn't have a household name. They aren't part of a megaconglomerate. They probably focus on a genre (or a couple) rather than mainstream fiction or self-help books. They don't have infinite money to spend on big ad campaigns, but they can spend when it makes sense. They don't have infinite staff to spend on social media endeavors, but, again, they can spend some time working this angle.
So, the question is: how do I use my resources most effectively, given the free information online and the wealth of modern marketing tools?
Let's start with a different POV. One thing we frequently forget is this: in all industries, there are always small, passionate companies hiding under the skirts of the multinationals—and, in many cases, they're charging premium prices, and making a damn nice living at it. For every GE, there is a Mag-Lite. For every Nike, there is a Birkenstock. For every Toyota, there is a Mini. These companies cater to small, engaged groups of customers. Ones that consider their choices part of their personality, and aren't worried if they can get ten bux off at Wal-Mart. Things shouldn't be any different in small publishing. You're creating unique content for a small group of highly engaged people. Look at what the successful small organizations are doing in other industries—and take a lot of notes.
Then, start at the beginning. I'm talking brand and their key messages. And yes, I just said "brand." I know there's going to be a lot of howling about this, because "brand" is such a charged word right now. Too many irresponsible branding companies have convinced too many large companies with too much money that creating a brand is a "finger-snap" away. It isn't. But if you build the foundation of your brand with a unique position and personality that resonates with the audience, and if you deliver on that position and personality, you're going to be remembered. You're going to stand out. And people will come back. So: what is your unique brand and messages? Are you all about near-future science fiction, with a price point under ten bux (yeah, I know, keep dreaming), or are you about creating masterpieces of bookbinding to hand down to your kids. Or are you about finding authors too edgy for the mainstream? Are you the sacred cow skewerer? There's a reason you got into publishing—and it probably stems from the fiction you like. What are you bringing to your audience that nobody else can? Have that in your head? Good. Now express it visually, and apply it to everything you do.
Now, do everything you can to engage your current customers, before you go looking for new ones. The most successful small companies know their success is based on deeply engaging a small audience, rather than fishing in the everyman pool. What are you doing to make sure your customers are engaged? Do you have an enewsletter program to let them know about new releases? Are you giving them a reason to sign up for it (and to accept the newsletter?) If not, this is probably the most important thing you can do. We've worked with many small companies where their customers have joked, "Wow, I gotta get off of your enewsletter, because I'm buying too much stuff, but I can't because I don't get the best deals." Once you have your enewsletter program in place, it's time to consider a true loyalty program. Buy 8 books, get 1 free (or whatever works with your margins). Then, it's time to look at a referral program. Refer 3 friends who buy books, and you get a free book (or earn points.)
"Wow, this sounds like . . . evil marketing stuff!" You might be saying.
And you're half right. It is definitely marketing. But, you know what? If you don't do it, someone else will. Consider that the Mini is not that much different than a Yaris with better styling and good marketing—and it sells for 2X what the Yaris costs.
Okay, we can now look for new customers—and keywords are your friends. Okay. This is ridiculous. Go to Google right now. Type in "science fiction," and take a look at the AdWords ads that show up on the right hand side of the page. As of this writing, there is only one ad—and it is for a self-published book. Try it for other genres. Look for other words at Compete.com. And if you don't think this is a gigantic opportunity standing in front of you, check out now. Fact is, you can get a BIG footprint in paid search for very little spend in many genre-related keywords. And AdWords can be broadcast out to many other sites–including some very big blogs that cover our genres. Go to Google, sign up, and create some ads that compel qualified people to click through and shop at your store. Track the results with Google Analytics. You can throttle the spend, control what times ads appear, try different ads and have the system optimize the response for you. With a good paid search program, it's entirely possible to deliver profit at the first purchase.
BlogAds and other targeted networks are also your friends. Okay, let's say AdWords are working for you, and you've branched out to Yahoo's own paid search ads. Where do you go from here? Well, it may be time to look at BlogAds and other, targeted advertising networks like Federated Media or Gawker. BlogAds is a great way to get broad exposure for very little spend, and you can target sites that cover books, technology, and more. Federated Media and Gawker get you into BoingBoing and io9 respectively. Best of all, most of these work on the same self-service model as AdWords–choose your sites, choose how much you want to spend, then track and optimize the results. No agency necessary.
"Wow. That sounds like, well, evil advertising stuff." And yes, it is. And yes, it works.
These are ads that are highly targeted—either at people searching for your stuff, or at people who are browsing sites that cover the same genres. This is how you find new, passionate customers who you can engage over the long term.
And, like everything else, there's a lot more you can do. The above recommendations are simply the most likely to produce real, measurable results.
But if you have bandwidth for more, here you go:
Run a "friend to enter" sweepstakes. Want to build the number of friends you have on MySpace or fans on Facebook? Run a "become our friend to enter" sweepstakes with the grand prize being a complete library of your books. Or something even bigger, like a paid-up iPhone with eBook reading software. More friends on the social spaces means you have more people you can communicate to (through bulletins) or make public comments on. Both are great ways to get the word out about new books and events you're putting on.
Look at big shows, not small. It's great how many small publishers I see at small science fiction conventions. But, by doing this, they're simply reconnecting with the same small group of buyers—something that can easily be accomplished through an enewsletter or through contact via the social spaces. If you're looking at doing shows, I'd strongly consider ComiCon. Yes, it's expensive. Yes, it's only once a year. And yes, it's 125,000 people—120,000 of which would never show up at a WorldCon. And ComiCon, despite the name, enbraces everyone. You'll see comic book artists, yeah. And you'll also see movies, books, games, and more. If you're looking to get in front of a new audience, this is the ticket.
Create your own social network. Yeah, Tor did it. Finally. The irony is that you can do it too—and all it takes is a trip over to Ning, a few clicks, and zero dollars. Let's repeat that: this is free. You can do it in an afternoon. No expensive agency necessary. The reason you may want to consider this is simple: you are catering to a small, passionate audience with similar interests. It's entirely possible that they may want to get to know each other. It's highly probable they'll want to look at each others' bookshelves, and hear what the others have to say about their books. Letting them connect deepens their engagement with each other—and it deepens their engagement with you, because you are the facilitator. It also gives you permissio to communicate with them. Remember: free.
Consider iPhone versions of your books. Not for free, for sale. Why? It gets you in front of 10MM leading-edge people who are frequently traveling. They're frequently the tastemakers. And they are very, very passionate about things they believe in.
"So where's the blog? The Twitter?" you ask. Hey, if you want to, I wouldn't get in your way. But I also wouldn't put it in front of outreach designed to create sales.
Next week: What's a Big Publisher to Do? You'll like this one.
September 6th, 2008 / 1,732 Comments »