Here's an argument I use in my day job: It ain't about getting people to your site anymore—its about getting your site out where the people are.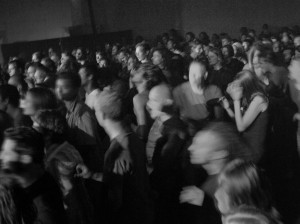 For years, we've focused on "drive traffic, drive traffic, gotta drive traffic." In marketing, this means "doing search engine optimization, buying keywords, placing banners, doing contests, putting together strategic partnerships" or, more simply, "anything we can do to get people to our site."
But times are changing. We just did a little promo for the new Batman Gotham Knight movie that brought in two million pageviews—without driving a single person to the site.
"Wait, what?" you might be saying. "Does this have anything to do with writing?"
Yes. It does. It has everything to do with writing. It's something that science fiction writers—and publishers, especially publishers—should take to heart. It's not about getting people to your site anymore. It's about getting your content out to where the people are.
Where are the people? Increasingly, they're on social networks like MySpace or Facebook. Or on social media like YouTube and Flickr. Or they're reading some of the 100MM blogs out there. They're interacting with friends, and with people they respect.They're building their own profiles on the social networks. They're writing their own blogs.
Is it any wonder they don't react well when you pop in like a carnival shill, screaming, "Come to my site, come to my site NOWWWW?"
(Now, cue the people who will say, "But that social stuff, that there's for kids, it ain't for the mature and sophisticated audiences that loves that there science fiction stuff!")
In short: you're wrong.
37% of adult American internet users participated in social networks last year. This excludes teens, where the number was 70%. 6 of the top 10 global websites are social sites. This is not a flash in the pan. This is not a fad. This is a serious, long-term shift that every marketer (and that means you, science fiction writers and publishers) needs to look at.
We need to change our thinking from, "How do I get people to my site?" to "How do I get out to where the people are?"
Well, you've probably already started with a MySpace or Facebook presence. If not, shame on you. You're turning your back on free outposts in places where, statistically, almost 4 out of 10 of your prospects are. But a presence isn't enough. Think of your presence on the social networks as your home. You still need to invite people to your home. Which takes us back to the same old game of driving traffic, driving traffic. Which is really silly. Because, unless you have a really, really cool home, people would rather stay at their own.
No. The new goal is to bring your content into other people's homes—their own social network profiles. Here's how you do it.
Make friends. Without friends, you're not going to be able to do much of anything. Search the social networks for people who are science fiction fans and reach out to them. But be respectful. Spamming thousands of people a day randomly doesn't help anyone. Reaching out to people who have listed authors similar to yourself–and maybe offering them a free story as a token of friendship–is cool. Or, if you're a publisher, how about a free ebook? But this is how you start: by making friends.
Be active. Everything you do is reflected in your friends' feeds. Just sold a book? Let everyone know. Bringing out a new book? Ditto. Awards won, releases made, parties thrown–you get the picture. Every time you make an announcement, this is shown on your friends' feeds for their friends to see. And the next time they are at the bookstore, they might think, "Oh yeah, that was the guy who . . ." or "I remember that small press . . ."
Give them your stuff. People like to customize their home–that is, their social network profile. They change colors, add backgrounds, restyle, put in music and photos, throw in YouTube videos. They're very open to adding content that they like–and that includes yours. Do you have a widget that gives them access to excerpts from new releases, selected stories, or (better yet) complete ebooks? Do you have a widget that allows them to play audio podcasts of your work? Do you have a widget that can be updated on the fly with new information, new content, and kept perpetually fresh? If not, you should look into it, pronto. Widgets are small applications that people use to decorate their social network profiles. A widget is how we created all those extra views for Batman.
"Oh, you mean I have to make another thing–a widget–to promote my stuff?"
Well, no. I didn't say you had to do anything. But you may want to pay attention to this big, big market, because there isn't a lot of activity on the author or publishing side here yet. And it really isn't that hard to get in the game. There are a lot of easy-to-use widget platforms out there, from Clearspring to YourMinis to WidgetBox. You can put together a simple RSS widget in a couple of minutes.
But you may want to think bigger. Widgets can be deleted as easily as they are installed. You want to provide good, compelling, ongoing content to earn your place on a friend's page. And widgets can be very full-featured. The Batman widget we did included video, production stills, text, and an interactive feature that made the Batsignal brighter for the more widgets that were installed.
But, no matter how small you start, it's time to start. The time of "get people to your site" is coming to a close. It's time to move to where the people are.
June 27th, 2008 / 1,433 Comments »